Tolstoy Together: 85 Days of War and Peace with Yiyun Li (Hardcover)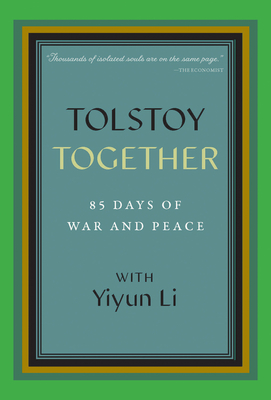 $22.00
Email orders@greenlightbookstore.com for information about this item.
Description
---
"You know how, very occasionally in your life, there's a 'before and after' reading experience? Well, reading War and Peace with Tolstoy Together has been that for me--a milestone not just in reading but in living."--Michael Langan From the acclaimed author of Dear Friend, from My Life I Write to You in Your Life, a book about the art of reading. In Tolstoy Together: 85 Days of War and Peace, Yiyun Li invites you to travel with her through Tolstoy's novel--and with fellow readers around the world who joined her for an online book club and an epic journey during a pandemic year. "I've found that the more uncertain life is," Yiyun Li writes, "the more solidity and structure War and Peace provides." Tolstoy Together expands the epic novel into a rich conversation about literature and ways of reading, with contributions from Garth Greenwell, Elliott Holt, Carl Phillips, Tom Drury, Sara Majka, Alexandra Schwartz, and hundreds of fellow readers. Along with Yiyun Li's daily reading journal and a communal journal with readers' reflections--with commentary on craft and technique, historical context, and character studies, Tolstoy Together: 85 Days of War and Peace includes a schedule and framework, providing a daily motivating companion for Tolstoy's novel and a reading practice for future books.
About the Author
---
Yiyun Li is the author of seven books, including Where Reasons End, which received the PEN/Jean Stein Book Award; the essay collection Dear Friend, from My Life I Write to You in Your Life; and the novels The Vagrants and Must I Go. She is the recipient of a MacArthur Fellowship, Guggenheim Fellowship, and Windham-Campbell Prize, among other honors. A contributing editor to A Public Space, she teaches at Princeton University. A Public Space is an independent nonprofit publisher of an eponymous award-winning literary, arts, and culture magazine, and A Public Space Books. Under the direction of founding editor Brigid Hughes since 2006, it has been our mission to seek out overlooked and unclassifiable work, and to publish writing from beyond established confines.