The Failure of Representative Government and the Solution: A Legislature of the People (Paperback)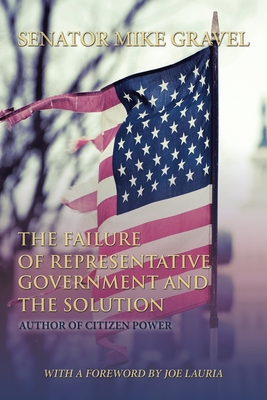 $13.99
Email or call for price.
Description
---
The universal form of governance where citizens vote to empower their elected officials to represent their interests is simply representative government -- not a democracy where people would rule directly. Accepting this definitional distinction improves our understanding that bringing the people into the operations of government as deliberative lawmakers -- deliberative direct democracy -- is the answer to dysfunctional representative government. However, empowering the people as deliberative lawmakers is anathema to the selfish interests of elites whose power to control society would be greatly diminished. Consequently, we stay mired in systems of government that do not work.
About the Author
---
A 2008 and 2020 presidential candidate, Mike Gravel served in the U.S. Senate from Alaska for 12 years, from 1969 to 1981. He scored many notable achievements as a senator beginning in his freshman term when, in 1971, he waged a successful one-man filibuster for five months that forced the Nixon Administration to cut a deal ending the draft in the United States. Senator Gravel is most prominently known for his release of The Pentagon Papers, the 7,000-page secret official document that revealed the government's lies and manipulation that misled the country into the Vietnam War. The release of The Pentagon Papers and the ensuing lawsuits precipitated the end of the United States' involvement in that quagmire. In 1973, Senator Gravel introduced an amendment authorizing the construction of the Alaska pipeline. At the time, the amendment passed the Senate by a single vote. However, since then, the Alaska pipeline has been responsible for as much as 20% of the U.S. oil supply. At the same time the Senator joined others in creating subsidies for renewable resources like wind and solar power. After serving in the Senate, Senator Gravel went on to found over the last three decades the Democracy Foundation, Philadelphia II, and Direct Democracy, non-profit corporations dedicated to the establishment of a Legislature of the People in the United States through the ratification of a Citizens Amendment to the Constitution and the enactment of the Citizens Legislative Procedures Act by American voters in a national election conducted by private citizens independent of the federal government.