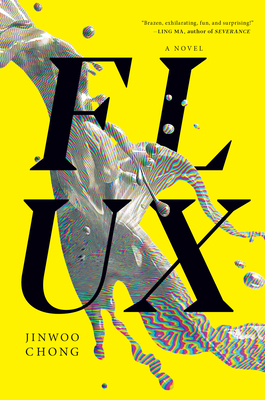 $28.99

Available In Store Now (while supplies last)
Staff Reviews
---
An enthralling labyrinth with a self-aware, wry narrative voice, Jinwoo Chong's debut novel brings to life a spectrum qualities usually denied or repressed in presentations of Asian-American masculinity. Chong depicts in visceral detail the murderous violence and the claustrophobia of second-generation, middle-class-rising immigrant Asian America. For readers who despair of cultural techno-orientalism, Flux moves the sexless Asian male caricature fully into the spotlight as fully realized human beings. For fans of Lee Chang-Rae's Native Speaker, Charles Yu's Interior Chinatown, and Ted Chiang's The Lifecycle of Software Objects. 
-Jihye
April 2023 Indie Next List
---
"If I had to choose one word to describe Flux, it would be sharp. The way that Chong wrote this brilliant book still amazes me. With plot twists so subtle you're not even fully aware you just encountered one. This kept me on the edge of my seat."
— Libby Monaghan, Twice Told Tales, McPherson, KS
Description
---
"Flux happily offers a moving appraisal of lives buffeted by personal and systemic traumas; a deep dive into the good, the bad and the ugly of self-serving corporate culture; and no shortage of "wait, what the heck just happened?" thrills." -- The New York Times Book Review

"Brazen, exhilarating, fun, and surprising! I couldn't predict where this novel was going, but I was definitely along for the ride." -- Ling Ma, author of Severance

A blazingly original and stylish debut novel about a young man whose reality unravels when he suspects his mysterious employers have inadvertently discovered time travel—and are using it to cover up a string of violent crimes . . .
 
Four days before Christmas, 8-year-old Bo loses his mother in a tragic accident, 28-year-old Brandon loses his job after a hostile takeover of his big-media employer, and 48-year-old Blue, a key witness in a criminal trial against an infamous now-defunct tech startup, struggles to reconnect with his family.
 
So begins Jinwoo Chong's dazzling, time-bending debut that blends elements of neo-noir and speculative fiction as the lives of Bo, Brandon, and Blue begin to intersect, uncovering a vast network of secrets and an experimental technology that threatens to upend life itself. Intertwined with them is the saga of an iconic '80s detective show, Raider, whose star actor has imploded spectacularly after revelations of long-term, concealed abuse.
 
Flux is a haunting and sometimes shocking exploration of the cyclical nature of grief, of moving past trauma, and of the pervasive nature of whiteness within the development of Asian identity in America.
About the Author
---
Jinwoo Chong received an MFA from Columbia University. His short stories have appeared in The Southern Review, Chicago Quarterly Review, and Salamander. Flux is his first novel. He lives in New York.
Praise For…
---
A Hudson News' Best Books of The Year!
A New York Times Book Review Editor's Choice
A Literary Hub Most Anticipated Book of 2023
A Nylon Most Anticipated Book of 2023
A Goodreads Most Anticipated Fantasy and Science Fiction Book of 2023
A Men's Health Most Anticipated Fantasy and Science Fiction Book of 2023
A Cosmopolitian Best LGBTQ+ Book of 2023 so far

"It's a pleasure to encounter a work like Jinwoo Chong's debut novel, Flux, that offers a healthy dose of brain-bending pleasure without making it the whole point...Flux happily offers a moving appraisal of lives buffeted by personal and systemic traumas; a deep dive into the good, the bad and the ugly of self-serving corporate culture; and no shortage of "wait, what the heck just happened?" thrills." — The New York Times Book Review

"It's rare for an author's debut novel to gather a lot of buzz, but that only shows how intriguing Flux is....Jinwoo Chong has crafted a lavish mystery that's hanging-off-the-edge-of-your-seat good." — Cosmopolitan.com

"Ambitious...The narrative pleasures of Flux lie less in the big reveals than in watching Chong knit together genre tropes from sci-fi movies, speculative fiction and thrillers to tell a story about how what we remember can imprison us — and why freedom may lie within... The book is an imaginative exploration of how cultural memory and grief interact." — The Washington Post

"Brazen, exhilarating, fun, and surprising! I couldn't predict where this novel was going, but I was definitely along for the ride." — Ling Ma, author of Severance

"Stunning ... a profoundly moving story about grief, and about surviving in the hyper-capitalistic world of today ...Chong knows how to boldly blend the boundaries of genres ... an immensely rewarding read." -- The International Examiner


"Mind-bending... Chong writes with such subtlety and skill that readers won't realize the true nature of the speculative mystery at play until they're already waist-deep in these interlocking narratives. The result is a gorgeous speculative gem for fans of Amal El-Mohtar and Max Gladstone's This Is How You Lose the Time War." — Publishers Weekly, STARRED review

"Not yet 30, Chong bursts forth, Athena-like, with an impossible-to-simply-label masterpiece that melds various genres—from Bildungsroman to speculative fiction, coming-of-age drama to epic tragedy, crime documentary to noirish thriller—into an intricate literary mosaic...Chong stuns readers with a multipronged, multilayered, multivoiced, magnificent enigma." -- Booklist, STARRED review

"Chong's debut novel falls right on the emotional bubble between the cult film Donnie Darko and Charles Yu's noodle-bender Interior Chinatown...A paranoid and inventive cautionary tale about buying into someone else's glitchy utopia." -- Kirkus, STARRED review

"Jinwoo Chong's engrossing debut braids three narratives -- a boy in mourning, a whistleblower, and a laid-off media employee—to unspool a mystery examining pop culture and time." -- Vanity Fair

"Flux takes the classic time-travel story and the detective story and mashes them up to create something wholly original, something that lives in between genres in the same way that its queer, biracial Asian American protagonist navigates the world. This novel earns its place as a work of speculative fiction, queer fiction, and contemporary Asian American fiction." — Strange Horizons

"Jinwoo Chong has crafted a lavish mystery that's hanging-off-the-edge-of-your-seat good." -- Cosmopolitan

"A... genre-bending brain teaser." -- USA Today

"As Chong's characters intersect through time and space, both style and substance pour out of the seams of this striking debut novel." --Esquire

"Flux is aptly titled, and Chong's ability to tell a nuanced, intricate, and page-turning story shine in this immersive novel." -- Shondaland

"Flux is brisk, stylish, and sexy, a high-stakes noir thriller that makes room for big philosophical ideas..." -- The Philadelphia Inquirer

"Part speculative fiction, part neo-noir, with some time travel thrown in for good measure, Flux is a wildly imaginative and mind-bending read." -- Buzzfeed

"Chong is an uncannily accessible writer ... compelling and utterly new." --Bloomberg Businessweek

"Jinwoo Chong's experimental debut brings to mind Charles Yu's similarly genre-bending novel Interior Chinatown: Both express a deep affection for Hollywood nostalgia, cut through with the bittersweet reckoning with their imperfect heroes who nonetheless made for unprecedented representation." --Literary Hub

"Flux is a dizzying, dazzling debut... It's the kind of story where even the twists that seem inevitable and telegraphed end up surprising you in remarkably powerful ways...That's largely due to two of Chong's clear strengths as a writer: an ability to marry poetic abstraction with simple, accessible prose; and the insight to anchor everything emotionally in the characters." --Boing Boing

"Flux is... a daringly constructed thriller, a mystery that propels you through it with burning questions, magnetic characters, and gasp-worthy twists...a book for our time." --The Rumpus

"Exhilarating and entirely unique...Chong's mindbender of a novel is full of grief, trauma, relationships, humor and identity — all while being Asian in America." --HuffPost

"A time-traveling noir and ambitious climate novel, Flux takes a close look at what happens when twenty-first-century egomaniacs bring their grifts to bear on the climate crisis. The result is a story that is equal parts wry and tender." -- The Millions

"A brilliant and enjoyable sci-fi tech thriller... "Flux" is haunting. I cannot begin to describe the plot without spoiling the joy of discovery. It's about climate justice scammers, sure, and about the promise of a technology exceeding its abilities. But at its heart is a guy, trying to define himself even as he realizes that there's no box to describe everything he's experienced and everything he feels." --The Pittsburgh Post-Gazette

"The novel's themes ring out clearly. It's a story about grief, trauma, and the powerful influence of pop culture, especially during childhood. And in telling that story, with a great deal of heart and passion, Flux adds to a growing canon of terrific speculative novels... that explore the tension between Western and Asian culture from a second-generation perspective." --Locus Magazine

"Jinwoo Chong's debut novel Flux is that perfect alchemy of disorienting and delightful. It's also a masterclass on aspects of fiction ranging from point of view to structure to building and maintaining an enormous cast of characters to making room for joy." --Full Stop

"A bona fide good time... This speculative neo-noir novel by Mr Jinwoo Chong is a seriously accomplished debut. Flux, which is named after epoch-shifting tech, skewers the tumult mega corporations wreak on ordinary people, sensitively captures the life-altering effects of gargantuan loss and spikes gross stereotypes that still shadow Asian-American souls." --MR PORTER

"An unexpected sci-fi novel that integrates time travel and tech dystopia into the complex emotional landscape of its three narrators as they explore grief, trauma, and Asian-American identity." --Interview Magazine

"A...brilliant time-travel puzzle box." --Polygon

"If you like stories featuring neo-noir style, corporate corruption, and anything else that wouldn't be out of place in a slightly more humorous version of the Blade Runner universe, then check this one out!" --CrimeReads

"Riveting and distinctive..." --The Southern California News Group

"Pick this one up for a wholly unique speculative novel that looks at how our saddest moments shape us." --Book Riot

"This witty, heartfelt look at celebrity scandals, the indelible imprints pop culture leaves on individuals, and the transformative power of grief packs plenty of thought-provoking twists into a sci-fi thriller with depth. Some elements feel ripped from the headlines, grounding speculative aspects in a familiar reality." --Shelf Awareness

"The prose here is brilliant and honest, and the plot cleverly crafted. You can try to guess what might happen in Flux, but it's better to let it bloom beautifully before you." --TOR.com

"Flux transcends both genre and theme." --The Advocate Magazine

"Flux takes the classic time-travel story and the detective story and mashes them up to create something wholly original, something that lives in between genres in the same way that its queer, biracial Asian American protagonist navigates the world. This novel earns its place as a work of speculative fiction, queer fiction, and contemporary Asian American fiction." --Strange Horizons

"Flux stands out as a novel with ideas, dramatic scenes, and shifts in genre." —Counterpunch

"A debut novel that is pleasantly surprising at every turn..." --The Harvard Crimson

"Jinwoo Chong's brilliant debut novel is a cornucopia of stories, genres, and moods...The book is another picture of contemporary anomie, but it is rich, complex, and highly enjoyable... At the age of 27, author Jinwoo Chong is already a major literary talent." --The New York Journal of Books

"At its center, Flux truly is a powerful exploration of family dynamics, grief  and loss (both from a child and parent perspective), and identity." --The Nerd Daily

"Flux is the kind of twisty, time-bending novel that slips out of your hands and leaves you guessing at every corner, and its ambition makes it surprising to be just a debut." --OurCulture Magazine

"You're left dazzled without getting dizzy. Go on the rollicking ride this book offers." --StyleCaster

"This novel is an introspective look at the significance of representative fiction in the lives of people yearning for but also fearful of assimilation." --Criminal Element

"Flux is a powerful debut – deft and fluid, sharp and dreamy. Employing the vehicle of a breakneck sci-fi thriller, Jinwoo Chong explores interstitial spaces of ethnicity, sexuality, trauma, pop cultural memory and, finally, time itself, with wit, tenderness and alacrity. The result is provocative and deeply moving. - Sam Lipsyte, author of Venus Drive

"A smart and stylish addition to the tech thriller genre with interesting things to say about family, society and, indeed, reality itself." —  Gary Shteyngart, author of Little Failure

"Alluringly seductive and highly imaginative, reading Flux was like puzzling out a mystery always two steps ahead of me that I didn't want to end. Chong has written an intricately layered and boldly cinematic debut that interrogates how the past collides with the present, and how our choices are bound up in not just who we wished we were, but who we dare to be. At once mind-bending yet grounded in timeless questions about forgiveness and hope, Flux is a kaleidoscope of a novel." —Elaine Hsieh Chou, author of Disorientation

"A compelling, deft, and mesmerizing book taking Korean American literature in a riveting and bold direction." -- Joseph Han, author of Nuclear Family

"Jinwoo Chong manages to combine a time-bending mystery, genre-bending adventure, and mind-bending literary novel into one stylish and propulsive thriller. You'll tear through it. —Lincoln Michel, author of The Body Scout
 
"Flux is the book of my dreams—expertly mashing genres and deftly playing with both time and perspective to tell a deeply human, personal story. It's almost hard to believe this is a debut, and it instantly elevates Jinwoo Chong to must-read status. —Rob Hart, author of The Warehouse

"Provocative and propulsive, Flux is a delicious genre bender about the evolution of identity—the moments that bifurcate our lives and the ways in which we lose ourselves to trauma and time. A poignant, expertly constructed puzzle with an intellectual bite. I'll be thinking about this book for a very long time." - Julia Fine, author of The Upstairs House