Once Upon a Line (Hardcover)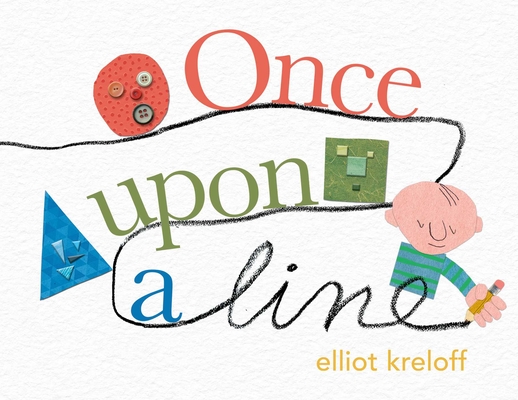 $17.95

Available In Store Now (while supplies last)
Description
---
"Once upon a time, a line was drawn." So begins the journey of Line, a small drawing asking some big questions. Who is he? What should he do? Where does he fit in? On a voyage of self-discovery that takes him from the east to the west, from the mountains to the sea, Line tries on many shapes and sizes, often with hilarious consequences. But can Line find his true purpose without losing hope?
With a heartwarming conclusion, Once Upon a Line explores a journey all must take—to discover your true self. With witty wordplay, relatable dialogue, and engaging illustrations, this story helps readers find the confidence and enthusiasm to discover their own identity and purpose.
About the Author
---
Elliot Kreloff is an award-winning designer and children's book illustrator. His career as creative director for Scholastic Books, Disney Publishing Worldwide, MacMillan Publishing, Blue Apple Books, and his own studio, Design Five, has spanned over forty years. As an arts educator, he has taught at Parsons School of Design, New York Institute of Technology, Rutgers University and Fordham University. His books have been awarded Best Book of the Year by Child Magazine, and he has received numerous awards from various professional design organizations (Bookbinders Guild, Art Direction Magazine, Communication Arts and the Society of Illustrators). He is a graduate of Cooper Union and holds a Masters degree from Hunter College. He lives in Harlem, NYC with his partner of 25 years, Stephen Morris, and has a grown daughter, Samantha, and a grandpuppy named Bea.
Praise For…
---
"As a plain black line seeks its purpose in life, puns provide possible answers in this picture book. Friends and relations offer suggestions in reply to Line's repeated question, 'What's a line supposed to do?' Line decides to 'broaden his horizon,' traveling in every cardinal direction until finally discovering that he should make his 'own mark.' Mixed-media collages form Line's buddies, and patterned cut-outs come together in cheery scenes of Line's travels." —Publishers Weekly