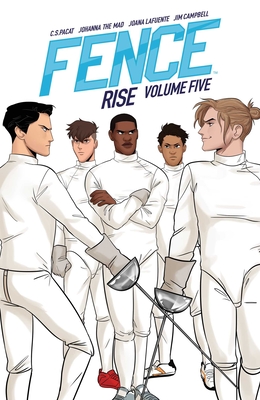 $14.99

Not In Store / Available To Order (allow for shipping time to bookstore or direct-to-home)
Description
---
In the highly anticipated next chapter of Fence, Nicholas will stop at nothing until he becomes Seiji's worthy fencing rival!

USA Today best-selling author C. S. Pacat (Captive Prince) and popular web cartoonist Johanna the Mad along with colorist Joana LaFuente (Transformers) and letterer Jim Campbell (Giant Days) reunite for the highly-anticipated next chapter in this fierce and heartfelt GLAAD Media Award-nominated series. Excitement is in the air as Nicholas and his friends celebrate their prestigious invitation to the Halverton Training Camp. They immediately come face-to-face with the best teams in the country, and Nicholas struggles as he suffers defeat after defeat by an old enemy. Will a new addition to the team bring Nicholas closer to the rest of the team and awaken the resilience within he needs to prevail? But Seiji, in contrast to Nicholas, remains unchallenged and let down by the camp. With Seiji's goal to learn (instead of win) stuck in his head, will Nicholas step up to pose a real challenge to Seiji, even growing their friendship as a result?. Get ready to say "En Garde" to the next installment of Fence!
About the Author
---
C. S. Pacat is a bestselling Australian author, best known for the Captive Prince trilogy, published by Penguin Random House in 2015.

Pacat was born in Melbourne, Australia, and was educated at the University of Melbourne.[3] She[a] lived in several different cities including Perugia where she studied at Perugia University, and Tokyo, where she lived for five years.[4][2] Pacat wrote the Captive Prince trilogy around her day job as a translator while training as a geologist.[1]

Pacat is queer and genderqueer, using both she/her and he/him pronouns.[5] She identifies as "a proud wog,"[6] and states that this played an influence while writing the Captive Prince trilogy: "As for the influence on Captive Prince, I'm a bisexual wog, and Damen is a bisexual wog - so there's that[7]....There's a lot of wog-politics in the series, although its rarely read from that perspective outside of Australia.