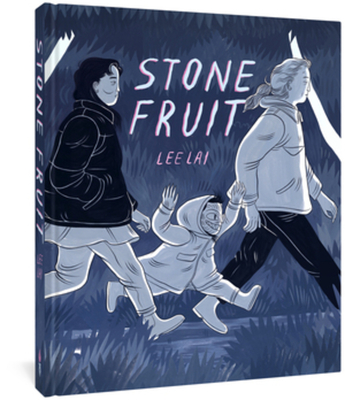 $29.99

Not In Store / Available To Order (allow for shipping time to bookstore or direct-to-home)
Staff Reviews
---
Stone Fruit holds an absolutely one of a kind openness inside of it. It's about being a child, being family, and being the entirety of yourself. It's queer and magical and sad in a sublime sort of way. You will breeze through it but wish you could stay, to become a little freer and a little more monstrous. 
— Min
Description
---
An exhilarating and tender debut graphic novel that is an ode to the love and connection shared among three women and the child they all adore.
2022 Cartoonist Studio Prize WINNER
2022 Lynd Ward Graphic Novel Prize WINNER
2022 Lambda Literary Award WINNER, LGBTQ Comics
2022 ALA Stonewall Award Honor Book
2021 National Book Foundation "5 Under 35" Honoree
Bron and Ray are a queer couple who enjoy their role as the fun weirdo aunties to Ray's niece, six-year-old Nessie. Their playdates are little oases of wildness, joy, and ease in all three of their lives, which ping-pong between familial tensions and deep-seeded personal stumbling blocks. As their emotional intimacy erodes, Ray and Bron isolate from each other and attempt to repair their broken family ties — Ray with her overworked, resentful single-mother sister and Bron with her religious teenage sister who doesn't fully grasp the complexities of gender identity. Taking a leap of faith, each opens up and learns they have more in common with their siblings than they ever knew.
At turns joyful and heartbreaking, Stone Fruit reveals through intimately naturalistic dialog and blue-hued watercolor how painful it can be to truly become vulnerable to your loved ones — and how fulfilling it is to be finally understood for who you are. Lee Lai is one of the most exciting new voices to break into the comics medium and she has created one of the truly sophisticated graphic novel debuts in recent memory.
About the Author
---
Lee Lai was born in 1993 in Naarm (Melbourne), Australia. Currently, Lai makes comics and illustrations in Tio'tia:ke (Montreal), Quebec. Her short story comics have been featured in The New Yorker, The Lifted Brow, Room Magazine, and Everyday Feminism.
Praise For…
---
Lee Lai's graphic novel debut is an elegantly illustrated and introspective marvel, a deeply moving story about the push and pull between family and selfhood. ... [A] book that will change the literary landscape in 2021.
— O The Oprah Magazine

This graphic novel, Lee Lai's first, is bittersweet and filled with authentic dialogue and realistic situations, including a lack of tidy resolutions. You can't help but root for the characters.
— The New York Times

Lai presents a tender and emotionally raw examination of three women struggling to form and maintain their identities within and outside of their immediate family, illustrated in a loosely expressive style that conveys both bombastic catharsis and silent anguish with aplomb.
— Library Journal (starred review)

Athena-like, Lai bursts onto the graphic scene fully formed and utterly realized with this jaw-dropping debut. Raw, intricate, and impassioned, Lai's resonating accomplishment proves astonishing.
— Booklist (starred review)

Honest and emotional. ... It's not often that a graphic novel debut heralds the emergence of a storytelling talent the way Lee Lai's Stone Fruit does.

— Publishers Weekly (starred review)

A beautiful and evocative reflection on queer identity, relationships, vulnerability and acceptance of self and others.
— Ms. Magazine

A shockingly relatable and beautifully illustrated insight into the sticky complications of contemporary relationships.
— Bitch Media

The way Lai illustrates emotional truths that can be hard to say with words is stunning. The sheer humanness of this story took my breath away.
— Book Riot

Lai tells her story with control and authority and it's impossible not to admire the way she has made a dextrous narrative out of so much taciturnity and mossy sadness.
— The Guardian

This quiet work of startling complexity is a remarkable contribution to the chorus of queer storytelling.
— Chicago Review of Books

Lai poignantly illustrates the sometimes futile search for happiness and the grace in being open to the changes around us.
— NPR: Best Books of 2021

Beautifully drawn and emotionally resonant.
— Vogue

Stone Fruit is one of the best comics I've read this year, one that will linger the way Spinning or Laura Dean Keeps Breaking Up With Me did. It's an incredible debut and leaves me hoping we see much more from Lee Lai.

— Multiversity Comics

Stone Fruit explores the awkwardness of navigating mundane problems as a queer adult after the sparkle has faded from the rainbow.

— Women Write About Comics