No Bad Parts: Healing Trauma and Restoring Wholeness with the Internal Family Systems Model (CD-Audio)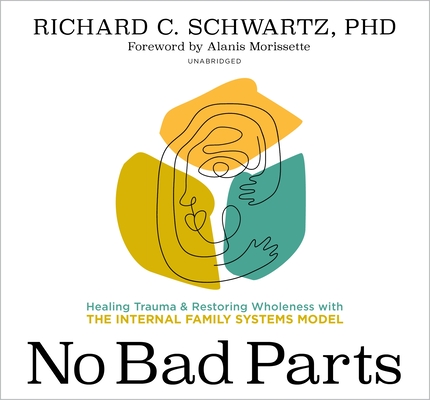 $29.99
Email orders@greenlightbookstore.com for information about this item.
Description
---
Discover an empowering new way of understanding your multifaceted mind—and healing the many parts that make you who you are.
 
Is there just one "you"? We've been taught to believe we have a single identity, and to feel fear or shame when we can't control the inner voices that don't match the ideal of who we think we should be. Yet Dr. Richard Schwartz's research now challenges this "mono-mind" theory. "All of us are born with many sub-minds—or parts," says Dr. Schwartz. "These parts are not imaginary or symbolic. They are individuals who exist as an internal family within us—and the key to health and happiness is to honor, understand, and love every part."
 
Dr. Schwartz's Internal Family Systems (IFS) model has been transforming psychology for decades. With No Bad Parts, you'll learn why IFS has been so effective in areas such as trauma recovery, addiction therapy, and depression treatment—and how this new understanding of consciousness has the potential to radically change our lives. Here you'll explore:
 
• The IFS revolution—how honoring and communicating with our parts changes our approach to mental wellness
• Overturning the cultural, scientific, and spiritual assumptions that reinforce an outdated mono-mind model
• The ego, the inner critic, the saboteur—making these often-maligned parts into powerful allies
• Burdens—why our parts become distorted and stuck in childhood traumas and cultural beliefs
• How IFS demonstrates human goodness by revealing that there are no bad parts
• The Self—discover your wise, compassionate essence of goodness that is the source of healing and harmony
• Exercises for mapping your parts, accessing the Self, working with a challenging protector, identifying each part's triggers, and more
 
IFS is a paradigm-changing model because it gives us a powerful approach for healing ourselves, our culture, and our planet. As Dr. Schwartz teaches, "Our parts can sometimes be disruptive or harmful, but once they're unburdened, they return to their essential goodness. When we learn to love all our parts, we can learn to love all people—and that will contribute to healing the world."
About the Author
---
Richard C. Schwartz, PhD, is the creator of Internal Family Systems, a highly effective, evidence-based therapeutic model that de-pathologizes the multipart personality. His IFS Institute offers training for professionals and the general public. Formerly an associate professor in the Department of Psychiatry at the University of Illinois at Chicago and later at Northwestern University, he is currently on the faculty of Harvard Medical School. He has published five books and is a sought-after presenter. For more, visit ifs-institute.com.
Praise For…
---
"An enormous gift—transformative, compassionate, and wise. These simple and brilliant teachings will open your mind and free your spirit and your heart." —Jack Kornfield, PhD, author of A Path with Heart

"Internal Family Systems (IFS) therapy, and the understanding that we all contain valuable parts that are forced into extreme roles to deal with pain and disappointment, has been one of the great advances in trauma therapy. Understanding the role they have played in our survival and being able to unburden the original traumas leads to self-compassion and inner harmony. The notion that all of our parts are welcome is truly revolutionary and opens up a path to self-acceptance and self-leadership. IFS is one of the cornerstones of effective and lasting trauma therapy." —Bessel van der Kolk, MD, author of The Body Keeps the Score

"In this trim and highly readable volume, Dr. Richard Schwartz articulates and deftly illustrates his Internal Family Systems model, one of the most innovative, intuitive, comprehensive, and transformational therapies to have emerged in the present century." —Gabor Maté, MD, author of In the Realm of Hungry Ghosts: Close Encounters with Addiction

"With our culture abuzz about the importance of self-love, world peace, spiritual awakening, and healing, few seem to offer the 'how.' How do we love parts of ourselves that hurt ourselves or others? How do we resolve our inner conflicts so we can participate in healing a divided world? How do we awaken to the divine within ourselves without bypassing our humanity? How do we heal trauma—and the chronic physical and mental illnesses it can cause? Without the how, we wind up feeling helpless to live in alignment with the core values and desire for optimal health that most of us espouse. Well, wait no longer. This book offers the 'hows' we've all been waiting for, sensible solutions that help you open your heart to even your most destructive 'parts' so that your divine Self can extend compassion to them while leading the way to wholeness. Internal Family Systems is a total game changer. I'm not exaggerating when I say this may be the most transformational book you'll ever read." —Lissa Rankin, MD, New York Times bestselling author of Mind Over Medicine

"Since Freud, therapy has referenced and worked with the psyche as having parts, but Richard Schwartz has raised the concept to a magisterial art form. His claim that all parts, no matter how misguided, serve a purpose and should be met with compassion rather than antagonism is little short of a revolution. No Bad Parts is, I believe, his clearest, most comprehensive, and most inspiring manifesto. Anyone interested in IFS, indeed anyone interested in a happier, less conflicted life should devour this life-changing, pioneering work." —Terry Real, author of The New Rules of Marriage

"Internal Family Systems offers a highly effective, hopeful, and uplifting paradigm for understanding and healing wounds that is revolutionizing psychotherapy. In this well-written book, Richard Schwartz offers the basics of IFS, a series of exercises to help you learn to relate in an open and compassionate way to all—even your most dreaded and extreme—inner parts, and the fascinating spiritual implications of IFS. This approach will change everything about how you relate to yourself and to others!" —Diane Poole Heller, PhD, author of The Power of Attachment

"Do you want to be wiser, more compassionate, at peace with yourself, and more deeply connected to others? This book will show you how. Drawing on decades of clinical experience and contemplative practice, Dr. Schwartz offers a powerful, practical, step-by-step approach to healing past injuries and uncovering our innate capacity for love, clarity, warmth, and sanity. It's a must-read for anyone wanting to live a richer, freer, more joyous and connected life." —Ronald D. Siegel, PsyD, assistant professor of psychology, part time, Harvard Medical School, and author of The Mindfulness Solution: Everyday Practices for Everyday Problems