the magic my body becomes: Poems by (Etel Adnan Poetry Series) (Paperback)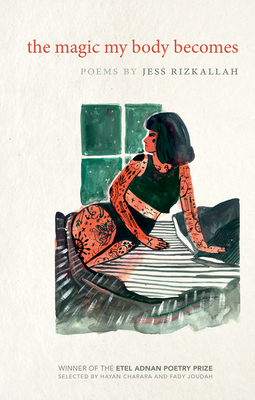 $16.95
Email orders@greenlightbookstore.com for information about this item.
Description
---
Winner, 2017 Etel Adnan Poetry Prize
In the magic my body becomes, Jess Rizkallah seeks a vernacular for the inescapable middle ground of being Arab American—a space that she finds, at times, to be too Arab for America and too American for her Lebanese elders.
These poems freely assert gender, sexuality, and religious beliefs while at the same time respecting a generational divide: the younger's privilege gained by the sacrifice of the older, the impossibility of separating what is wholly hers from what is hers secondhand.
In exploring family history, civil war, trauma, and Lebanon itself, Rizkallah draws from the spirits of canonical Arab and Middle Eastern poets. As a result of her conjuring, the reader feels these spirits begin to exorcise the grief of those who are still alive. Throughout, there is the body, a reclamation and pushback against cultures that simultaneously sexualize and shame women. And there is a softness as inherent as rage, a resisting of stereotypes that too often speak louder than the complexities of a resilient cultural identity.
The magic my body becomes is an exciting new book from an exciting young poet, a love letter to a people as well as a fist in the air.
About the Author
---
Jess Rizkallah is a Lebanese American writer and illustrator who splits her time between Boston and New York. She is founding editor at Pizza Pi Press and an MFA candidate at New York University.
Praise For…
---
"Rizkallah says all the things I feel as a fellow Lebanese American woman at this moment in America's history. She won the Etel Adnan Poetry Prize for the magic my body becomes. This collection contains one of my favorite poems: 'if teta never had to leave lebanon I wonder if she would make preserves,' where she writes: 'they tell me to be less Poetry about my rage…sometimes there is only the bubble on the job applications / where you fill in a circle because you're working hard you're a good / American today / you get to be white as long as you're behaving but you're a liar…' In her interview in 2017 in the LA Times Review of Books she said, 'viewing your body however you choose is revolutionary.' Her book is a testament to Arab American women being unapologetic about their stories."
—Claudia Savage, Electric Lit, April 2021

"I first say 'playful' and mean the way Jess Rizkallah commands language to dance on a page with both soft humor and sharp imagery. 'I want to marriage / the tallest mountain on the planet / because it's the closest one to the moon,' and just like that, the moon draws itself closer to you, reader. The magic my body becomes is about family, but not only. About loneliness, but not only. About joy and home and celebration of the self, but not only. Rizkallah's best work in this debut is, in fact, the work of juggling all of who she is at once. And, even better, making room for all of us to join. This is a captivating, carefully crafted, brilliant book of poems that is a joy to experience."
—Hanif Willis-Abdurraqib, author of The Crown Ain't Worth Much

"In this collection, Jess Rizkallah gives us profound tenderness and mines from it the complexities of longing, inherited loss, and the histories that carry within them our belonging and unbelonging. Her landscapes are lush with birds and dogs and elephants, with trees and oceans and shrapnel; her speakers are tough and loving and filled with quiet humor. I cannot stress enough how important it feels, as children of parents whose worlds had to end so ours could begin, to have poets like Jess giving voice to the doubled identities we carry, the stories we grew up with and the stories we grow into. It is a joy to hold and be held by her work."
—Safia Elhillo, author of The January Children

"Jess Rizkallah's debut poetry collection is dazzling; it is cedar, resistance song, map to the winding forest of a woman's body; it is lemons and jam and knives, at once soft and firm; it is a book about familial longing, survival, love, burial, and yes, magic. So much magic. Rizkallah sings her arrival with an inner flute, and we cannot help but listen, mesmerized."
—Randa Jarrar, author of Him, Me, Muhammad Ali