Anniversaries, Volume 1: From a Year in the Life of Gesine Cresspahl, August 1967–April 1968 (Paperback)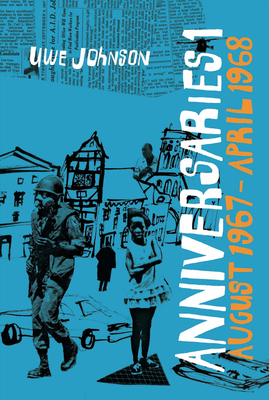 Description
---
The first volume of a titanic masterpiece of twentieth-century literature, named one of the best books of 2018 by The New York Times critics.

Published to great acclaim as a two-part boxed set in 2018, Anniversaries is now available as two individual volumes. It is August 1967, and Gesine Cresspahl, born in Germany the year that Hitler came to power, a survivor of war, of Soviet occupation, and of East German Communism, has been living with her ten-year-old daughter, Marie, in New York City for six years. Mother and daughter find themselves caught up in the countless stories of the world around them: stories of work and school and their neighborhood, with its shifting and varied cast of characters, as well as the stories that Gesine reads in The New York Times every day—about Che Guevara, racial violence, the war in Vietnam, and the US elections to come. Now, with Marie growing up, Gesine has decided to tell her daughter the story of her own childhood in a small north German town in the 1930s and '40s. Amid memories of Germany's criminal and disastrous past and the daily barrage of news from a world in disarray, Gesine, conscientious, self-scrutinizing, with a sharp sense of humor, struggles to describe what she has learned over the years and what she hopes to pass on to Marie. Marie, articulate, quizzical, with a perspective that is very much her own, has plenty of questions, too.

Uwe Johnson's intimate portrait of a mother and daughter is also a panorama of past and present history and the world at large. Comparable in richness of invention and depth of feeling to Joyce's Ulysses and Proust's In Search of Lost Time, Anniversaries is one of the world's great novels.
About the Author
---
Uwe Johnson (1934–1984) grew up in the small town of Anklam, Germany. He lived in New York City from 1966 until 1968 with his wife and daughter. It was during that time that he began work on Anniversaries. He died in Sheerness-on-Sea, UK, shortly after Anniversaries was published, at age forty-nine.

Damion Searls is the author of The Philosophy of Translation. He has translated some forty books, including, for NYRB Classics, works by Patrick Modiano, Alfred Döblin, Nescio, and Robert Walser.
Praise For…
---
"[T]he book seeks to be a comprehensive account of the '60s, commenting on media coverage of Vietnam, housing segregation in Manhattan, the Prague Spring. At nearly 1,700 pages long, it is oceanic, and it is a masterpiece." —Parul Sehgal, The New York Times, "Times Critics' Top Books of 2019"

"Juxtaposing the tumult of 60s America with everyday life in Nazi Germany, Anniversaries chronicles 20th-century turmoil through the eyes of Gesine Cresspahl, who leaves postwar Mönchengladbach to raise her young daughter, Marie, on New York's Upper West Side . . . Against the big-picture backdrop, we get a fine-grained treatment of motherhood and migration . . . It feels thrillingly spontaneous, almost out of control. You can certainly see why it wasn't all translated before now. But here it is: a novel of a year, perhaps the novel of the year." —Anthony Cummins, The Observer

"Uwe Johnson's Anniversaries is a book to live in: two volumes and more than 1,700 pages of roomy universe, robustly imagined and richly populated. Its streets are long, and its landmarks are varied. Sometimes the weather's sultry, and sometimes the pipes clang in the cold. But Johnson's rhythm is always patient, always mesmerizingly meticulous . . . Johnson's observations are indeed possessed of a peculiar, sprawling omniscience. His opus belongs in the canon of encyclopedic, modernist German-language tomes like Berlin Alexanderplatz and The Man Without Qualities, and it allows itself divagations on everything from the prevalence of the color yellow in the American visual landscape to the subtleties of Hungarian politics . . . His writing is inhuman, godlike in its immensity." —Becca Rothfeld, Bookforum

"Likened to Joyce's Ulysses, it's really a kind of Joseph Cornell box in words, a vast montage stretching from August 1967 to August 1968. The narrator, Gesine Cresspahl, lives in self-exile on the Upper West Side, working as a translator, trying to raise a daughter, Marie, by herself. Her diary—which is to say, Johnson's 2,000-page novel—touches on Vietnam, World War II, postwar Eastern Europe, the inhumane conditions of that New York subway system and the humanity of its riders, the triumph of despair, and countless other topics. A rich book to be read slowly and thoughtfully, from a writer too little known today." —Kirkus Reviews

"In this sprawling multivolume novel, the events of one woman's life over the course of a year in New York hearken back to several decades' worth of German history and political upheaval. . . . The growing political consciousness of Gesine's daughter, Marie, provides a wonderful counterpoint to the novel's themes of crises personal, national, and global. This is a haunting and unforgettable portrait of the momentous and the historical." —Publishers Weekly

"In Johnson's work, perspective doesn't come from a bird's-eye view but from staying at eye level—from looking and never stopping. His characters are suspicious of any claim that there is an omniscient history. . . . Damion Searls's English translation of Anniversaries does something no previous version of Johnson has managed: it catches the liveliness of the writing." —Patrick McGuinness, London Review of Books