The People Who Report More Stress: Stories (Hardcover)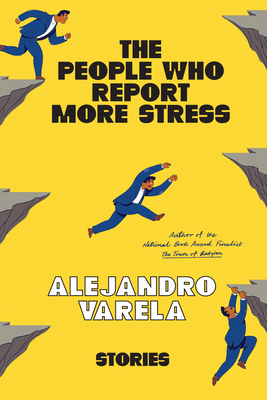 $26.00

Coming Soon - Available for Pre-Order Now
Description
---
"Alejandro Varela is one of my favorite short story writers . . . An iconoclast of tenderness, a compass in the storm this life always is." —Alexander Chee, author of How to Write an Autobiographical Novel

"The People Who Report More Stress dissects the minutiae of relationships to self, city, space, and sensibility so we don't numbly succumb to the 'structured order of things.'"—Mattilda Bernstein Sycamore, author of The Freezer Door

The People Who Report More Stress is a collection of interconnected stories brimming with the anxieties of people who retreat into themselves while living in the margins, acutely aware of the stresses that modern life takes upon the body and the body politic.

In "Midtown-West Side Story," Álvaro, a restaurant worker struggling to support his family, begins selling high-end designer clothes to his co-workers, friends, neighbors, and the restaurant's regulars in preparation for a move to the suburbs.

"The Man in 512" tracks Manny, the childcare worker for a Swedish family, as he observes the comings and goings of an affluent co-op building, all the while teaching the children Spanish through Selena's music catalog.

"Comrades" follows a queer man with radical politics who just ended a long-term relationship and is now on the hunt for a life partner. With little tolerance for political moderates, his series of speed dates devolve into awkward confrontations that leave him wondering if his approach is the correct one.

A collection of humorous, sexy, and highly neurotic tales about parenting, long-term relationships, systemic and interpersonal racism, and class conflict from the author of The Town of Babylon, The People Who Report More Stress deftly and poignantly expresses the frustration of knowing the problems and solutions to our society's inequities but being unable to do anything about them.
About the Author
---
Alejandro Varela (he/him) is a writer based in New York. His work has appeared in The Point Magazine, Boston Review, Harper's Magazine, The Rumpus, Joyland Magazine, The Brooklyn Rail, The Offing, Blunderbuss Magazine, Pariahs (an anthology, SFA Press, 2016), the Southampton Review, The New Republic, and has received honorable mention from Glimmer Train Press.
Varela is a 2019 Jerome Fellow in Literature. He was a resident in the Lower Manhattan Cultural Council's 2017–2018 Workspace program, a 2017 NYSCA/NYFAArtist Fellow in Nonfiction, and an associate editor at Apogee Journal. His graduate studies were in public health. His debut novel, The Town of Babylon, was published by Astra House in 2022 and a finalist for the 73rd National Book Awards. His second book, The People Who Report More Stress, is forthcoming (Astra House, 2023).
Varela believes strongly in reparations, land back, a national health service, and a thirty dollar minimum wage pegged to inflation as interventions essential for the collective liberation of our society. Access his work at alejandrovarela.work. You can also find him on Twitter and IG: @drovarela.
Praise For…
---
"A searing collection about gentrification, racism, and sexuality. [. . .] Varela provides invaluable insight on the ways stress impacts the characters' lives, and how they persevere. Readers will be floored."
—Publishers Weekly (Starred Review)

"The prose shines throughout, with razor-sharp specificity about human nature and an entrancing rhythm . . . the collection shows a writer of impressive imagination continuing to deepen his craft."
—Kirkus Reviews

"Alejandro Varela's book perfectly captures the stories of the frustration of people who see the inequities in society fully knowing that there isn't much they can do to sway the needle forward." 
—Mirtle Peña-Calderon, People en Español
 
"No one writes fiction that is incisive, socially conscious, and funny as well as Varela, and I'm happy to read anything he publishes." 
—David Vogel, BuzzFeed

"Varela has written a collection that is mordant, tender, and hilariously self-critical. These stories navigate the myriad creases between lust and longing, love and proprietorship, without resorting to sanctimony. This is an incredible feat of wry sincerity."
—Zain Khalid, author of Brother Alive

"The stories in The People Who Report More Stress are sharply observant and tenderly irreverent. Varela beautifully captures the anxieties of both structural limitation and possibility itself, examining how people choose from among the many lives they might lead, and how frequently even as they move away from their origins, characters encounter familiar obstacles that demand they carry the weight of history. This is a smart and gorgeous collection."
—Danielle Evans, author of The Office of Historical Corrections

"Alejandro Varela is one of my favorite short story writers, and has been for years. Time after time, the mix of curiosity, humor and care in these stories reminds me of the parts of my life no one else writing currently describes. An iconoclast of tenderness, a compass in the storm this life always is."
—Alexander Chee, author of How to Write an Autobiographical Novel

"Alejandro Varela's The People Who Report More Stress effortlessly walks the line between humor and grief to create a portrait of modern queer life that is at once absurd and deeply sincere. These stories capture the small, lonely moments of everyday life, the rejections and misunderstandings and longings that make up great fiction. Varela can do anything."
—Isle McElroy, author of The Atmospherians and People Collide

"In The People Who Report More Stress, Alejandro Varela cracks the veneer of gay domesticity to reveal the intricacies of anxiety and lust, bewilderment and promise, shelter and placelessness in everyday urban life. In linked stories driven by frenzied interior monologue and roving analytical glee, Varela pivots from the rules of bathroom cruising to the legacies of colonialism in international relations, the hustle of selling bootleg designer clothes to the racial hierarchies of Brooklyn gentrification. Moving deftly between satire and hyperrealism, comic excess and mundane pathos, The People Who Report More Stress dissects the minutiae of relationships to self, city, space, and sensibility so we don't numbly succumb to the 'structured order of things.'"
—Mattilda Bernstein Sycamore, author of The Freezer Door

"Brilliant, layered, funny, and so insightful about the way communities, like hearts, are made and unmade. Alejandro Varela is a marvel."
—Justin Torres, author of We the Animals

"I've spent much of 2022 happily throwing people copies of The Town of Babylon and looks like I'll be spending 2023 doing the same with Varela's The People Who Report More Stress. This collection is full of vivid characters who resemble many people in my own life. These stories are funny, insightful and are, at times, cheeky AF! You can't help but relish in them."
—Rosa Hernandez, Marketing Manager, Third Place Books