101 Success Secrets for Gifted Kids: Advice, Quizzes, and Activities for Dealing with Stress, Expectations, Friendships, and More (Paperback)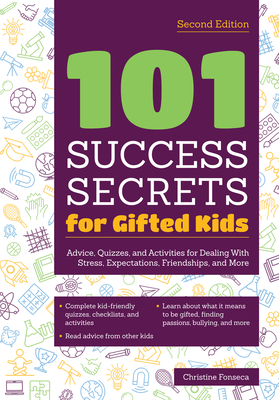 Click on "Ask A Bookseller" to contact us via email for more information about this title.
Description
---
Pssst Want to know a secret? Want to help gifted kids harness the power of their giftedness? The second edition of 101 Success Secrets for Gifted Kids is a must-read for gifted kids ages 8 to 12 who want to find success in school, relationships, and life. This book:
Includes 101 awesome secrets, tips, and tricks for gifted kids.
Is chock-full of fun quizzes, activities, and practical strategies.
Covers bullying, school performance, perfectionism, friendships, sibling rivalries, and managing intensities.
Features Q & A sections from other gifted kids and preteens.
Gives gifted kids insight into everything they've ever wanted to know about being gifted.
Proven strategies for dealing with stress management, parents' and teachers' expectations, anxiety, cyberbullying, friendship troubles, and more make this the must-have guide for every gifted kid.
Ages 8-12
About the Author
---
Christine Fonseca has worked in the field of education for more than a decade. Relying on her expertise as a school psychologist, behavioral consultant, speaker, and parenting expert, she has been a resource for parents and children in understanding the social and emotional needs of gifted children.