Baby-Led Weaning Made Easy: The Busy Parent's Guide to Feeding Babies and Toddlers with Delicious Family Meals (Paperback)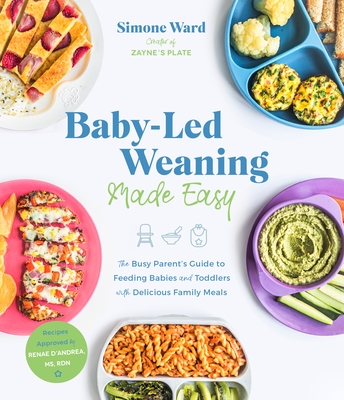 $22.99

Not In Store / Available To Order (allow for shipping time to bookstore or direct-to-home)
Description
---
The Only Book You Need for Baby-Led Weaning the Safe and Stress-Free Way!
*50 Recipes & 50 Full-Page Photos, Plus Nutritionist Tips, Reference Charts and Picky Eaters Advice*

More and more families are turning to baby-led weaning to help their babies shift toward eating solid foods. But if you're a busy parent, you might have lots of questions and precious little time to find the answers. Let this book be your one-stop guide! Simone Ward shares tips and 50 recipes for ultrapractical family meals that are perfect first foods for your little one. Plus, she's collaborated with a nutritionist to give you a thorough understanding of baby-led weaning and how to do it in a safe and realistic way.

Simone has guided all four of her children through baby-led weaning. And now, she's packed this book to the brim with all of her best time-saving tips, advice and recipes. There's no other book on the market that combines this wealth of first-hand knowledge with a collection of easy recipes that are not only great for
baby, but the rest of the family too. Featured recipes include Tuna and Chickpea Fritters, Spinach and Almond Pesto Pasta, Lentil Bolognese, Sweet Potato and Broccoli Tots, Salmon and Pea Egg Muffins and Crispy Coconut Chicken Tenders, just to name a few!

Best of all, many recipes include ideas for switching up the flavors or using convenient appliances like an Instant Pot® or slow cooker. Recipes also have easy- to-reference labels that note if the meal is ready in 30 minutes or less, allergen-friendly, a good source of key nutrients like iron, make-ahead friendly or a little messy, so you can quickly find the right recipe for what you need. This book truly has it all and will be an invaluable family reference for years to come.
About the Author
---
Simone Ward is the founder of the popular Instagram account Zayne's Plate, where she shares kid-friendly and nutritious recipes. She lives in London with her four children.
Praise For…
---
"Simone's book is packed with evidence-based advice, tips and tricks on how to put together a well-balanced meal in a quick and simple manner. These recipes are sure to make baby-led feeding a joyful experience!"
-Min Kwon, MS, RDN, creator of MJ & Hungryman and @KidFriendly.Meals

"An excellent guide. As a dietitian mom, I love how this book seeks to boost nutritional density without creating confusion or adding in unnecessary complexity!"
-Ashley Smith, pediatric dietitian and creator of Veggies & Virtue

"I didn't know it was possible to drool over baby food until seeing the drop-dead gorgeous recipes in this book! Plus you get a comprehensive intro to beginning solids if you're biting your nails about getting started. 100 percent recommend!"
-Kacie Barnes, MCN, RDN, creator of Mama Knows Nutrition

"Beautiful and helpful, Simone's book makes baby-led weaning easy and tasty!"
-Gillian Fein, creator of LaLa Lunchbox

"This book is everything a parent who is new to the world of baby-led weaning needs! The recipes are not only nutritious, they're also creative and can be enjoyed by the whole family. You'll never be stuck in a food rut again! This is exactly what will help expose your baby to a variety of new flavors and textures, to expand their palate and have them on their way to eating a wide variety of food from the start!"
-Edwena Kennedy, pediatric dietitian and creator of @MyLittleEater

"Simone's book is a wonderful resource! The recipes are amazing, and her attention to detail in discussing the nutrition and safety aspects of feeding young children is incredible. This is a must-have for parents who want to confidently feed their babies and toddlers a variety of delicious and nourishing food!"
-Mariel Baron, Family Registered Dietitian, creator of Nurturing Intuitive Eaters

"A wonderful resource for anyone curious or about to delve into baby-led weaning! The recipes, information and photos are so clear and concise and easy to follow, not to mention healthy and delicious. This is a must-buy for any parent who is looking for simple, baby and toddler-friendly meal ideas!"
-Jane Nicholson, creator of Food Kids Love

"Parents wanting to follow baby-led feeding will love this book for the easy-to-follow format and actionable tips backed by a Registered Dietitian. The recipe ideas make including your baby in the family feeding process simple, while also helping to meet their key nutrient needs for growth and development. A fun and easy read for parents of all experience levels."
-Jessica Gust, MS, RDN, Pediatric Dietitian and creator of Element Nutrition

"Moms and dads, look no further! Simone's book is the ultimate guidebook to all things BLW. And the best part? These beautiful, nourishing, COLORFUL recipes will appeal to your entire family, so you only have to cook once."
-Kelly Pfeiffer, cookbook author and creator of Eat the Rainbow Kids and Nosh and Nourish

"What I love about this book is that the recipes are not only great for babies starting solid foods but also for older kids and adults. This book is a great resource filled with flavorful and nutritious recipes that I can continue to use well beyond the toddler years."
-Hee Jee Lee, creator of White Blank Space

"I am so excited to see Simone share her delicious recipes with others. Her creativity amazes me. The recipes are easy to make and use common staples. As a mom, I cannot emphasize how important it is to find nutritious quick recipes. Simone has all the needed information in this incredible book."
-Dashelyn Velazquez, nutritionist and creator of Nutridashe.com