The Trees: A Novel (Paperback)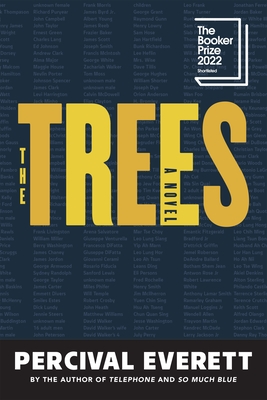 $16.00

Available In Store Now (while supplies last)
Staff Reviews
---
It isn't supposed to have this amount of humor sprinkled in regarding its subject matter. Should there be a satire about the savage history of lynching? Ehhh.... touchy territory. But Percival Everett pulls off some sort of literary sorcery as all great satirists do in this murder mystery which starts with the death of a relative to Carolyn Bryant, the woman who falsely accused Emmett Till of offending her in 1955. Everett excavates this country's dark past to create a compelling tale of a whodunit, horror and biting social commentary.  
— Dante
Description
---
Shortlisted for the 2022 Booker Prize
Winner of the 2022 Anisfield-Wolf Book Award
Finalist for the 2022 PEN/Jean Stein Book Award
Longlisted for the 2022 PEN/Faulkner Award for Fiction

An uncanny literary thriller addressing the painful legacy of lynching in the US, by the author of Telephone

Percival Everett's The Trees is a page-turner that opens with a series of brutal murders in the rural town of Money, Mississippi. When a pair of detectives from the Mississippi Bureau of Investigation arrive, they meet expected resistance from the local sheriff, his deputy, the coroner, and a string of racist White townsfolk. The murders present a puzzle, for at each crime scene there is a second dead body: that of a man who resembles Emmett Till.

The detectives suspect that these are killings of retribution, but soon discover that eerily similar murders are taking place all over the country. Something truly strange is afoot. As the bodies pile up, the MBI detectives seek answers from a local root doctor who has been documenting every lynching in the country for years, uncovering a history that refuses to be buried. In this bold, provocative book, Everett takes direct aim at racism and police violence, and does so in a fast-paced style that ensures the reader can't look away. The Trees is an enormously powerful novel of lasting importance from an author with his finger on America's pulse.
About the Author
---
Percival Everett is the author of more than twenty books. He is the recipient of the Hurston/Wright Legacy Award and the PEN Center USA Award for Fiction. He teaches at the University of Southern California and lives outside Los Angeles.
Praise For…
---
"Everett has mastered the movement between unspeakable terror and knockout comedy."—The New York Times Book Review

"[The Trees] blends Everett's wit with elegy and solemnity."—The Boston Globe

"With a highwire combination of whodunnit, horror, humor and razor blade sharp insight The Trees is a fitting tribute of a novel: Hard to put down and impossible to forget."—NPR.org

"In The Trees, Everett's enormous talent for wordplay—the kind that provokes laughter and the kind that gut-punches—is at its peak. . . . He makes a revenge fantasy into a comic horror masterpiece. He turns narrative stakes into moral stakes and raises them sky-high. Readers will laugh until it hurts."—Los Angeles Times

"The Trees is a wild book: a gory pulp revenge fantasy and a detective narrative. . . . [It] is just as blood-soaked and just as hilarious as Inglourious Basterds or Django Unchained, but it comes with more authentic historical weight for being set in a dreamlike counterpresent."—Bookforum

"Uproarious and grisly. . . . Everett forces readers to confront atrocities endured by Black Americans in this briskly paced hybrid of whodunit, madcap comedy, and horror story. . . . It's a testament to Everett's immense skill as a writer that he is able to take such grim material and make it hilarious, poignant, and infuriating."—Michael Magras, Pittsburgh Post-Gazette

"The Trees is unlike any other. Everett draws from a series of genres—literary novel, police procedural, horror—to create a book that's both unique and difficult to describe. It's a delicate balancing act that he pulls off masterfully, another brilliant book by one of the most essential authors in American literature."—Michael Schaub, Alta Journal

"Everett is going for an unstable cocktail of broad parody, mystery and social justice, and the result feels thrillingly volatile, and brave, a swing at a new kind of novel on American violence."—Chris Borrelli, Chicago Tribune, 10 Best Books of 2021

"This fierce satire is both deeply troubling and rewarding."—Booklist, starred review

"At points witty, surreal, and farcical, The Trees is a timely commentary by an American master on the ways that white supremacy continues to haunt us whether we realize it or not."—Oprah Daily

"The delicate tonal balance of [The Trees] could only be executed by a master like Everett. If there is one commonality of his work, it's his consistent boldness in executing ideas."—Lincoln Michel, Biblioracle

"The Trees weaves tropes of pulp-cop noir with trademark acuity and genre-bending inventiveness to deliver a swift, startlingly expansive take on the legacy of lynching in the American South."—Porter House Review

"A darkly amusing read, The Trees directly addresses racism, police brutality, and a culture of violence in a way that's as urgent as it is uproarious."—Ploughshares