Richard Shiff: Writing after Art: Essays on Modern and Contemporary Artists (Paperback)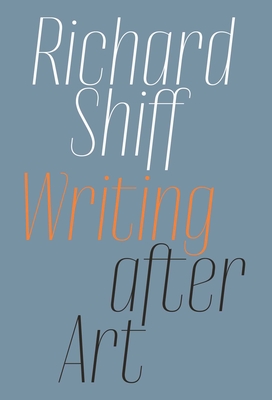 $45.00

Available In Store Now (while supplies last)
Description
---
A broad and deep anthology of critic and art historian Richard Shiff's most influential writings, which have shaped our understanding of twentieth- and twenty-first-century art.

In his engaging and often strikingly deep observations of major modern and contemporary visual art, Shiff has written about an impressive range of artists, including Willem de Kooning, Marlene Dumas, Jasper Johns, Donald Judd, Barnett Newman, Pablo Picasso, and Bridget Riley. A leading scholar and powerful voice, Shiff's insight into some of the most prominent artistic practices spans generation, place, and approach as seen in this considered selection of essays on twenty-six artists.

These writings first appeared in exhibition catalogues for retrospectives at galleries and institutions including the Centre Georges Pompidou, the Solomon R. Guggenheim Museum, The Museum of Modern Art, and Tate Modern. Shiff supplements his unquestionable fluency in art history with insights cultivated from his readings in philosophy, phenomenology, literary theory, and psychoanalysis, among other fields. Shiff's writing—conceptually rich, meditative, and enjoyable to read—is attuned to the nuances of artistic style and technique, drawing out art's social implications not merely from broad histories but also directly from artists' mark making and technical gestures. Actively engaged as a viewer and a writer, Shiff has transformed the act of looking at art into contemplative and captivating writing.

Includes essays on Georg Baselitz, Mark Bradford, Georges Braque, Jim Campbell, Chuck Close, Willem de Kooning, Peter Doig, Marlene Dumas, Dan Flavin, Suzan Frecon, Lucian Freud, Ellen Gallagher, Jasper Johns, Donald Judd, Ellsworth Kelly, Brice Marden, Julie Mehretu, Barnett Newman, Pablo Picasso, Bridget Riley, Richard Serra, Joel Shapiro, Richard Tuttle, Cy Twombly, Jack Whitten, and Zeng Fanzhi.
About the Author
---
Richard Shiff is the Effie Marie Cain Regents Chair in Art at The University of Texas at Austin, where he directs the Center for the Study of Modernism. His scholarly interests range broadly across the field of modern and contemporary art and theory, with publications that include Barnett Newman: A Catalogue Raisonné (coauthored, 2004), Doubt (2008), Between Sense and de Kooning (2011), Ellsworth Kelly: New York Drawings 1954–1962 (2014), Joel Shapiro: Sculpture and Works on Paper 1969–2019 (2019), and Sensuous Thoughts: Essays on the Work of Donald Judd (2020).
Praise For…
---
"This doorstop-sized anthology collects Shiff's essays on some two dozen artists, including Pablo Picasso, Barnett Newman, Richard Serra, Julie Mehretu, and Zeng Fanzhi"
— Rachel Wetzler

"Overall, Doubt is a major contribution, both to art history and to the history of art history. Schiff's empathy with art and artists, his subtle and intricate understanding of how thought and making are intertwined, means that it could be a contribution to contemporary practice as well."
— Robert Linsley

"Richard Shiff's Between Sense and De Kooning is a tour de force. But of what precisely? It's a category of art writing for which there is no genre, like De Kooning famously said of Duchamp, he's a movement of one!"
— Jonathan Fineberg, author of Art Since 1940: Strategies of Being