Stage-By-Stage Baby Food Cookbook: 100+ Purées and Baby-Led Feeding Recipes for a Healthy Start (Paperback)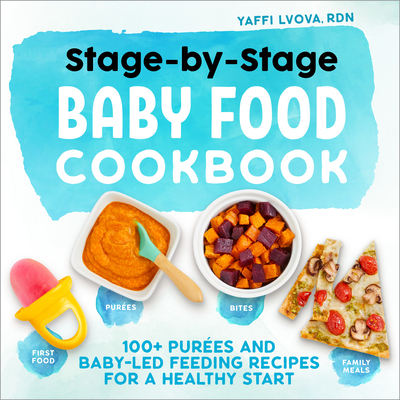 $16.99
Email orders@greenlightbookstore.com for information about this item.
Description
---
Healthy food, healthy baby—recipes and tips for introducing solid food at every stage
Build your baby's nutrition on a solid foundation with healthy, homemade food you can feel confident about. Whether your approach is baby-led feeding, chunky or smooth purées, or a combination of both, the
Stage-by-Stage Baby Food Cookbook
is a complete guide to introducing your infant to solid foods.
In this well-designed baby food cookbook, you'll discover delicious and nutritious recipes that are organized by three growth stages from six months to 12 months, plus additional baby-led feeding recipes for 12 to 18 months and 18+ months. From thin purées all the way to finger foods and beyond, the meals in this baby food cookbook can be tailored to fit your baby's needs and comfort level.
This baby food cookbook includes:
Allergies and intolerances—Find info on food reactions your baby could have, plus tips about when and how to introduce common allergens like peanuts and shellfish.
Feeding philosophies—Learn the difference between stage-specific purées and baby-led feeding, as well as the pros and cons of each approach for your baby, in this comprehensive baby food cookbook.
Baby food building blocks—Discover the components that make up a balanced diet for your little one, like fruits and vegetables, a variety of proteins, and more.
Give your baby the healthiest start possible—the
Stage-by-Stage Baby Food Cookbook
will show you how.
About the Author
---
YAFFI LVOVA is a registered dietitian nutritionist and owner of Baby Bloom Nutrition® and Toddler Test Kitchen™. She uses her experience and clinical knowledge to provide nutrition education to new and expecting parents, helping smooth the transition into parenthood. Find her at babybloomnutrition.com.
Praise For…
---
"Starting solids with a new baby is a fun and exciting time, but it can also be pretty daunting. An experienced registered dietitian, Yaffi takes away all that doubt and confusion surrounding feeding and replaces it with confidence and ease—a must read for any parent!" —Meghan McMillin, Registered Dietitian, International Board Certified Lactation Consultant, and owner of Mama & Sweet Pea Nutrition

"At a time when parents feel vulnerable, Yaffi provides practical and compassionate advice backed by the American Academy of Pediatrics. This book covers all the major concerns and points of confusion for parents beginning their feeding journey. This is a wonderful resource for all expecting and new parents." —Suhir Bitar MD FAAP, At Home Pediatric Medicine Concierge

"Bringing enjoyment and adventure to your baby's palate from the first bite, Yaffi outlines all the essentials you need to feed your growing baby, from sample schedules and kitchen tools to appropriate textures and nutrients at each stage. This beautiful and easy to follow guide will answer all of your new mama questions and make mealtimes deliciously stress-free with recipes your whole family will love." —Arielle "Dani" Lebovitz, MS, RDN, CSSD, CDE, author of the Growing Adventurous Eaters book series

"Science, up-to-date clinical recommendations, and recipes in one place? This book is a dream for the parent who desires easy-to-understand and accurate information about feeding their little ones. A great resource for veteran and seasoned parents alike." —Taylor Arnold, PhD, RDN, Founder of Growing Intuitive Eaters, PLLC