Social Skills Activities for Kids: 50 Fun Exercises for Making Friends, Talking and Listening, and Understanding Social Rules (Paperback)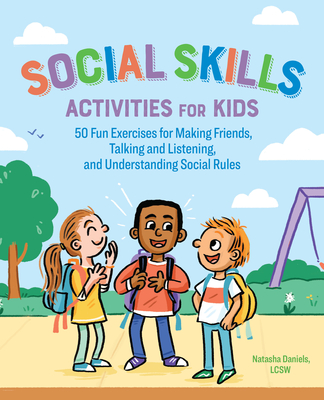 $15.99

Not In Store / Available To Order (allow for shipping time to bookstore or direct-to-home)
Description
---
The fun way for kids 6 to 10 to develop their social skills and make new friends

What are the Dos and Don'ts for making and keeping friends? How can you decode body language clues? What's the best way to keep a conversation going? Just like learning multiplication tables, social skills don't come naturally—everyone has to learn them. This book makes mastering social skills accessible for kids with 50 awesome activities.

Life lessons—From learning about compromise to practicing good table manners, these activities help kids develop and use essential people skills.

50 interactive activities—Games, fill-in-the-blank exercises, and reflective prompts keep kids learning and engaged in a variety of ways.

Real scenarios—Kids will explore important topics like bullying, using social media, setting and respecting boundaries, and more.

Give children the confidence to successfully navigate social situations at home, school, and the world in between.
About the Author
---
NATASHA DANIELS is a child anxiety and OCD therapist, and a mom to three kids. She's the author of How to Parent Your Anxious Toddler, Anxiety Sucks: A Teen Survival Guide, and Social Skills Activities for Kids. Natasha's also the creator of ATParentingSurvival.com, the host of AT Parenting Survival Podcast, and the creator of the YouTube channel Ask the Child Therapist.
Praise For…
---
"One of Natasha's many talents is that she speaks Kid Language. In a friendly, easy-to-understand manner, her words motivate and encourage, normalize and educate. Social Skills Activities for Kids comprehensively addresses the many and varied tricky social situations that kids of all abilities and backgrounds encounter at home, at school, and in the community. Children will feel respected and supported by the caring warmth that jumps off the pages and the cheerful illustrations that will appeal to all ages. This is an excellent resource for families and for any therapist's toolkit."—Yael Clark, Educational and Developmental Psychologist

"I am thrilled that this book exists. As a clinical psychologist in private practice, I often see children that need some help learning and practicing social skills. I love this book because it allows me to give families a tool to practice on their own outside of therapy. It is full to the brim with lively, engaging, and effective activities and interventions for children and parents. Social skills are a part of a child's life that are often overlooked. Natasha beautifully integrates various techniques to address social skills deficits in the most important areas. These activities are wonderful ways for parents to learn how to better interact with their children based on their child's social competency. This is a MUST HAVE for kids, parents, and teachers."—Dr. Allison Solomon, Psy.D., PC, Director of the Virtual Center for Anxiety and OCD

"If your child struggles to make friends, misreads social cues, or has difficulty listening and making conversation, get a copy of Social Skills Activities for Kids today! Natasha Daniels has created a book of fun, interactive activities that kids can relate to. Most importantly, this book normalizes kids' challenges and validates their feelings while helping them build important social skills."—Sharon Martin, LCSW, psychotherapist and author of The CBT Workbook for Perfectionism

"Natasha Daniels' Social Skills Activities for Kids is a warm, child- friendly compilation of activities to help elementary school children and caregivers master the essential skills for making and keeping friends. Natasha knows how to engage her young readers in this thorough, interactive, fun workbook that teaches important behaviors such as having manners, communicating at a friend's house, sharing, compromising, and more. In fact, this book is so useful, I am adapting the activities for teens and adults who struggle with social skills. This workbook offers useful strategies for teachers, parents, counselors, occupational therapists, and anyone else who wants to assist children in navigating the sometimes anxiety-provoking arena of successfully making and keeping friends, at any age."—Belinda Seiger, PhD, LCSW, Director, OCD & Anxiety Treatment Center of Princeton