Half-Life of a Stolen Sister (Hardcover)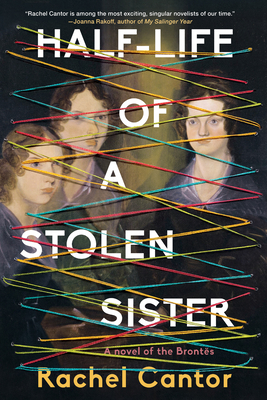 $27.00

Available In Store Now (while supplies last)
Description
---
Reimagines the lives of the Brontë siblings—Charlotte, Emily, Anne, and brother Branwell—from their precocious childhoods, to the writing of their great novels, to their early deaths.

A form-shattering novel by an author praised as "laugh-out-loud hilarious and thought-provokingly philosophical" (Boston Globe).

How did sisters Emily, Charlotte, and Anne write literary landmarks Jane Eyre, Wuthering Heights, and Agnes Grey? What in their lives and circumstances, in the choices they made, and in their close but complex relationships with one another made such greatness possible? In her new novel, Rachel Cantor melds biographical fact with unruly invention to illuminate the siblings' genius, their bonds of love and duty, periods of furious creativity, and the ongoing tolls of illness, isolation, and loss.

As it tells the story of the Brontës, Half-Life of a Stolen Sister itself perpetually transforms and renews its own style and methods, sometimes hewing close to the facts of the Brontë lives as we know them (or think we know them), and at others radically reimagining the siblings, moving them into new time periods and possibilities.

Chapter by chapter, the novel brings together diaries, letters, home movies, television and radio interviews, deathbed monologues, and fragments from the sprawling invented worlds of the siblings' childhood. As it does so, a kaleidoscopic portrait emerges, giving us with startling intensity and invention new ways of seeing—and reading—the sisters who would create some of the supreme works of literature of all time.
About the Author
---
Rachel Cantor is the author of the novels Half-Life of a Stolen Sister, Good on Paper, and A Highly Unlikely Scenario. Her stories have been published in The Paris Review, One Story, Ninth Letter, Kenyon Review, New England Review, and elsewhere, and she has written about fiction for National Public Radio, The Guardian, Publishers Weekly, and other publications. She lives in Brooklyn, New York.
Praise For…
---
Praise for Half-Life of a Stolen Sister

Longlisted for the 2024 Joyce Carol Oates Prize

"Cantor is one of the finest experimental novelists working today . . . An ingenious take on a clan whose personal relationships were as much an invention as their books."
—Bethanne Patrick, CultureWag

"Inventive . . . This novel fuses fact with fiction, creating a beautiful mosaic of the Brontës' lives and a love letter to their literature."
—BookBub

"For a novelist to engage in literary experimentation requires initial boldness and enduring resolve. Rachel Cantor succeeds with energy and empathy in "Half-Life of a Stolen Sister," in which familial eccentricity abounds, sorrow pervades and time wobbles . . . [An] inspired and singular triumph."
—The Free Lance-Star

"Rachel Cantor explores these uniquely creative lives in a formally inventive way, making for a singular look at literary history."
—Vol. 1 Brooklyn

"The book's rich humor lies in its adept and casually seamless merger of the voice and vocabulary of the characters' early 19th-century milieu with the trappings of our media-hungry society."
—John Hopkins Magazine

"The vignettes capture the voices of the storytellers across time, from childhood imaginings of wild woods and evil lords to adult contemplations of mortality and loss . . . Yet the reader is never lost in time, continuing to connect deeply with the characters, their thoughts, and experiences. Innovative. Infectious. Insightful. Indelible . . . A fascinating take on the Brontë story."
—Historical Novels Review

"Masterful . . . Reconciling bibliographic knowledge with artistic innovation, Cantor constructs a compelling narrative of the complex relationships between the three sisters and their lesser-known brother, Branwell."
—New England Review

"Original and deftly crafted . . . A fun and entertaining work of fiction."
—Midwest Book Review

"A kaleidoscopic, playful reimaging of the lives of the three Brontë sisters (and their brother, Branwell), Half-Life of a Stolen Sister is in turns a fact-based historical portrait, an alternate-universe timeline, and a wholly original novel. Perfect for fans of Rivka Galchen and Katherine Dunn."
—Book Culture

"Only the audaciously inventive, deeply knowledgeable, and empathetically satirical Rachel Cantor could pull off this slippery cross-fertilization of past and present . . . Richly layered, insightful, funny, and sad, Half-Life of a Stolen Sister is a gem of a novel for any century."
—Yale Alumni Magazine

"Rachel Cantor is among the most exciting, singular novelists of our time and Half-Life of a Stolen Sister is her best yet."
—Joanna Rakoff, author of My Salinger Year
 
"A show-stopping retelling of the lives of the Brontë sisters (and brother Branwell) that gleefully shape-shifts the legends we think we know . . . Cantor's exuberant risk-taking and bottomless compassion for her genius subjects make this book a work of genius in itself."
—Caroline Leavitt, author of With or Without You
 
"I was entranced. Through Cantor's virtuosic prose and empathic storytelling, I was drawn into the swirling drama and brilliance of this dysfunctional and ambitious family. I felt each death, each hurt, each creative triumph as my own. By the end, I became one of the Brontës. This hypnotic novel is a masterpiece."
—Sari Wilson, author of Girl Through Glass
 
"With humor and heart, Rachel Cantor paints a vivid, multi-voiced picture of the Brontës via a shape-shifting, time-bending tapestry of unforgettable characters and situations. Whether you're a fan of this literary family or not, this book is a must-read for anyone looking for a truly innovative, tender, and humorous take on genius, the creative process, family, and life."
—Marie Myung-Ok Lee, author of The Evening Hero
 
"Long a fan of Cantor's breathtaking synthesis of intellectual brilliance and rare compassion, I am gobsmacked by this novel, and by the steadily building power of what the author herself calls its 'eccentric form.' Playful, doleful, witty, tragic, loving; as a life is all of this at once, so is this magical volume. The Brontës deserve something extraordinary, and Rachel Cantor has given them—and us—exactly that. Brava!"
—Robin Black, author of Life Drawing

"Innovative . . . Cantor spins the known biographies of the Brontë siblings into a surrealist, eccentric story where modernity blends with the archaic . . . Retells the story of the Brontë family with flair."
—Foreword Reviews, Starred Review

"A clever work by one of America's most original stylists."
—Shelf Awareness

"Cantor pulls out all the stops to make this a unique and unforgettable reading experience that is as difficult to describe as it is to set down . . . Clever without straining, true to the basic facts of the Brontë family history, and emotionally compelling as the children grow while continuously facing new obstacles, Cantor's unusual tale can be read and reread for endless diversion."
—Booklist

"Cantor spins a free-ranging and intriguing tale of a literary family inspired by the Brontës that incorporates a mix of forms and anachronistic details . . . Cantor's frisky and time-collapsing blend of forms elevates the experiment above run-of-the-mill Brontë fodder . . . For Brontë fans, this is a jolt of fresh air."
—Publishers Weekly

"[Cantor's] take on [the Brontës'] lives plays fair with their limited life spans and general relationships to each other and the world while throwing them into a setting replete with bagels, McMansions, subways, television, and soy milk. The structure of the novel is playful . . . with a few surprising insights."
—Kirkus Reviews


Praise for Rachel Cantor
 
"Cantor creates a compelling vision of what love is. It's not a feeling but—like translation—an act: a willful opening of one self to another."
—NPR Books
 
"Cantor writes 'in two languages at once, as if two stories were playing themselves out together,' and the comedy helps prevent the seriousness from shading into sentimentality."
—The San Francisco Chronicle

"Cantor's prose is witty, poignant, and surprising."
—Los Angeles Review of Books

"By layering the ridiculous inventions of her mind with the ridiculous facts of the world, Cantor creates a novel about being incredulous and certain at the same time, about listening without judgment, about acting on faith."
—The New York Times