Bruised and Wounded: Struggling to Understand Suicide (Paperback)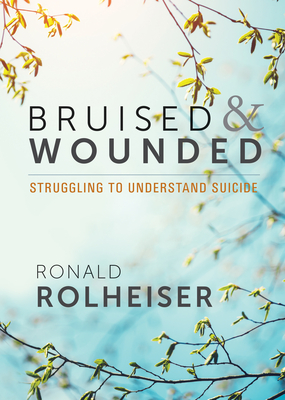 $12.99

Not In Store / Available To Order (allow for shipping time to bookstore or direct-to-home)
Description
---
Recent events have shown again how suicide touches all of us — often when we least expect it. But how to unpack the grief that follows such a painful, and often stigmatized, death? Ron Rolheiser can help.

When someone is stricken with cancer, one of three things can happen: Doctors treat the disease and cure it; professionals can't cure the disease but can control it so that the person suffering can live with the disease for the rest of his or her life; or the cancer can be of a kind that cannot be treated and all the medicine and treatments in the world are powerless – the person dies.
Emotional depression leading to suicide can work the same way. Sometimes a person can be treated so that, in effect, they are cured; sometimes they can't ever really be cured, but can be treated in a way that they can live with the disease for their whole life; and sometimes, just as with certain kinds of cancer, the disease is untreatable, unstoppable, and no intervention by anyone or anything can halt its advance – it eventually kills the person and there is nothing anyone can do. Thus, Ronald Rolheiser begins this small, powerful book.
With chapters also on "Removing the Taboo," "Despair as Weakness Rather than Sin," "Reclaiming the Memory of Our Loved One," and "The Pain of the Ones Left Behind," Fr. Rolheiser offers hope and a new way of understanding death by suicide.
About the Author
---
Ronald Rolheiser, OMI, is a specialist in the fields of spirituality and systematic theology, and a New York Times bestselling author. He writes a regular column that is featured in more than seventy newspapers worldwide. He is the author of many books, including bestsellers The Holy Longing and Sacred Fire, as well as The Restless Heart, Forgotten Amongst the Lilies, Bruised and Wounded, and Domestic Monastery.
Praise For…
---
Father Ron Rolheiser is a prolific writer and speaker. Many of his works look at complex theological issues, such as the human heart's search for God ("Holy Longing") and they are written in a style that is inviting and informative. Here he takes on the difficult issue of suicide in his usual style, writing with both compassion and empathy.
Father Rolheiser has experienced the loss of friends in this manner, and he has comforted others at the time of suicide in their families. In his words one feels comforted.
Throughout this little book Father Rolheiser confronts the stigma that suicide leaves, both for the individual who takes the life and for those left behind. He notes that "if someone dies in a morally compromised situation … the goodness of that life and heart should not be judged by the circumstances of that death. Death caught that person on a down bounce" which does not offer "a true judgment as to the goodness of his or her heart."
He writes that suicide is a disease, like cancer, and that those who commit suicide are usually sensitive. He notes that those who die at their own hands can be trusted to the "infinite understanding and compassion" of God.
This book offers hope and healing to those who have experienced the loss of a loved one or anyone trying to understand the topic. —Daniel S. Mulhall • Catholic News Service
A Catholic priest with the Missionary Oblates of Mary Immaculate, the author of 
The Holy Longing 
and the award-winning weekly column "In Exile" that appears in more than 70 newspapers, Ronald Rolheiser is also the author of 
Bruised and Wounded: Struggling to Understand Suicide
 which comes out in December from Paraclete. Rolheiser seeks to erase the stigma surrounding suicide for those left grieving. Specific chapters include: Removing the Taboo, Despair as Weakness Rather than Sin, Reclaiming the Memory of Our Loved One, and The Pains of Ones Left Behind. —Publishers Weekly