Trapped In the Present Tense: Meditations on American Memory (Hardcover)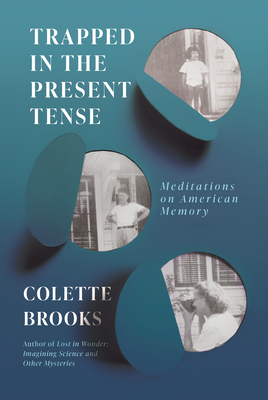 $26.00

Available In Store Now (while supplies last)
Description
---
For readers of Rebecca Solnit and Jenny Odell, this poetic and inventive blend of history, memoir, and visual essay reflects on how we can resist the erasure of our collective memory in this American century.

Our sense of our history requires us to recall the details of time, of experiences that help us find our place in the world together and encourage us in the search for our individual identities. When we lose sight of the past, our ability to see ourselves and to understand one another is diminished.

In this book, Colette Brooks explores how some of the more forgotten aspects of recent American experiences explain our challenging and often puzzling present. Through intimate and meticulously researched retellings of individual stories of violence, misfortune, chaos, and persistence—from the first mass shooting in America from the tower at the University of Texas, the televised assassinations of John F. Kennedy and Lee Harvey Oswald, life with nuclear bombs and the Doomsday Clock, obsessive diarists and round-the-clock surveillance, to pandemics and COVID-19—Brooks is able to reframe our country's narratives with new insight to create a prismatic account of how efforts to reclaim the past can be redemptive, freeing us from the tyranny of the present moment.
About the Author
---
COLETTE BROOKS has published two books and many literary essays. Her first book, In the City: Random Acts of Awareness, won a PEN/Jerard Fund Award for a distinguished work of nonfiction. Her second book, Lost in Wonder: Imagining Science and Other Mysteries, was a finalist for the Grub Street National Book Prize in nonfiction.
Praise For…
---
"Brooks is paying her respects to fleeting but meaningful episodes in our history, pushing back against our culture's waves of forgetting . . . By preserving the capacity to be surprised, she concludes, we may be more open to keeping memory alive . . . [Brooks] has done just this." —Michael S. Roth, The Washington Post

"Extremely refreshing . . . A work of literature that's beautiful, uncategorizable, sad, and challenging. In other words, a book that's very near life itself." —Melissa Holbrook Pierson, Hyperallergic

"A collection of light-footed philosophical essays . . . Brooks deftly draws out parallels between the lives of famed historical figures and individuals who led 'lowercase lives.' She consecrates both types in these pages." —Rhoda Feng, The Brooklyn Rail

"Brooks ruminates upon the past while reframing events to challenge our present perceptions of what matters most when we look back and formulate life lessons . . . This is a sophisticated, thoughtful collection that should be read with the kind of care that Brooks instilled into each provocative essay." —Booklist

"Evocative . . . Whether it's gun violence, nuclear war or government incursions on Americans' privacy, Brooks's concerns are broad and vital . . . Colette Brooks cogently assesses an array of modern American problems through the lens of history and recollection." —Shelf Awareness

"[A] lyrical meditation on the meaning of memory." —Kirkus Reviews

"What is a memory? Colette Brooks searchingly explores this question, one so fundamental we never really ask it, to uncover the sinuous paths by which public and private information intersect and mutate to form something quite separate from events as they occurred. Brooks doesn't merely describe but rather enacts this process. In prose that moves between urgent, reflective, and intimate registers, she makes vivid how the news—in all its evolving but always insistent forms—has colonized our most intimate selves. Trapped in the Present Tense charts this new consciousness and takes astute stock of its social and emotional implications." —Albert Mobilio, author of Same Faces

"Colette Brooks is that rarest of writers: an original. Her ruminative, visionary, forensic meditation on enduring American pathologies, with its rich trove of visual artifacts, is both riveting and deeply mysterious." —Jennifer Egan, author of Manhattan Beach and A Visit from the Goon Squad

"One of the pleasures of reading Colette Brooks is relinquishing what I thought I knew about her subjects. The startling clarity of her thinking, the lucidity of her sentences, and her knack for knowing where to look transform whatever she's writing about into something strangely unfamiliar and thrilling. And in Trapped in the Present Tense, a moving meditation on American life, Brooks reveals the contemporary moment to be both mournfully inevitable and utterly unexpected." —Alexander Halberstadt, author of Young Heroes of the Soviet Union