speculation, n. (Paperback)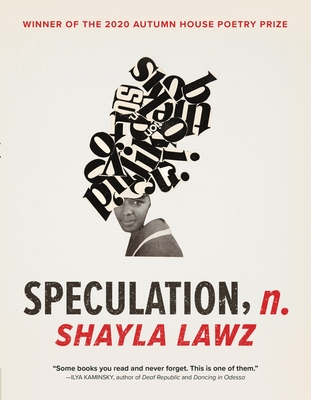 $16.95

Available In Store Now (while supplies last)
Description
---
Poems that imagine a world beyond the prevailing public speculation on Black death.
 
Shayla Lawz's debut collection, speculation, n., brings together poetry, sound, and performance to challenge our spectatorship and the reproduction of the Black body. It revolves around a central question: what does it mean—in the digital age, amidst an inundation of media—to be a witness? Calling attention to the images we see in the news and beyond, these poems explore what it means to be alive and Black when the world regularly speculates on your death. The speaker, a queer Black woman, considers how often her body is coupled with images of death and violence, resulting in difficultly moving toward life. Lawz becomes the speculator by imagining what might exist beyond these harmful structures, seeking ways to reclaim the Black psyche through music, typography, and other pronunciations of the body, where expressions of sexuality and the freedom to actively reimagine is made possible. speculation, n. contends with the real—a refracted past and present—through grief, love, and loss, and it speculates on what could be real if we open ourselves to expanded possibilities.
 
speculation, n. won the 2020 Autumn House Poetry Prize, selected by Ilya Kaminsky.
About the Author
---
Shayla Lawz is a writer and interdisciplinary artist from Jersey City, NJ. Her writing appears or is forthcoming in Aster(ix), McSweeney'sQuarterly, and The Poetry Project, among others. She lives in Brooklyn, where she teaches in the Humanities and Media Studies Department at Pratt Institute.
 
Praise For…
---
"Lawz's speculation, n. is a debut collection that could easily live on the walls of an art museum. An opening note, 'Instructions for Viewing,' informs us that 'some sections will require your reading, others will require your listening, and all will require your attention.' The book's four sections are punctuated with sixteen media pieces accessible via QR code. We hear Kendrick Lamar's 'XXX,' as well as other songs that fold us into the struggle for Black bodies—and in many cases the Black femme body in particular—to feel safe in the United States."
— Harriet (Poetry Foundation)

"'sometimes i want to ask the earth, / was it beautiful here / without us' writes Lawz in this virtuoso performance. Innovative, inimitable, endlessly urgent, speculation, n. is far more than just a collection of poems. It is a dazzling verbal and visual performance, a concerto, a book of our days that is as heart-wrenching as it is an accurate portrayal of what it means to live and sing in America today. 'i've been seeing my body around // in the stairwell, in the house / and even at time in the mirror. in the news' urging us to lift the veil and open our eyes. Some books you read and never forget. This is one of them."
— Ilya Kaminsky, author of Deaf Republic