The Longing for Less: Living with Minimalism (Hardcover)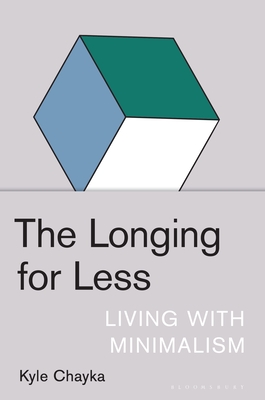 $27.00
Email orders@greenlightbookstore.com for information about this item.
Description
---
"More than just a story of an abiding cultural preoccupation, The Longing For Less peels back the commodified husk of minimalism to reveal something surprising and thoroughly alive." -Jenny Odell, author of How to Do Nothing

"Thoughtful and absorbing . . . A superb outing from a gifted young critic that will spark joy in many readers." -Kirkus Reviews, starred review

"Less is more": Everywhere we hear the mantra. Marie Kondo and other decluttering gurus promise that shedding our stuff will solve our problems. We commit to cleanse diets and strive for inbox zero. Amid the frantic pace and distraction of everyday life, we covet silence-and airy, Instagrammable spaces in which to enjoy it. The popular term for this brand of upscale austerity, "minimalism," has mostly come to stand for things to buy and consume. But minimalism has richer, deeper, and altogether more valuable gifts to offer.

Kyle Chayka is one of our sharpest cultural observers. After spending years covering minimalist trends for leading publications, he now delves beneath this lifestyle's glossy surface, seeking better ways to claim the time and space we crave. He shows that our longing for less goes back further than we realize. His search leads him to the philosophical and spiritual origins of minimalism, and to the stories of artists such as Agnes Martin and Donald Judd; composers such as John Cage and Julius Eastman; architects and designers; visionaries and misfits. As Chayka looks anew at their extraordinary lives and explores the places where they worked-from Manhattan lofts to the Texas high desert and the back alleys of Kyoto-he reminds us that what we most require is presence, not absence. The result is an elegant new synthesis of our minimalist desires and our profound emotional needs.
About the Author
---
Kyle Chayka is a freelance writer and critic whose work has appeared in the New York Times Magazine, New York Magazine, the New Republic, Rolling Stone, n+1, Vox, the Paris Review, and other publications. He has contributed chapters to Reading Pop Culture: A Portable Anthology and A Companion to Digital Art. Chayka is cofounder of Study Hall, a newsletter and digital community for journalists. He began his career as a visual art critic for Hyperallergic in Brooklyn, and now lives in Washington, D.C.
Praise For…
---
"Delving into art, architecture, music and philosophy, [Chayka] wants to learn why the idea of 'less is more' keeps resurfacing … For Chayka, Kondo's method clearly doesn't spark joy. More generative for him are the examples of artists who became known as Minimalists even as they disavowed the term. Experiencing their work sharpens his senses; in place of the dull hum of overstimulation, Chayka gains a heightened existential awareness . . . The minimalism that Chayka seeks encourages not an escape from the world but a deeper engagement with it." - Jennifer Szalai, The New York Times

"The Longing for Less arrives not as an addition to the minimalist canon but as a corrective to it … Writing in search of the things that popular minimalism sweeps out of the frame—the void, transience, messiness, uncertainty—[Chayka] surveys minimalist figures in art, music, and philosophy … Along the way, he offers sharp critiques of thing-oriented minimalism … Underneath the vision of 'less' as an optimized life style lies the path to something stranger and more profound: a mode of living that strips away protective barriers and heightens the miracle of human presence, and the urgency, today, of what that miracle entails." - Jia Tolentino, The New Yorker

"Chayka suspects, astutely, that minimalism can be used not just to make complex experiences simpler, but the other way around. Whether it is deployed as an ethical practice or as an aesthetic device (or as both at once), the minimalist mode can unlock truths lying dormant in one's own mind . . . Chayka's odyssey through the modern minimalist tradition is worthy of a stand-alone text. His study of the 'blank spaces' explored by the painter Agnes Martin, the architect Philip Johnson, the composer Julius Eastman, and many others is an exercise in grace and fidelity." - Los Angeles Review of Books

"Kyle Chayka's fascinating new book explores not only how one might live in a minimalist fashion, but in fact where the idea comes from and how it's changed and adapted over the ages." - Town & Country

"The Longing for Less tries to understand the current obsession with minimalism in all its complexity: the influence of Silicon Valley, yes, but also capitalism, the economy in the early 2000s, Stoic philosophy, Marie Kondo . . . Chayka takes the reader through history and around the world, giving equal consideration to minimalists like Steve Jobs (who lived in a giant house that remained entirely empty) as he does to Cicero." - Wired.com

"[A] wide-ranging synthesis of a fascinating and perplexing impulse … Persuasively argues for the power of works associated with the minimalism movement." - Slate

"[A] sharp debut . . . Chayka is in tune with the spirit of the movement." - Washington City Paper

"With impressive breadth and depth of knowledge, Mr Chayka deftly skewers the shallowest, consumerist form of minimalism while being sensitive to the impulse for a simpler life, historically a response to decadence or chaos, and how the truest expression strips away artifice, challenging us to see things as they really are." - MR PORTER, The Daily

"Beautiful . . . Whatever name we're giving to this genre of books that first diagnose our mostly depressing modern condition, then deliver the medicine that make us feel more fully alive, count The Longing For Less in as a brilliant new addition." - Delia Cai, Deez Links

"A powerful meditation on the origins of minimalism, its recent commodification, and how it all went awry." - Hazlitt

"[Minimalism] has become a catchall for any product or idea that promises to simplify or ease our lives, but, in the process, mostly encourages us to accumulate more stuff. In The Longing for Less, Kyle Chayka draws on his experience as a cultural critic to look past this consumerist ethos at the philosophers, artists, and writers who pioneered the concepts underlying minimalism, from Jun'ichiro Tanizaki to Donald Judd and John Cage, as well as the ways their ideas surround us in our everyday lives." - LitHub

"An intriguing deep dive into the many manifestations of minimalism . . . Lively . . . Thoughtful and absorbing . . . A superb outing from a gifted young critic that will spark joy in many readers." - Kirkus Reviews, starred review

"Alluringly titled, Chayka's insightful book connects a wide array of thought-provoking approaches to the concept of less is more." - Booklist

"More than just a story of an abiding cultural preoccupation, The Longing For Less peels back the commodified husk of minimalism to reveal something surprising and thoroughly alive." - Jenny Odell, author of HOW TO DO NOTHING

"In its lightly worn learning and serious grace, The Longing for Less functions both as a corrective to our shallow form of minimalism and as a guide to a deeper form that still has a great deal to teach us." - Brian Phillips, bestselling author of IMPOSSIBLE OWLS

"Kyle Chayka nimbly weaves Zen Buddhism and Marxism with Donald Judd and Uniqlo in this lively and sophisticated cultural history of minimalism. He balances a critical view of the mass-market forces churning the minimalist-goods industry with a tender consideration of the emotions underlying it, showing how the urge for emptiness is part of a timeless, tireless human need to reinvent the spaces we inhabit and maximize our feeling of being alive." - Rachel Corbett, author of YOU MUST CHANGE YOUR LIFE

"I'm no minimalist, but I am not immune to Kyle Chayka's searching, subtle, and finally quite moving exploration of the beauty of less." - Luc Sante

"Don't let the title fool you: The Longing for Less overflows. It's a parade of artists, architects, musicians, and philosophers, most of them new to me, all of them fascinating. This book is generous and wide-ranging, a genuine adventure; it's thrilling to ride along with Kyle Chayka as he explores this terrain." - Robin Sloan, author of MR. PENUMBRA'S 24-HOUR BOOKSTORE

"Kyle Chayka gently urges us to reconsider our inheritance of the minimalist legacy while offering nuanced, profound, and then outright dazzling angles on a subject as loved as it is overexposed. With sophistication and subtlety, his new book champions the necessity of critical self-examination amidst our current cultural obsession." - Paola Antonelli, Senior Curator, Department of Architecture & Design, Museum of Modern Art, New York City

"Awake to the paradoxes in our search for peace and simplicity, The Longing for Less quietly observes, with open eyes, heart, and mind, the spirit of iconic places and times when less has been enough." - Kay Larson, author of WHERE THE HEART BEATS

"In a country fueled by commodification, the act of rearranging your dresser drawer can be billed as the beginning of a shinier, more fulfilling life. Kyle Chayka's impeccably built and consistently fascinating book examines the roots of this movement, which emerges on a loop during times of chaos, bearing aesthetic concepts as quick-fix mantras when the world feels increasingly out of control. Through all Chayka's biting observations about the soothing contours of Instagram or the platitudes of design blogs, The Longing for Less also tenderly deconstructs the universal ache to build a life that matters." - Kristen Radtke, author of IMAGINE WANTING ONLY THIS