Invitation to a Bonfire (Paperback)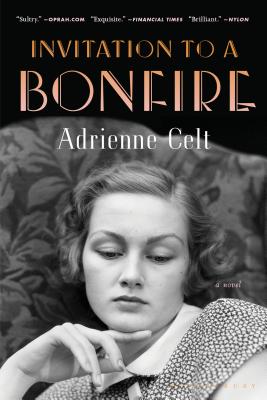 $17.00
Available to order (allow for shipping time to bookstore or direct-to-home)
June 2018 Indie Next List
---
"Adrienne Celt's Invitation to a Bonfire is a propulsive literary thriller masterfully constructed and written with an extraordinary, raw urgency that will leave readers breathless. Inspired by the marriage of Vladimir and Vera Nabokov, Celt explores the love and ambition of two strong-willed women who compete for the passions and artistic control of a literary icon. The novel's characters are original and vividly drawn, with all the complexity and contradictions of their emotions and intensions fully realized. This is a story that you will not be able to put down, and certainly one of the most memorable and satisfying reads of the year. Adrienne Celt is a writer to watch. "
— Lori Feathers, Interabang Books, Dallas, TX
Description
---
"A tense psychological thriller and deft character study." --The Chicago Tribune

In the 1920s, Zoya Andropova, a young refugee from the Soviet Union, finds herself in the alien landscape of an elite all-girls New Jersey boarding school. Having lost her family, her home, and her sense of purpose, Zoya must now endure the malice her peers heap on scholarship students and her new country's paranoia about Russian spies. With the arrival of visiting writer and fellow Russian émigré Leo Orlov--whose books Zoya has privately obsessed over for years--her luck seems poised to change, but the relationship that forms between them will put Zoya, Leo, and his calculating wife, Vera, all at risk.

Grappling with class distinctions, national allegiance, and ethical fidelity--not to mention the powerful magnetism of sex--Invitation to a Bonfire investigates how one's identity is formed, irrevocably, through a series of momentary decisions, including how to survive, who to love, and whether to pay the complicated price of happiness.
About the Author
---
Adrienne Celt's debut novel, The Daughters, won the PEN Southwest Book Award for Fiction and was an NPR Best Book of the Year and an NYPL Favorite Book of the Year. Her story "Temples" was included in The O. Henry Prize Stories 2016. Her work has appeared in Epoch, Zyzzyva, Prairie Schooner, Esquire, Electric Literature, The Rumpus, The Millions, and elsewhere. She has an MFA in fiction from Arizona State University, draws weekly comics at Loveamongthelampreys.com, and lives in Tucson.
Praise For…
---
"A ravishing tale of love, loss, desire and betrayal . . . at once a gripping psychological thriller and a finely crafted work of literature . . . Celt is an exquisite writer; her sentences take hold of you and will not let go . . . Invitation to a Bonfire is nothing less than an exhibition of stylistic virtuosity, a pyrotechnic display of fine writing." —Financial Times

"On a sentence-by-sentence level, Adrienne Celt's seductive, searing novel . . . is one of the most brilliant books I've read in some time . . . [Celt] has a firm grip on style, and her words have a rhythm and cadence ("Cindy Pink was a peripheral friend...") which further draws the reader in close, all the better to totally lose yourself in this compelling story that makes you question familiar power dynamics, the complicated ethics of fidelity, and what horrible and beautiful things we give ourselves permission to do, all for the sake of the sublime." —NYLON

"Celt upends stereotypes about innocence and guile, deception and honesty. She underscores how easily class and gender can be used to grind someone down--and the enormous grit and adaptability it takes to survive a world that doesn't want to keep you. Most of all, Invitation to a Bonfire demonstrates how casually women are pitted against one another by the stories of men--and the lengths they are willing to go to to protect themselves from harm without destroying their own ambitions in the process." —Buzzfeed

"A tense psychological thriller and deft character study--one loosely inspired by the marriage of Vera and Vladimir Nabokov." —Chicago Tribune

"Sultry." —Oprah.com, "O's Top Books of Summer"

"The incendiary title says it all; this novel reimagines the marriage of Vladimir and Vera Nabokov, a literary couple whose brilliance and intertwined labor turned him into a household name." —Elle, "The 30 Best Books to Read This Summer"

"Trembling with atmosphere, Celt's second novel follows a young Russian émigré as she becomes embroiled in a sinister love triangle with a brilliant novelist and his exceptional wife... An ominous snowball of a novel (very) loosely based on the Nabokov marriage, with a slow-burning first half and a second half that hurtles toward inevitable catastrophe... Rich and moody." —Kirkus Reviews

"Full of gorgeous sentences . . . Right when you think Celt has hit some undefined apogee of prose, she proves time and time again there's still more fun to be had, and her lyricism and wit are a real treat." —Chicago Review of Books

"Celt . . . weaves her characters and plot twists into a rich, vibrant tapestry. Invitation to a Bonfire has all the intrigue and intensity of a good thriller, but with a deeper sense of magic and glowing prose--alive with detail and deliciously delivered." —The Independent

"An intricate and engrossing tale... at once a taut psychological thriller and a sensitive character study; fans of each should rejoice." —Library Journal, starred review

"An incendiary and provocative novel about obsession." —Publishers Weekly

"An intimate character study and twisted psychological saga . . . Filled with characters of unreliable passion and motive, Bonfire smolders with intrigue through the final reveal." —Shelf Awareness, starred review

"An ominous literary thriller that's as tricky as a chess match between grand masters . . . [Celt] brings unexpected plot twists to this gothic hothouse of a novel." —Amazon.com, a Best Book of the Month

"Loosely inspired by the marriage of Vladimir and Vera Nabokov, this epistolary novel is told through the letters and diary entries of Zoya, a young Russian immigrant performing menial labor at an American girls' school, and Leo, an acclaimed Russian author teaching there." —Harper's Bazaar, "16 Steamy New Books to Kick-Start Your Summer"

"A complex, ripe depiction . . . Celt captures the voices of the Russian immigrants in sensual detail, and what begins as a literary gem evolves into a psychological thriller reminiscent of Patricia Highsmith." —Tucson Weekly

"This historically inspired mystery about a brilliant author, a love triangle and an all-girls boarding school in the 1920s is told through a series of letters and diary entries and based on the marriage of the Vladimir Nabokov and his wife Véra." —MSN.com, "18 Buzzy Books Everyone Will Be Talking About This Summer"

"Fascinating . . . The story is beautifully told with enough absolutely stunning sentences to enthrall the reader." —Lithub

"A cleverly constructed novel about love, obsession and revenge . . . [A] cunning plot and . . . singular, sparkling prose . . . Invitation to a Bonfire is part noir, part coming of age and a wholly enjoyable read." —BookPage

"Sharp, seductive historical fiction." —Bustle

"A notable writer with a hauntingly lyrical voice... immersive." —BookPage, "11 Women to Watch in 2018

"[This] literary novel . . . has all the delicious tension of a psychological thriller, the mysteries dissected in prose as sharp and precise as a scalpel . . . The result is a novel that packs all the punch of the very best noir--only with more depth. Highly recommended." —Booklist

"In this story of growing up and finding your place, one young girl will find herself caught in the middle of a marriage, in love with a man she can't ever be with. In this psychological thriller, young Zoya Andropova will come to terms with national paranoia and complicated love." —Parade, "The Top 25 Hottest Books of Summer 2018"

"Celt's masterfully told story about a dangerous love triangle, inspired by the infamous Nabokov marriage, has us counting down until June 5 when it hits officially hits bookstores. We highly recommend preordering this thriller now." —MyDomaine

"Adrienne Celt's Invitation to a Bonfire will infiltrate your subconscious and make you read passages twice, maybe three times . . . When the threads--like lit dynamite fuses--hit their target, you'll get way more than just a bonfire." —Criminal Element

"Magical prose." —The St. Louise Post Dispatch

"Juicy . . . a sensual and dazzling novel, full of cinematic characters worthy of a Sofia Coppola film." —Fodors.com

"A thrilling love story with elements of intrigue and mystery." —Hello Giggles

"An intense, page-turning, slow burn of a novel. I love it." —BookRiot

"The way Adrienne Celt so completely inhabits the voices and lives of her characters is an amazing thing to behold. A dazzling stylist and a powerful writer, she has given us a rich, tapestried story of love, loneliness, and betrayal." —Nathan Hill, author of THE NIX

"Adrienne Celt harnesses the tension of a tango and weaves it with revolution, sexual awakening, creative warfare, and the power dynamics of marriage, resulting in a dangerously seductive and viciously smart read. Celt proves herself a master of form, effortlessly moving from the punch of noir to the sumptuousness of Nabokov. She is a writer to envy." —Erika Swyler, author of THE BOOK OF SPECULATION

"Part psychological thriller and part literary puzzle, Invitation to a Bonfire is a sexy, brilliant, and gripping novel about the fine line between passion and obsession. I am in awe of Celt's mastery as a prose stylist and storyteller; I can't stop thinking about this amazing book." —Edan Lepucki, bestselling author of CALIFORNIA and WOMAN NO. 17

"Engrossing, endearing, phenomenal--this book will set you on fire. In this brilliant novel, Adrienne Celt's lush prose and mousetrap plot deliver a wild wonder." —Alissa Nutting, author of TAMPA and MADE FOR LOVE

"Celt's writing is dangerous and fine, an impersonation of Nabokov's style so acute it caused my teeth to itch and an obscure ringing in my bones. An exploration of fraud in both the literary and criminal sense, this is a modern reimagining of the relationship between Vera and Nabokov that delights as much as it distresses." —Rufi Thorpe, author of DEAR FANG, WITH LOVE and THE GIRLS FROM CORONA DEL MAR

"Sensual and wickedly clever, Celt's INVITATION TO A BONFIRE plays with our hearts and our expectations as we follow the lives of three unforgettable characters who love and obsess in turn." —Esmé Weijun Wang, author of THE BORDER OF PARADISE

"It's got sex, intrigue, a vicious all girls boarding school in 1920s New Jersey, and lines like, 'On a budget, eggs are the perfect food, until they're not.' It's delicious and smart and I want HBO to adapt it into a mini-series." —Edan Lepucki, The Millions