Beirut 2020: Diary of the Collapse (Paperback)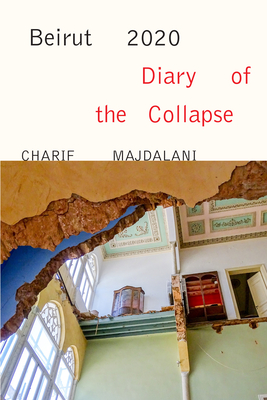 $14.99

Not In Store / Available To Order (allow for shipping time to bookstore or direct-to-home)
Description
---
World Literature Today: Notable Translation of the Year  
PopMatters: Best Book of the Year 

Told in elegant, evocative prose, a devastating and necessary testament to the August explosion that thoughtfully examines the crises that preceded it and its aftermath.

At the start of the summer of 2020, in a Lebanon ruined by economic crisis and political corruption, in an exhausted Beirut still rising up for true democracy while the world was paralyzed by the coronavirus, Charif Majdalani set about writing a journal. He intended to bear witness to this terrible, confusing time, and perhaps endure it by putting it into words. Using small, everyday interactions—with fellow restaurant patrons, repairmen, the father of his wife's patient, a young Syrian refugee—as openings to address larger systemic problems, he explains how events in Lebanon's recent history led to this point.

Then, on August 4, the explosion of 2,750 tons of ammonium nitrate in the port of Beirut devastated the city and the country. Majdalani's chronicle suddenly became a record of the catastrophe, which left more than two hundred dead and thousands injured, and the massive public outcry that followed. In the midst of the senseless chaos and grief, however, he continues to find cause for hope in the kindness and resilience of those determined to stay and rebuild.
About the Author
---
Charif Majdalani was born in Lebanon in 1960 and is one of the most important figures in Lebanese literature today. After living in France for thirteen years, he returned to Lebanon in 1993 and now teaches French literature at the Université Saint-Joseph in Beirut. His novel Moving the Palace won the 2008 François Mauriac Prize from the Académie Française as well as the Prix Tropiques.

Ruth Diver holds a PhD in French and comparative literature from the University of Paris 8 and the University of Auckland, New Zealand. She won two 2018 French Voices Awards for her translations of Marx and the Doll by Maryam Madjidi, and Titus Did Not Love Berenice by Nathalie Azoulai. She also won Asymptote's 2016 Close Approximations fiction prize for her translation of extracts of Maraudes by Sophie Pujas.
Praise For…
---
"This penetrating account…is a razor-sharp reckoning with a tragedy decades in the making." —Publishers Weekly

"Charif Majdalani's detailing of the political and economic collapse of Lebanon is unforgettable and extraordinary. Beirut 2020 is rich with insight, rage, beauty, and a profound understanding of Lebanon's complex place at the crossroads of Middle East politics, and the future of the region. —Madeleine Thien, author of Do Not Say We Have Nothing

"A searing, emotional rollercoaster of a read that deftly illustrates the despair and desperation Lebanese people endure daily. Majdalani expertly captures the hopelessness that most if not all Lebanese feel. And yet he still manages to entertain the reader with his sharp and cynical commentary on the country's absurdities and injustices. As a Lebanese person myself, I felt like I was looking in the mirror as I read Majdalani's powerful and vivid words. I could not help but cry throughout. But I also felt less alone." —Zahra Hankir, journalist and editor of Our Women on the Ground: Essays by Arab Women Reporting from the Arab World

"When a terrible financial crisis hit his country, Charif Majdalani began to write a diary. He didn't know it would become the journal of the gigantic catastrophe that would blow Beirut away. Beirut 2020 is the appalling account of a destroyed city in a sinking state." —Mathias Énard, author of Compass and Tell Them of Battles, Kings, and Elephants

"Charif Majdalani's Beirut 2020: Diary of the Collapse is the most important work of literature from a year of shared global tragedy. In astute and despairing prose, Majdalani shows us his beloved city's pain, as the beauty and resilience of Lebanon are smothered by a surreal and menacing culture of government corruption and political rot. And then comes the explosion on August 4 of some 2,750 tons of ammonium nitrate. Majdalani's account of the explosion and the days following is intimately personal and particular to Beirut's devastation. At the same time, in Majdalani's wisdom Beirut's tragedy becomes a global cry. The same forces of oligarchy, corruption, and deliberate incompetence threaten all of us with cascading collapses of climate and ecological systems." —Nathaniel Popkin, author of To Reach the Spring: From Complicity to Consciousness in the Age of Eco-Crisis

"For anyone who knows Lebanon or is newly curious about it in light of recent events, Charif Majdalani's Beirut 2020: Diary of the Collapse is a brisk, stunningly vivid, crushing account of a country in the midst of total self-annihilation. It's a must-read for Lebanese abroad who've missed out on the events of the past two years in Beirut and in the country at large, and for expats and visitors, both past and future, who have long admired this beautiful and vexed country. Especially for those Lebanese who feel survivor's guilt as they watch the devastation from afar, it's a brutally honest account of what's happened, what keeps happening, and perhaps what has happened once and for all—in the most hopeful sense possible—to a place we cherish." —Salma Abdelnour, author of Jasmine and Fire: A Bittersweet Year in Beirut

"Covid-19, the economic crisis, the bankruptcy of the government, and the devastating explosion at the Port of Beirut on August 4, 2020. This is the chronicle of surrender that we witness in slow motion as Lebanon descends into social, economic, and political ruin. This is the diary of a man passionate about his country, written with anger and heartbreaking eloquence. This is the testimony of the mind-boggling absurdities of everyday life set against their political and historical sweep. While in the background there is the hum of the electricity generator and the smell of gardenias. Majdalani is magnificent." —Kerry Young, author of Pao

"The author's hometown is falling apart. He watches with sorrow as life leaks from its body, drop by drop. Lebanon's capital, which had been, for decades, the living symbol of the Levant, of its cosmopolitan cultures, of its joie de vivre, has morphed into a symbol of devastation and hatred and madness. Charif Majdalani is a survivor who still finds in himself the elegance to smile and hope." —Amin Maalouf, author of The Crusades Through Arab Eyes and The Disoriented

Praise for Moving the Palace:
 
"Renders the complex social landscape of the Middle East and North Africa with subtlety and finesse…Yet one doesn't need to care about the region's history, or its present-day contexts, to enjoy Moving the Palace…brio and Mr. Majdalani's richly textured prose are reason enough." —Wall Street Journal
 
"A Middle Eastern heart-of-darkness tale that flows like a dream…crackling with razor-sharp humor." —New York Times Book Review
 
"Charming and gently humorous…Majdalani's writing sparkles…Those looking for an enjoyable and brisk literary adventure will be very satisfied." —Publishers Weekly
 
"This utterly charming and, yes, moving novel takes us on a journey…and the result is a victory of human ingenuity and a joyous picaresque…Beautiful fun that also gives a deeper sense of Middle East history." —Library Journal
 
"Charif Majdalani has a ripping yarn to tell and tells it with a raconteur's bravura. Transporting, wholly engaging, deeply moving. This book is why I travel and why I read." —Andrew McCarthy, award-winning director and actor and author of Just Fly Away and The Longest Way Home