The Mountain Bike Way of Knowledge: A Cartoon Self-Help Manual on Riding Technique and General Mountain Bike Craziness (Paperback)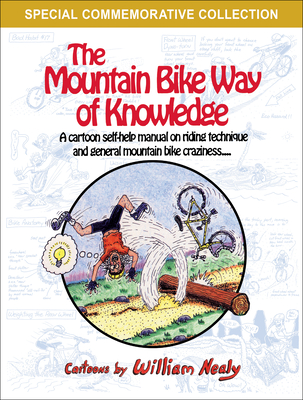 $14.95

Not In Store / Available To Order (allow for shipping time to bookstore or direct-to-home)
Description
---
Laugh while you learn basic and advanced techniques for mountain biking from an expert who is also a renowned cartoonist
William Nealy has revolutionized learning how to mountain bike. Whether you're a rank beginner or a cycling pro, William's The Mountain Bike Way of Knowledge educates and entertains like no other how-to manual you've ever read His crash-and-burn experience, four-dimensional drawings, and twisted sense of humor give you the most comprehensive, easy-to-understand, and detailed book on mountain biking ever written.
The Mountain Bike Way of Knowledge teaches you everything you need to know, from your first ride to the secrets of wheelie turns, log jumps, bar hops, and dog evasion--to name a few. It also includes embarrassing but true stories about the best-selling author's own experiences. After crashing and burning on mountain bikes for more than a decade, William decided to share his hard-earned wisdom--using his hilarious, accessible cartoon style.
Inside you'll find:
Entertaining and educational content for beginners and experts
Basic skills to advanced techniques like wheelie turns and log jumps
Anecdotal stories from the author's own experiences
Riotous cartoons that make learning fun
Whether you're just thinking about buying your first mountain bike or you're a full-blown mountain bike racer-head, this is the book you've been waiting for.
About the Author
---
William "Not Bill" Nealy was a wild, gentle, brilliant artist and creator turned cult hero who wrote 10 books for Menasha Ridge Press from 1982 to 2000. William shared his hard-won "crash-and-learn" experiences through humorous hand-drawn cartoons and illustrated river maps that enabled generations to follow in his footsteps. His subjects included paddling, mountain biking, skiing, and inline skating. His hand-drawn, poster-size river maps of the Nantahala, Ocoee, Chattooga, Gauley, Youghiogheny, and several other rivers are still sought after and in use today. William was born in Birmingham, Alabama. He and his wife, Holly Wallace, spent their adult years in a home William built in the woods on the outskirts of Chapel Hill, North Carolina, along with an assortment of dogs, lizards, pigs, snakes, turtles, and amphibians. William died in 2001. His longtime friend and publisher, Bob Sehlinger, wrote: "When William Nealy died in 2001, paddling lost its Poet Laureate, one of its best teachers, and its greatest icon. William was arguably the best-known ambassador of whitewater sport, entertaining and instructing hundreds of thousands of paddlers through his illustrated books, including the classics: Whitewater Home Companion Volumes I and II, Whitewater Tales of Terror, Kayaks to Hell, and his best-known work, Kayak, which combined expert paddling instruction with artful caricatures and parodies of the whitewater community itself."