Decoding Madness: A Forensic Psychologist Explores the Criminal Mind (Paperback)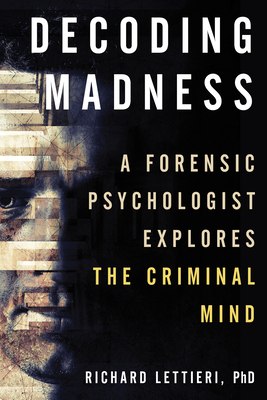 $19.95

Not In Store / Available To Order (allow for shipping time to bookstore or direct-to-home)
Description
---
Dealing with some of the most heinous crimes imaginable, forensic neuropsychologist and psychoanalyst Dr. Richard Lettieri gives a behind-the-scenes look at criminal psychology through case studies from his over 30 years of experience as a court-appointed and privately retained psychologist.
With cases like Michael, who stabbed his mother in the back believing she was the evil force causing the sun to descend upon the earth and gobble him up, and Tina, who seriously injured her boyfriend and stabbed his son to death, Decoding Madness is filled with gripping stories and forensic analysis. Through psychological examination, it is the author's job to conclude whether these individuals are truly guilty and understand their actions are wrong, or if these individuals are not guilty by reason of insanity and instead require treatment.
Decoding Madness offers a nuanced psychological understanding of defendants and their personal complexities beyond the usual clinical accounts. The book introduces the novel idea of the daimonic as a basic force of human nature that is the source of our constructive and destructive capacities and argues for an update to the criminal justice system's perspective on rationality and conscious thinking.
Featuring new findings and personal insights, Dr. Lettieri presents an engrossing view of the psychology of defendants accused of committing heinous crimes and the insight that they provide towards the human mind.
About the Author
---
Richard Lettieri, PhD. is a forensic neuropsychologist and psychoanalyst with over 25 years of experience. Whether privately retained or appointed by the court, he is frequently called upon to assess individuals for a number of reasons, including competency to stand trial and insanity, and to evaluate individuals accused of sex crimes and violent offenses. He has written and lectured on a variety of topics as an expert in his field, and is a member of the American Psychological Association, the California Psychological Association, the Center for Psychoanalysis, the Association for the Treatment of Sexual Abusers, the New York Academy of Sciences, the American Psychological Association Divisions of Psychoanalysis and of Forensic Psychology. Dr. Lettieri received his Ph.D. from the University of Southern California and is a member of the Expert Witness Panels of Orange County and San Bernardino County Superior Courts. He has taught at Chapman University in Orange County, California, at the New Center for Psychoanalysis in Los Angeles, and at Pepperdine University in the Masters and Doctorate programs. He lives in Santa Ana, California.