The Mob and the City: The Hidden History of How the Mafia Captured New York (Paperback)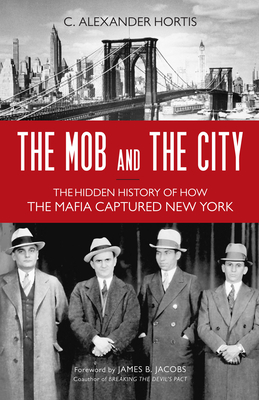 Description
---
Forget what you think you know about the Mafia.  After reading this book, even life-long mob aficionados will have a new perspective on organized crime.

Informative, authoritative, and eye-opening, this is the first full-length book devoted exclusively to uncovering the hidden history of how the Mafia came to dominate organized crime in New York City during the 1930s through 1950s.  Based on exhaustive research of archives and secret files obtained through the Freedom of Information Act, author and attorney C. Alexander Hortis draws on the deepest collection of primary sources, many newly discovered, of any history of the modern mob.

Shattering myths, Hortis reveals how Cosa Nostra actually obtained power at the inception.  The author goes beyond conventional who-shot-who mob stories, providing answers to fresh questions such as:     

* Why did the Sicilian gangs come out on top of the criminal underworld?   
* Can economics explain how the Mafia families operated?   
* What was the Mafia's real role in the drug trade?   
* Why was Cosa Nostra involved in gay bars in New York since the 1930s?  

Drawing on an unprecedented array of primary sources, The Mob and the City is the most thorough and authentic history of the Mafia's rise to power in the early-to-mid twentieth century.
About the Author
---
C. Alexander Hortis, JD, is an attorney specializing in commercial litigation and constitutional law. He has published articles on the Mafia in The Informer: The History of American Crime & Law Enforcement and in New York Law School Law Review.
Praise For…
---
"In his rich, well-researched first book, Hortis details the rise of the Mafia while debunking numerous myths. . . . If there's a better book on the early history of Cosa Nostra in America, I haven't seen it."
 
—Jerry Capeci, Gang Land News, coauthor of Mob Boss

"An exhaustively researched, yet highly readable history of exactly how the Italian Mafia became the dominant organized crime group in New York City for most of the twentieth century. Using newly uncovered documents and primary sources, Hortis cuts through many of the myths that surround the Mafia and offers new angles and insight on a subject that continues to fascinate researchers and readers. The Mob and The City is an exciting addition to the Mafia true-crime canon."

—Scott M. Deitche, author of The Silent Don: The Criminal Underworld of Santo Trafficante Jr.

"Hortis demolishes what we thought we knew about the Mob...and builds a new history upon a solid foundation of exclusive documentary evidence and superb insight.... Essential reading for all who seek to truly understand the phenomenon of organized crime in America's most populous city."

—Thomas Hunt, editor of Informer: The History of American Crime and Law Enforcement

"An outstanding work of scholarship that highlights misinformation and myth attached to the history of the Mafia in New York."
 
—Dr. Howard Abadinsky, professor of criminal justice, St. John's University, author of Organized Crime

"Much has been made of the Cosa Nostra being a national crime organization. And while that was certainly true, New York was always its headquarters—the only city with more than one resident family (there are five) and, because of that, the birthplace of the Commission. The Mob and the City provides both an overview and an analysis of how that came to be, and it offers an interesting alternative to mob boss Joe Bonanno's generally accepted version of Cosa Nostra's origins. Lucid and thoughtful, it is well worth reading."

—Ronald Goldstock, commissioner of the Waterfront Commission of New York Harbor and former director of the New York State Organized Crime Task Force