Empowered Embroidery: Transform sketches into embroidery patterns and stitch strong, iconic women from the past and present (Art Makers #3) (Paperback)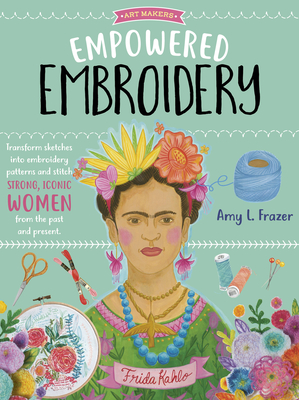 $21.99
Email orders@greenlightbookstore.com for information about this item.
Description
---
With Art Makers: Empowered Embroidery, learn to sketch and stitch strong, recognizable women from all walks of life.
Featuring sketching and illustration instructions, basic stitches, embroidery techniques, and 6 projects with portraits of famous women, this book is a must-have tool for hands-on artists and crafters.
If you're a beginning embroiderer, start with the basic stitches and embroidery instructions at the beginning of the book. Essential tools, warm-up exercises, tips for embroidering facial features and hair, and general information on embroidery will give you the know-how you need to get started. Then dive into sketching your favorite female cultural and historical icons:
Frida Kahlo
Eleanor Roosevelt
Maya Angelou
Harriet Tubman
Ruth Bader Ginsburg
Michelle Obama

Once you've sketched your figures, follow along with the step-by-step embroidery projects as you learn to stitch the women featured in the book—and anyone else you admire! All of the projects are beautifully paired with large photos so that you can easily mimic the techniques at home while relaxing with your embroidery.
The author is a professional illustrator, designer, and embroiderer uniquely suited to give instruction on this fun, trending embroidery technique. With her expert tips, you're sure to enjoy learning a new hobby, or advancing your skills if you're already familiar with embroidery.
Art Makers: Empowered Embroidery makes it easy to sketch, stitch, and create your favorite female icons, from empowering women of today to icons of the past.

The Art Makers series is designed for beginning artists and arts-and-crafts enthusiasts who are interested in experiencing fun hands-on mediums, including polymer clay and papier-mache.
About the Author
---
Amy L. Frazer is a Portland, Oregon–based illustrator, designer, and embroiderer. After studying art and illustration at the Columbus College of Art & Design, Amy worked as product designer. She left the corporate world in 2015 and now teaches art workshops in addition to working with a variety of clients. Learn more at amylfrazer.com.
Praise For…
---
"Illustrator Frazer brings a feminist flair to embroidery in her winning debut that "honors the lifetime and work" of such feminist trailblazers as Eleanor Roosevelt, Frida Kahlo, and Harriet Tubman. … Embroiderers looking to push their creativity will be rewarded by these projects."—Publishers Weekly

"Tons of tips for creating hair and facial features with floss, warm-up exercises, and gorgeous large photos of the projects that help you easily mimic the techniques. Honestly, I kinda want to frame some of the pictures in this book!"—JenniferPerkins.com

"It makes it easy to sketch, stitch, and create favorite female icons, from empowering women of today to honoring women of the past."—Midwest Book Review

"If you're looking to try thread painting and stitch projects of inspiring individuals, this book is definitely for you."—Brown Paper Bag