The Kevin Show: An Olympic Athlete's Battle with Mental Illness (Hardcover)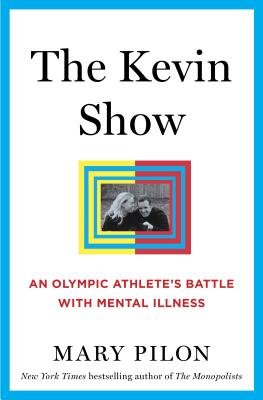 $28.00
Email or call for price.
Description
---
From the NYT bestselling author of The Monopolists, the "fascinating" (People) story of Olympian Kevin Hall and the syndrome that makes him believe he stars in a television show of his life.
Meet Kevin Hall: brother, son, husband, father, and Olympic sailor. Kevin has an Ivy League degree, a winning smile, and throughout his adult life, he has been engaged in an ongoing battle with a person that doesn't exist to anyone but him: the Director. In the tradition of Kay Redfield Jamison's An Unquiet Mind, journalist and NYT bestselling author Mary Pilon's The Kevin Show reveals the many-sided struggle--of Kevin, his family, and the medical profession--to understand and treat a psychiatric disorder whose euphoric highs and creative ties to pop culture have become inextricable from Kevin's experience of himself.
Kevin suffers from what doctors are beginning to call the "Truman Show" delusion, a form of bipolar disorder named for the 1998 movie in which the main character realizes he is the star of a reality TV show. When the Director commands Kevin to do things, the results often lead to handcuffs, hospitalization, or both. Once he nearly drove a car into Boston Harbor. His girlfriend, now wife, was in the passenger seat.
Interweaving Kevin's perspective--including excerpts from his journals and sketches--with police reports, medical records, and interviews with those who were present at key moments in his life, The Kevin Show is a bracing, suspenseful, and eye-opening view of the role that mental health plays in a seemingly ordinary life.
About the Author
---
Mary Pilon is an award-winning staff reporter at The New York Times where she currently covers sports. She previously worked at The Wall Street Journal, where she wrote about various aspects of economics and the financial crisis. She has worked at Gawker, USA Today, and New York Magazine and is an honors graduate of New York University. Her work has garnered awards from the Freedom Forum, the Society of American Business Editors and Writers and she was part of the Journal's team that won Gerald Loeb and New York Press Club Awards in 2011 for covering the "Flash Crash" of 2010. She made the Forbes magazine's first-ever 30 Under 30 list for media. A native Oregonian, she currently lives in New York City. Visit her web site at marypilon.com and find her on Twitter @marypilon.
Praise For…
---
"Absorbing and empathetic . . . Pilon is a paragon of dogged research. She's best in reconstructing (via hundreds of hours of interviews) the intertwined life struggles of Hall, his steadfast sweetheart and eventual wife, his vexed parents and some denizens of the competitive sailing world. Her attempts to reach Hall's "inner world" display levels of empathy that touch the heart." - New York Times Book Review
"As [The Kevin Show] journeys through Hall's illness, it also forces readers to consider the 'sanity' of their own relationship to a media-saturated world . . . Grippingly provocative reading." - Kirkus Reviews
"Pilon's compelling portrait of a remarkable young man and the challenges he faces as a cancer survivor, Olympic athlete, and bipolar patient underscores all the difficulties involved, especially in treating mental illness, and offers insights into the effects it has on patients and their families." - Booklist
"A captivating narrative that details the many challenges Hall has faced as a result of his disorder . . . Sharp and compelling, this highly entertaining account will reframe the way you see mental health in everyday life." - Bustle
"Kevin Hall battles a rare delusion. He often believes he's starring in his own reality show. Despite that, he's a husband, dad, and Olympic sailor. How does that work? Fascinating." - People Magazine
"Draws attention to the toll of mental illness on individuals and their families." - Publishers Weekly
"[A] nonfiction standout . . . With impressive detail and sensitivity, journalist Mary Pilon, captures the highs and lows of Kevin's life with mental illness." - Best of the Year, Real Simple
"Pilon's empathetic approach and Hall's precise expression of his unique inner world make this an important biographical study for mental health collections, sports fans, and readers interested in the increasingly blurry line between fantasy and reality." - Library Journal
"Spellbinding. Brilliant. A true-life psychological thriller that captures the ongoing drama of a major mental illness as it unfolds while also recognizing its complexity and majesty." - Edward M. Hallowell, M.D., bestselling author of DRIVEN TO DISTRACTION
"[A] fascinating history . . . The Monopolists lucidly weaves together a multifaceted story . . . [It] builds to an intense pitch--while highlighting several fundamental issues of capitalism." - Los Angeles Times on THE MONOPOLISTS
"A legal, corporate and intellectual whodunit . . . The tale, like the game, becomes a parable for American capitalism, with powerful players stamping out competitors and fortunes being made or destroyed at the roll of the dice . . . anyone who grew up playing Monopoly will have a hard time resisting The Monopolists." - Washington Post on THE MONOPOLISTS
"Highly entertaining . . . Like Monopoly itself, the book unfolds in interesting directions, probing into lost Quaker communities, the early history of Atlantic City, and how a game originally invented to critique capitalism became its most diverting simulacrum." - The Boston Globe on THE MONOPOLISTS
"With more twists and turns than an Agatha Christie mystery, reporter Pilon reveals the tumultuous history of Monopoly . . . More entertaining than the game itself." - Starred review, Publishers Weekly on THE MONOPOLISTS
"Briskly enlightening . . . [Pilon] has woven a plush, often humorous tapestry of board-game and social history." - New York Times Book Review on THE MONOPOLISTS