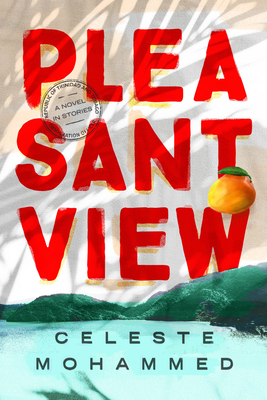 $16.95

Not In Store / Available To Order (allow for shipping time to bookstore or direct-to-home)
Description
---
Winner of the 2022 CLMP Firecracker Award for Fiction
Winner of the 2022 OCM Bocas Prize for Caribbean Literature
"In one of Chekhov's stories, a character says that every happy man should have someone who taps at his door with a little hammer, reminding him that there are unhappy people in the world. Reading Celeste Mohammed's novel-in-stories makes me think of that magical little tap - except that the door opens not to a vision of unhappiness, but to a world crammed with life that you never knew existed."--Claire Adam
"The residents of Pleasantview come to vivid light in this extraordinary debut from Celeste Mohammed. Each slice of life in this Trinidadian village cuts clean to the bone, revealing how people are both complicated and complicit in the way we break each other's hearts and bodies. From the riveting opening to the aching end, Mohammed's gift for giving voice to each character is glorious."--
Tracey Baptiste
"As James Joyce did for Dublin, Celeste Mohamed holds up a polished mirror to the inhabitants of the fictitious Trinidadian town of Pleasantview and dares the reader to take an unflinching look at a multi-ethnic society that is vibrant and joyous but riddled with corruption and the exploitation of women, the young, and the vulnerable. Mohamed's writing is smart, funny, and enlivened by everyday Trinidadian vernacular, creating rich and lively portraits of a range of Trini characters. A formidable debut,
Pleasantview's
razor-sharp observations of misogyny and the abuse of power are leavened by humor and a pitch-perfect ear for the language of human."--
Tony Eprile
"
Pleasantview
offers the reader a sharp and fearless view of the dark underbelly of life in Trinidad, filled with unforgettable characters that we meet in do-or-die situations. Marked by male violence, political underhandedness, and economic desperation,
Pleasantview
also demonstrates Mohamed's remarkable range as a writer as she moves seamlessly from callousness to tenderness, humor to sorrow, lyricism to minimalism in work that lingers in the reader's mind long after the final page. This is a thrilling debut."--
Laurie Foos
"These stories are full of unexpected twists and connections and infused with humour. They herald the arrival of an intriguing new voice."--
Ingrid Persaud
"Celeste Mohamed forces you to travel with her characters. You see their lives and their world as they do, on foot. You walk in her characters' shoes. Mohamed is a skillful storyteller, so the journey educates and exhilarates you, Mohamed invents a clear, crackling town/district, Pleasantview, a bustling, hustling side of Trinidad, where few of us have ever been, or will ever go.
Pleasantview
forces us to look at how we behave when uncontained, when unconstrained, when our lack of morality unmoors us."--
A.J. Verdelle
Coconut trees. Carnival. Rum and coke. To many outsiders, these idyllic images represent the so-called easy life in Caribbean nations such as Trinidad and Tobago. However, the reality is far different for those who live there--a society where poverty and patriarchy savagely rule, and where love and revenge often go hand in hand.
Written in a combination of English and Trinidad Creole, Pleasantview reveals the dark side of the Caribbean dream. In this novel-in-stories about a fictional town in Trinidad, we meet a political candidate who sets out to slaughter endangered turtles for fun, while his rival candidate beats his "outside woman" so badly she ends up losing their baby. On the night of a political rally, the abused woman exacts a very public revenge, the trajectory of which echoes through Pleasantview, ending with one boy introducing another boy to a gun and to an ideology which will help him aim the weapon.
About the Author
---
Celeste Mohammed's fiction has won multiple awards, including the 2018 PEN/Robert J. Dau Short Story Prize for Emerging Writers, the 2019 Virginia Woolf Award for Short Fiction, and the 2017 John D Gardner Memorial Prize for Fiction. Her work has appeared in The New England Review, Litmag, Epiphany, and The Rumpus, among other places. A native of Trinidad and Tobago, Celeste graduated from Lesley University with an MFA in Creative Writing. She currently resides in Trinidad with her family.