The Dead Are Arising: The Life of Malcolm X (Hardcover)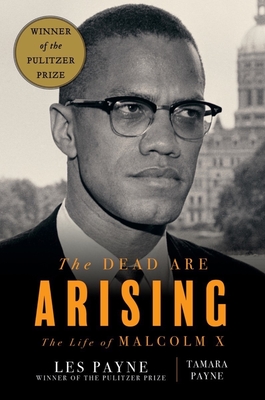 $35.00
Available In Store Now (while supplies last)
Description
---
WINNER 2020 NATIONAL BOOK AWARD FOR NONFICTION TIME Magazine 10 Best Nonfiction Books of 2020 A New York Times Notable Book of 2020 and Editors' Choice Selection Best Books of 2020: NPR, Washington Post, Library Journal, Chicago Public Library Excerpted in The New Yorker Longlisted Andrew Carnegie Medal for Excellence in Nonfiction Best Books of Fall 2020 O, the Oprah Magazine, The Week, St. Louis Post-Dispatch
An epic biography of Malcolm X finally emerges, drawing on hundreds of hours of the authors interviews, rewriting much of the known narrative.
Les Payne, the renowned Pulitzer Prizewinning investigative journalist, embarked in 1990 on a nearly thirty-year-long quest to interview anyone he could find who had actually known Malcolm Xall living siblings of the Malcolm Little family, classmates, street friends, cellmates, Nation of Islam figures, FBI moles and cops, and political leaders around the world. His goal was ambitious: to transform what would become over a hundred hours of interviews into an unprecedented portrait of Malcolm X, one that would separate fact from fiction.
The result is this historic biography that conjures a never-before-seen world of its protagonist, a work whose title is inspired by a phrase Malcolm X used when he saw his Hartford followers stir with purpose, as if the dead were truly arising, to overcome the obstacles of racism. Setting Malcolms life not only within the Nation of Islam but against the larger backdrop of American history, the book traces the life of one of the twentieth centurys most politically relevant figures from street criminal to devoted moralist and revolutionary.
In tracing Malcolm Xs life from his Nebraska birth in 1925 to his Harlem assassination in 1965, Payne provides searing vignettes culled from Malcolms Depression-era youth, describing the influence of his Garveyite parents: his father, Earl, a circuit-riding preacher who was run over by a street car in Lansing, Michigan, in 1929, and his mother, Louise, who continued to instill black pride in her children after Earls death. Filling each chapter with resonant drama, Payne follows Malcolms exploits as a petty criminal in Boston and Harlem in the 1930s and early 1940s to his religious awakening and conversion to the Nation of Islam in a Massachusetts penitentiary.
With a biographers unwavering determination, Payne corrects the historical record and delivers extraordinary revelationsfrom the unmasking of the mysterious NOI founder Fard Muhammad, who preceded Elijah Muhammad; to a hair-rising scene, conveyed in cinematic detail, of Malcolm and Minister Jeremiah X Shabazzs 1961 clandestine meeting with the KKK; to a minute-by-minute account of Malcolm Xs murder at the Audubon Ballroom.
Introduced by Paynes daughter and primary researcher, Tamara Payne, who, following her fathers death, heroically completed the biography, The Dead Are Arising is a penetrating and riveting work that affirms the centrality of Malcolm X to the African American freedom struggle.
About the Author
---
Les Payne(19412018) was born in Tuscaloosa, Alabama, and was a Pulitzer Prizewinning American journalist. He served as an editor and columnist at Newsday and was a founder of the National Association of Black Journalists.

Tamara Payneacted as Les Paynes principal researcher. She lives in New York.
Praise For…
---
The definitive biography of Malcolm X.... A book that contextualizes race in America prior to Malcolm's birth, takes an in-depth, nuanced, unflinching look at Malcolm's life, and then explores his death and its aftermath, all backed by 28 years of research.... An incredibly complete picture of Malcolm's life. More than a biography of a man, this is a narrative about a man that constantly places him in the contexts of his country, his family, and his inner world.... Payne uses historical events to offer readers a clear, unwavering look at the state of the nation.... The quality of the writing is superb and the book contains a wealth of gems that make the narrative unforgettable.... Les Payne was an outstanding researcher, and so is Tamara Payne, who worked to see this book finished after Les Payne's death. Malcolm X is still a powerful, influential figure, and getting this definitive biography, which sometimes corrects the historical record (and even corrects some dates and facts on Malcolm's autobiography) feels necessary and timely given today's racial unrest. In fact, this biography isn't just important; it should be required reading.
Gabino Iglesias - NPR

Malcolms presence is beautifully rendered...Nobody has written a more poetic account...Payne also shows how enthralling it was to watch Malcolm improvise and argue. In this scene and others, we are exposed to Malcolms teachings within the rhythm of Paynes masterly storytelling.
Michael P. Jeffries - New York Times Book Review

Fascinating and essential.... [Payne] adds invaluably to our understanding of Malcolms story.
Mark Whitaker - Washington Post

Masterfully, [Payne] wove together the memories of friends, family, acquaintances, informants, and adversaries into a rich tapestry from which emerges the portrait of a complex individual working to make change in a society also full of contradictions. The book, which ultimately took more than three decades to produce, was completed after Paynes 2018 death by his daughter and primary researcher, Tamara Payne, who also contributed the books introduction...[Payne's] meticulous recovery of Malcolms youth adds a new dimension to Malcolms less familiar 'origins story'....By giving a second life to a historical Malcolm, Les Paynes timely biography illustrates something really important. It reminds us that those making history often do so by having the courage and conviction to act in spite of their limitations; their legacy can survive and continue to inspire even the deconstruction of the myths we build around them or the ones they construct themselves.
Yohuru Williams - Boston Globe

Payne frequently revises or expands the historical record, offering the most detailed new account of Malcolms early years; the clearest argument yet (with new sources) that Earl Little, Malcolms father, died in an accident and not in a racist murder; the revelation that Shorty (the friend played by Spike Lee in the movie) is actually a composite; a deep dive into Malcolms ill-advised meeting with the Ku Klux Klan; and intriguing specifics on the assassination and its aftermath.
Stuart Miller - Los Angeles Times

Masterful... The Dead Are Arising is a meticulously researched, compassionately rendered, and fiercely analytical examination of the radical revolutionary as a human being.
Kerri Greenidge - The Atlantic

The Dead Are Arising, a new biography of Malcolm X, is timely. But perhaps this sobering books clearest message is that it will always be timely, because the story it narrates is timeless.... Les and Tamara Payne are especially good in detailing these early years of delinquency and rebirth. Like Robert Caros life of Lyndon Johnson, The Dead Are Arising delves deeply into the wider context of Malcolms world.... The book shows better than any previous biography the extent to which the NOIs outlook was rooted in Marcus Garveys Back to Africa movement of the 1920s.... Malcolm was uneasy about sitting down with white supremacists, but hed been ordered to do so by the Messenger Elijah Muhammad.... The encounter, covered in a riveting 63-page chapter thats based on a wealth of new evidence, is the Paynes showstopper.
Andrew Preston - The Spectator

The Dead Are Arising sets out to provide a much fuller picture of the life and death of Malcolm X, drawing on interviews with his friends and family to assess his contribution in the context of the times. The book is based on decades of painstaking research by Les Payne, who died before it was completed, and his daughter Tamara.... It is as much a history of US race relations as it is a biography of the black revolutionary.... The Dead Are Arising rightly sees Malcolms split from the cult-like Nation of Islam as inevitable, given the organisations reactionary political stances.
Kehinde Andrews - The Guardian

[The Dead Are Arising is] the most lyrical and complete biography of this uniquely brilliant American ever written. This book is a great read, full of original insights about an elusive figure rendered deeply human.
David Blight, author of the Pulitzer Prizewinning Frederick Douglass: Prophet of Freedom

Monumental. . . Paynes richly detailed account is based on hundreds of interviews with Malcolm Xs family members, childhood friends, cellmates, allies, and enemies, and meticulously tracks his journey from Omaha. . . to his emergence as the Nation of Islams most gifted and successful proselytizer and demander of justice, and his assassination in 1965. Along the way, Payne folds in incisive portraits of [major] figures. . . An extraordinary and essential portrait of the man behind the icon.
Library Journal, starred review

Comprehensive, timely life of the renowned activist and his circuitous rise to prominence. . . . Payne delivers considerable news not just in recounting unknown episodes of Malcolms early years, but also in reconstructing events during his time as a devotee of Nation of Islam leader Elijah Muhammad . . . Paynes accounts of the consequences that rupture and Malcolms assassination at the hands of a goon squad with ties to the FBI and CIA are eye-opening, and they add a new dimension to our understanding of Malcolm Xs last years. . . . A superb biography and an essential addition to the library of African American political engagement.
Kirkus Reviews, starred review

Pulitzer winner Payne (19412018) spent nearly 30 years researching and writing this monumental biography of human rights activist Malcolm X. Completed by his daughter and researcher, Paynes richly detailed account is based on hundreds of interviews with Malcolm Xs family members, childhood friends, cellmates, allies, and enemies, and meticulously tracks his journey from Omaha, Neb., where he was born Malcolm Little in 1925, through his teenage pot dealing in East Lansing, Mich., and street criminal days in Boston and Harlem, to his emergence as the Nation of Islams most gifted and successful proselytizer and demander of justice, and his assassination in 1965. Along the way, Payne folds in incisive portraits of such major figures as Marcus Garvey, whose teachings on racial uplift Malcolm Xs parents followed; Moorish Science Temple leader Noble Drew Ali, whose follower, Fard Muhammad, founded the Nation of Islam; and civil rights leader Martin Luther King Jr. Payne also documents the radio dramas and jazz music Malcolm X listened to, reveals how a clandestine meeting with the Georgia Ku Klux Klan in 1961 contributed to his break from the Nation of Islam, and interviews two men wrongly imprisoned for his murder. The result is an extraordinary and essential portrait of the man behind the icon.
Publishers Weekly, starred review

Les Payne has written a biography of this African American icon that sets a new standard for investigative journalism.
DeWayne Wickham, founding dean of Morgan State Universitys School of Global Journalism & Communication

Monumental and absorbing... peers into the gaps left by Malcolm Xs autobiography, taking us more deeply into the intimate details of his life, work and death. In vivid detail, Payne retells the events leading up to Malcolm Xs assassination, offering fresh information about those involved. The Dead Are Arising is essential reading.... captur[ing] the vibrant voice of a revolutionary whose words resonate powerfully in our own times.
Henry L. Carrigan Jr., BookPage, starred review

Meticulously researched and masterfully reported, this chronicle offers fresh insights and disturbing revelations that, among other things, strengthen the case for government complicity in the murder of Malcolm X. . . . A gripping read . . . [and] a worthy companion to Malcolms famed autobiography.
Nathan McCall, author of Makes Me Wanna Holler: A Young Black Man in America

The Dead Are Arising. . . will become the definitive biography of Malcolm X.
Ray Winbush, director of the Institute for Urban Research at Morgan State

A brilliant and indispensable depiction of the life of Malcolm X. . . . Using the fruits of decades of interviews, [Payne] brings new information and perspectives on one of the most fascinating, and often misunderstood, figures in American history.
Annette Gordon-Reed, author of The Hemingses of Monticello, winner of the Pulitzer Prize

Paynes storytelling weave[s] an epic tale of Malcolms exuberant life, his tragic death, and the Phoenix-like legacy.
Farah Jasmine Griffin, author of Harlem Nocturne

The result of nearly three decades of investigative reporting, The Dead Are Arising is an essential new biography of one of the most compelling political figures of the twentieth century.
Jill Lepore, author of These Truths

No one who wishes to reckon with the life of this man, one of the most important African American figures of the twentieth century can afford to forgo this account.
Howard W. French, Columbia University