Crazy Is The New Normal (This Modern World) (Paperback)
* Is the book you're looking for not currently on the shelves at our stores? Consider placing your order for shipping rather than in-store pickup; orders are currently being fulfilled FASTER via our warehouse's direct-to-home shipping option than for store pickup (and shipping is free for orders over $125)!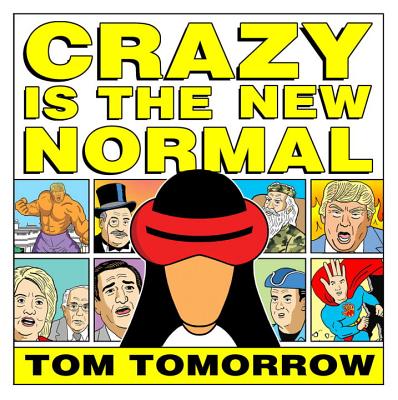 Email or call us for information about purchasing this item.
Special Order; please email orders@greenlightbookstore.com for more information
Description
---
New regime got you down? Then return to tomorrow as Tom Tomorrow's unique and celebrated perspective on America's political lunacy, This Modern World, returns to shelves! The gang's all here as the war drum of doom signals the encroaching apocalypse that is the 2016 American Presidential race—with special guest The Incredible Trump! Serious, elevated discourse and political correctness need not apply. One thing's for sure, in 2016 Crazy Is The New Normal, and Tom Tomorrow is the only guiding light fit to lead us into that darkness! This softcover volume collects select strips from 2014–2016.
About the Author
---
Tom Tomorrow (Dan Perkins) is the creator of This Modern World, a weekly cartoon of political and social satire which is featured on sites such as The Nation, Daily Kos, and Medium, and which has been a mainstay of the alternative press for more than two decades. His work has also appeared in publications including The New York Times, The New Yorker, Esquire, Spin, Mother Jones, US News and World Report, the Economist, and many others. He is a two-time recipient of the Robert F. Kennedy Journalism Award, the 2013 recipient of the Herblock Prize for editorial cartooning, and a 2015 finalist for the Pulitzer Prize. He is the author of ten cartoon compilations and one book for children, and in 2009 created the artwork for the Pearl Jam album Backspacer.
Praise For…
---
"Cartoonist Dan Perkins, aka Tom Tomorrow, brings together three years' worth of strips from his syndicated This Modern World. Inspired by partisan politics, and the machinery of fanatical supporters, angry detractors, talking heads, and media personalities who are hell-bent on shaping the 2016 U.S. presidential election, Perkins finds plenty of targets for his well-honed wit. Inhabiting a brightly colored landscape that reinforces the idea that crazy is the new normal, the characters—President Obama, the Incredible Trump, and an assortment of anthropomorphized animals—show how fractured America has become over a variety of issues, including gun control, racial violence, drones, torture, and, of course, the full-blown craziness of the election itself. Perkins is as much at home in his classic six-panel strips as he is in his text-rich 20-panel "Year in Review" segments, the common thread being his keen ability to show America's difficulty changing the narratives that dominate its headlines. It is, despite its delightful hilarity, terrifying to read. (Oct.)" — Publisher's Weekly