The Sasquatch Hunter's Almanac: A Novel (Paperback)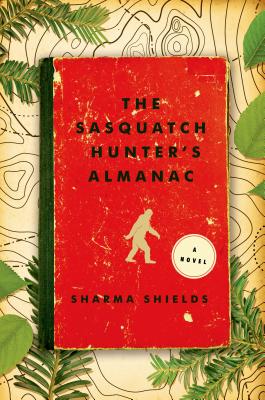 $28.00

Not In Store / Available To Order (allow for shipping time to bookstore or direct-to-home)
Staff Reviews
---
When Eli Roebuck is 9 years old, he witnesses his mom walk off into the forest with Sasquatch. What follows is a life spent in pursuit of the truth, however Eli's hunt takes not only him but his father, two wives, children, and colleagues along for the ride. If you're worried about the upcoming family dinners and gaiety, temper that with this book. Shields does something I have rarely seen done in "literary fiction"--she takes the magical and blurs the line so finely, you may find yourself as lost as Eli as he lives a truly long, heartbreaking, and astonishing life. There are books that when they're finished, you stand back in horror or reflection (or both)--this book is one of those.
— Ikwo
Description
---
A dark, fantastical, multi-generational tale about a family whose patriarch is consumed by the hunt for the mythical, elusive sasquatch he encountered in his youth

Eli Roebuck was nine years old when his mother walked off into the woods with "Mr. Krantz," a large, strange, hairy man who may or may not be a sasquatch. What Eli knows for certain is that his mother went willingly, leaving her only son behind. For the rest of his life, Eli is obsessed with the hunt for the bizarre creature his mother chose over him, and we watch it affect every relationship he has in his long life--with his father, with both of his wives, his children, grandchildren, and colleagues. We follow all of the Roebuck family members, witnessing through each of them the painful, isolating effects of Eli's maniacal hunt, and find that each Roebuck is battling a monster of his or her own, sometimes literally. The magical world Shields has created is one of unicorns and lake monsters, ghosts and reincarnations, tricksters and hexes. At times charming, as when young Eli meets the eccentric, extraordinary Mr. Krantz, and downright horrifying at others, The Sasquatch Hunter's Almanac is boldly imaginative throughout, and proves to be a devastatingly real portrait of the demons that we as human beings all face.
About the Author
---
Sharma Shields holds an MFA from the University of Montana. She is the author of the short story collection Favorite Monster, winner of the 2011 Autumn House Fiction Prize, and the novel The Sasquatch Hunters' Almanac, winner of the Washington State Book Award. Her work has appeared in The Kenyon Review, The Iowa Review, Electric Literature, and more. Shields has worked in independent bookstores and public libraries throughout Washington State. She lives in Spokane with her husband and children.
Praise For…
---
"A story that easily qualifies as one of the most wonderfully weird debuts of the new year . . .At heart it's a family saga, and a cautionary tale about frailties--greed, mania, ego, anger--that make us much too human. A-" —Entertainment Weekly

"Shields's engaging, surreal tale is equal parts David Lynch and Harry and the Hendersons." —Marie Claire

"Bizarre, quirky, wonderful. Shields' characters inhabit a world where the protagonist's mother elopes with a sasquatch and, while that's a tad unreal, the strange life occurrences and relationships that develop are somehow believable and wise." —San Francisco Chronicle

"Magic realism abounds in this coming-of-age story about battling monsters, real and symbolic." —Most Anticipated Books of 2015, Entertainment Weekly

"Spooky and whimsical . . . Roebuck's search for the monster turns into an examination of what is wild--and potentially monstrous--within us all." —VanityFair.com

"Shields's audacious bundling of so many characters and their accompanying plights into one supernaturally tinged story results in a veritable reading roller coaster -- peaks and valleys of psychological terror, allegorical whimsy, satire and gross-out humor flash by in dizzying turn." —The Seattle Times

"[An] expansive new novel…In a style that's darkly comic, spellbinding and at times quite creepy." —Seattle Magazine

"A hell of a book . . . A mosaic, a narrative game of spin the bottle that accrues meaning by focusing on one perspective at a time" —The Stranger

" An interesting novel about childhood abandonment, teenage rebellion, first and second marriages, and the chaos that love wreaks on families -- human subjects that, in the case of this novel, revolve around an unusual version of Sasquatch, with a cyclone of extracurricular supernaturalia thrown in, including unicorns, ghosts and other paranormal creatures of Shields's own invention that genuinely tingle the spine...Worth reading for its sheer weirdness." —Washington Post

"The Sasquatch Hunter's Almanac thrills and satisfies on a variety of levels. It will surprise readers at every turn, formally and as a narrative, and will serve as a glimmering reminder of worlds around us unseen and beckoning. In its closing pages, the novel comes together with a powerful, surprising inevitability, like a hand closing around ones heart and squeezing. It's an unforgettable, utterly unique novel, and one well-deserving of your attention." —The Vancouver Sun

"On this clever, absurdist magic-carpet ride of Eli's long-running search for Mr. Krantz (and his mom), Shields introduces a hole with no bottom (where Eli's dog, Mother, is buried), Eli's two wives, his daughters, unicorns that bleed silver blood, lake monsters and more. A lesser writer would lose control of all this, but Shields proves her acuity with a smart narrative, great characters and an ending to die for." —Tom Lavoie, Shelf Awareness (starred review)

"Shields has written a monster of a book about monsters . . . The Sasquatch Hunter's Almanac spans more than 60 years and four generations over the course of 383 pages of storytelling that warps reality and rewards those willing to believe in its magic." —Inlander

"Shields is capable of the best kind of magic realism: unexplained, unexpected, totally convincing…It must also be said that Shields perfectly captures the tenor of the scientifically-inclined cryptozoologist…The claims, analysis, and internal debates of contemporary Sasquatch-searchers are all perfectly characterized and dramatized without seeming didactic…The Sasquatch Hunter's Almanac is concerned with what it means to be human, how we build and break our allegiances to others, what we are capable of living through and imagining we have. After all, imagination, like the Sasquatch, may be shorn, mostly-tamed, and shoe-horned into society, but why would you want it that way? As Sheilds's novel shows us, we see best from the fringes. You just have to be willing to go there." —National Post

"Moments of enchantment…Ambitious in scope…When Shields matter-of-factly sees life from Mr. Krantz's point of view, the effect is close to magical." —The Oregonian

"Worth the suspension of disbelief." —BookPage

"This debut novel chronicles the life of a man obsessed by a childhood encounter with the mythical creature, which may be related to the disappearance of his mother. Just shut up – you had me at 'sasquatch.'" —Globe and Mail, 50 most anticipated books of 2015

"A whimsical and weird meditation on fairy tales, myths and obsessions, Shields tells the story of a boy who watches his mother run off with a Sasquatch named Mr. Krantz. The boy grows up into a dedicated cryptozoologist who wants to prove Bigfoot is real. How weird? On page 5, we meet a Sasquatch dressed in an ill-fitting pinstripe suit. Swoon." —The Spokesman-Review, Best books of 2014

"Imagine a mash up of Moby-Dick and Kafka's Metamorphosis (with a hearty dash of Twin Peaks thrown in), and you'll begin to get an idea of what Shields's ambitious tale of disenchantment sets out to do." —Kirkus

"Sparkling…Eli's quest is not unlike Ahab's, and Shields writes with piercing insight about the monsters that keep us from connecting with one another in this funny and wise first novel." —Booklist

"Imaginative, unpredictable, and endearing." —Library Journal

"The Sasquatch Hunter's Almanac is deeply strange and strangely moving. Like Kafka's The Metamorphosis, it demands and rewards surrender." —Richard Russo

"What a wonderful world Sharma Shields has created in The Sasquatch Hunter's Almanac, this epic of Northwest weirdness, this tense, funny tale of obsession, this terrific introduction to her fierce and inventive talent." —Jess Walter, author of Beautiful Ruins

"I've never read a stranger and more beautiful meditation on familial love and guilt than this novel. Plus, baby-snatching eagles, sea monsters, sasquatches, unicorns, octopus grandmas, and ghosts. Sharma Shields is my favorite weirdo in American letters." —J. Robert Lennon, author of Familiar and See You in Paradise

"This novel hunted me, tore out my heart, and left it by the side of a dark fairy-tale road. The Sasquatch Hunter's Almanac is the most startling and beautiful book I've read all year." —Kate Bernheimer, author of How a Mother Weaned Her Girl from Fairy Tales

"With her trademark mix of humor and darkness, Sharma Shields weaves one man's childhood trauma into a weird and wonderful fairytale. Brimming with flesh-and-blood characters, deft prose, and astonishing insights into love and family, The Sasquatch Hunter's Almanac is a novel you'll retain like a beautiful memory; you'll run your fingers over it whenever you pass your bookshelf. Truly a tour de force." —Diana Spechler, author of Who by Fire and Skinny