First Light, First Life: A Worldwide Creation Story (Worldwide Stories) (Hardcover)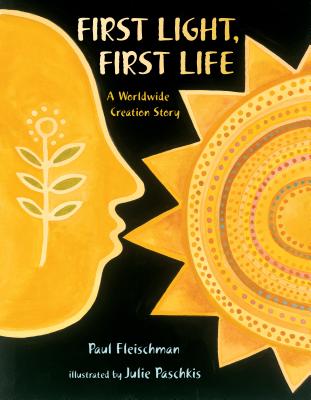 Email orders@greenlightbookstore.com for information about this item.
Out of Print / Unavailable
Description
---
In this companion to Glass Slipper, Gold Sandal, Newbery Medal winner Paul Fleischman and Julie Paschkis turn to the universal story of creation.

In the beginning there was only darkness. . . . There was fire and ice. . . . There was a single drop of milk.

Combining elements of the creation story from different traditions, this narrative weaves together one complete picture of how the world began. First Light, First Life is a celebration of the many and varied peoples of the earth, of their commonalities and their differences. It is a celebration of life.

Learn more about the creation of First Light, First Life:
https://booksaroundthetable.wordpress.com/2016/09/30/first-light-first-life/
http://www.paulfleischman.net/bio.htm#FirstLightArticle
About the Author
---
Paul Fleischman won a Newbery Medal for Joyful Noise and a Newbery Honor for Graven Images. He is also the author of young adult novels including Whirligig and The Mind's Eye, and middle-grade novels including Bull Run and Seedfolks. He lives with his wife in northern California.

Julie Paschkis is a painter and award-winning illustrator of many books for children, including Pablo Neruda: Poet of the People, Building on Nature: The Life of Antoni Gaudi, and Glass Slipper, Gold Sandal: A Worldwide Cinderella. A love of pattern and of folk art shows in all her work. She lives in Seattle, Washington.
Praise For…
---
"expertly weaving together elements from global creation myths to highlight their surprisingly similar story lines . . . Humankind really is one family, Fleischman suggests." —Publishers Weekly, starred review, on First Light, First Life: A Worldwide Creation Story

"Bright, golden folkloric artwork, swirling with stars and mystery . . . From to great floods to great fires, the world is made new again and Fleischman and Paschkis use words and pictures to show us the commonalities between cultures, condensing them into one fluid telling. . . . Let's hope they continue to elaborate on the stories our diverse world shares." —Booklist, starred review, on First Light, First Life: A Worldwide Creation Story

"In this multicultural mashup, the duo behind Glass Slipper, Gold Sandal: A Worldwide Cinderella (2007) weaves a wonderfully chaotic creation story . . . . this wide canvas amazes. An origin tale as messy as humans can be." —Kirkus Reviews on First Light, First Life: A Worldwide Creation Story

Glass Slipper, Gold Sandal:

"Endings don't get any happier than in this global tour de force." -School Library Journal, starred review

Flutter and Hum / Aleteo y Zumbido:

"This is a celebration in text and art of words, of language, and of the spaces between and their possibilities. . . . Kids will savor it however they meet it." -The Bulletin, starred review

"Paschkis shows herself to be a sensitive observer of the animal kingdom, as well as of language itself, finding humor, eccentricities, and unexpected connections in both." -Publishers Weekly, starred review