Rice. Noodles. Yum.: Everyone's Favorite Southeast Asian Dishes (Paperback)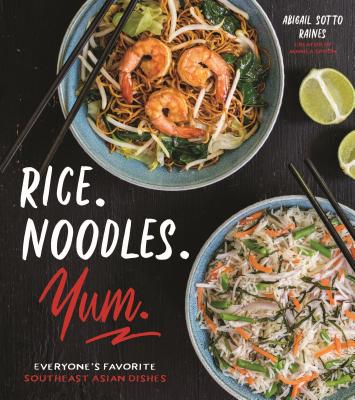 $21.99
Email orders@greenlightbookstore.com for information about this item.
Description
---
Bring the Exciting and Comforting Flavors of Asia to Your Kitchen

Born and raised in the Philippines, Abigail Raines traveled extensively in Southeast Asia to bring its flavors right to your plate. Her travels taught her that noodles and rice are the perfect canvas for the sweet, salty and spicy flavors of Asian cuisine—inspiring her to create this delicious collection of recipes.

Expand your palate with Curry Noodle Soup with Chicken (Khao Soy Gai) and Filipino-Style Paella (Beringhe) or make restaurant favorites like Pad Thai and Pho Bo. Learn how to make staples of authentic Asian cuisine like compressed rice (Ketupat), dumplings and spring rolls, and taste a variety of national dishes from Vietnamese Grilled Pork with Rice Noodles (Bun Thit Nuong) to Indonesian coconut pancakes (Serabi).

With Rice. Noodles. Yum. you'll be able to replicate the rich flavors of home-style Asian cooking, street food fare and everything in between.
About the Author
---
Abigail Raines is the creator of the food blog Manila Spoon. Her recipes have been featured in Taste of Home magazine, The Huffington Post, Buzzfeed and Delish. She lives in Hamden, Connecticut.
Praise For…
---
Abby's cookbook is a trip to Asia without even having to go through TSA! She's got exquisitely crafted recipes for all."
-Ally Phillips, author of Ally's Kitchen

"Abby brings Southeast Asian food to life with authentic, vibrant and flavorful dishes that are sure to inspire you to cook outside of the box."
-Melissa Sperka, author of Melissa's Southern Cookbook

"Abby takes all the guesswork out of Asian cooking with these simple, no-nonsense recipes. She'll have you creating fabulous dishes for family and friends again and again."
-Lynne Feifer, creator of 365 Days of Baking and More

"This book will make any Southeast Asian cuisine lover start cooking in the kitchen."
-Rowena Dumlao-Giardina, creator of Apron and Sneakers

"Manilla Spoon blogger Raines delivers on her promise of flavorful dishes built around noodles and rice...This is an outstanding assembly of dishes, and a book sure to get plenty of use."
-Publishers Weekly