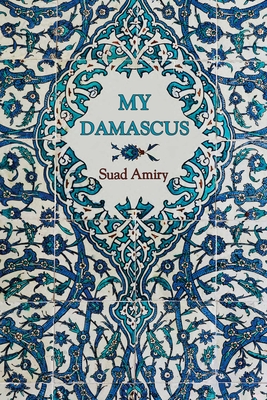 $20.00
Email orders@greenlightbookstore.com for information about this item.
Description
---
A nostalgic voyage that reveals the Syrian capital's majestic past

Writer and architect, Suad Amiry, was born in an old neighborhood of Damascus, the oldest continuously inhabited city in the world. In My Damascus she takes her reader by the hand through not only the narrow alleys and lively souqs adjacent to the grand Umayyad Mosque, but also into the intimate spaces of her rich merchant grandfather's Baroudi Mansion.

Through a web of interwoven personal stories and an intricate mix of simple, complicated or sometimes devious characters, Amiry travels across space and time, spanning three generations of family history. The Baroudi women animate the story and sparkle like no others: Teta, Amiry's grandmother, rendered mute after her husband's great betrayal; her cousin, Norma, torn between love for her adoptive mother and longing for a real mother she will never know; Fatima and Ghalia, Karimeh and Laila, maids and aunts, in a kaleidoscope of vignettes.

Through them Amiry traces the social and political history of Greater Syria from the Ottoman Empire era until its present-day devastation, juxtaposing them with the most intimate, loving, often contentious, family relations and secrets. In the end, her Damascus becomes a metaphor for a dispersed family and a lost past, as well as an elegy for a city she can no longer claim as her own.
About the Author
---
Suad Amiry, a Palestinian writer and architect, has been living in Ramallah since 1981. Born in Damascus, Amiry grew up between Amman, Damascus, Beirut and Cairo. She studied architecture in Beirut (at the American University of Beirut), Michigan, and Edinburgh. Amiry is author of Menopausal Palestine: Women at the Edge, Nothing to Lose but Your Life, and the highly-acclaimed Sharon and My Mother-in-Law, which has been translated into 17 languages and was awarded the prestigious 2004 Viareggio Prize. She is the founder and Director of the Riwaq: Centre for Architectural Conservation. Amiry is the vice-president of the Board of Trustees of Birzeit University. She lives in Ramallah with her husband, the academic and political activist Salim Tamari.
Praise For…
---
"It is refreshing to read a story about Syria that is not only removed from the civil war but is about a family and its daily routines: snapshots of domestic life and houses that hold great drama within their walls."

"An homage to the timeless city, narrated through the experiences of the Baroudi clan … A nostalgic voyage to the past but also an emotive, suspense-charged …"

"My Damascus is an essential book that … portrays in depth a deliberately-hidden society. She treats is­sues such as homosexuality, adoption and the coexistence between different people, ethnic groups, and classes in a natural manner."

"Amiry, the exceptional storyteller, takes readers to the hidden alleys and souqs of Damascus, showing them the beautiful mansions and intro­ducing them to the complicated and personal stories of those who lived there. Her unique writing style uses the simplest of personal sto­ries to reflect the tragedy of a nation, weav­ing in fragments of a memory and the loss of beautiful times."