The Chainbreaker Bike Book: A Rough Guide to Bicycle Maintenance (Paperback)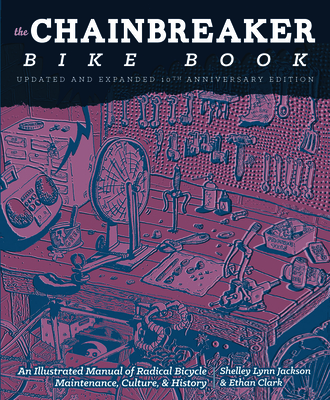 $17.95
On Our Shelves Now (while supplies last)
Staff Reviews
---
Zine meets practical manual meets bikespiration? Yes please. I was riding a bike every day for two years before I even learned how to grease a chain. So when I finally got my hands on this book, and realized there were helpful pictures and diagrams as well as step-by-step instructions for basic and more complex bike maintenance, as well as stories from people who are often marginalized in the largely white/hetero/masc scene of the bike shop, I felt like my world had been flipped. Keep it, get grease on it, give it to a friend, and get out there for a ride in this gorgeous sunshine!
Picked by Nora in Prospect Lefferts Gardens
Description
---
An updated and expanded edition of our hand-illustrated and accessible introduction to the world of bike repair Through working at both Plan-B Bike Project and French Quarter Bicycles in New Orleans, our co-authors have gathered a wealth of experience to share with would-be bicycle mechanics. The first half of this book is a complete repair manual to get you started on choosing the right bike for you, riding that bike, and fixing it when it breaks down. The second half reprints all four issues of the Chainbreaker zine, whose originals were destroyed in Hurricane Katrina.This is the best bicycle repair manual that we have, and the one that many of us here at Microcosm use to fix our own bikes. It's incredibly useful for fixing older bikes, and the illustrated instructions help you suss out how to fix a wide variety of issues whatever kind of bike you have, whether it's a beater or a vintage classic.
About the Author
---
Amy Subach is the co-founder of the organization VisionZeroUSA, a political action committee focused on keeping the streets of America safe for drivers, bicyclists, and pedestrians. Her interests include: healthy cooking, Pilates, social activism, and making things. She lives in Portland, OR.