They Better Call Me Sugar: My Journey from the Hood to the Hardwood (Paperback)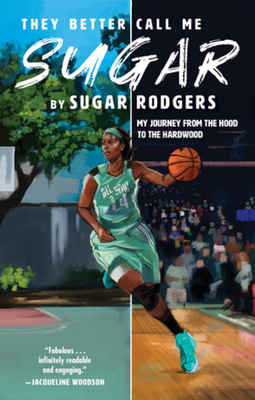 Description
---
In unflinchingly honest prose, Sugar Rodgers shares her inspiring story of overcoming tremendous odds to become an all-star in the WNBA.
WNBA All-Star Sugar Rodgers doesn't hold back in her memoir.
--New York Amsterdam News
They Better Call Me Sugar is fabulous--so infinitely readable and engaging. Sugar Rodgers is such a clear-eyed and thoughtful writer and a huge inspiration. There are so many young people I can't wait to give this book to.
--Jacqueline Woodson, author of Brown Girl Dreaming, former National Ambassador for Young People's Literature
If it is one thing many of us have been doing a lot lately is spending more time curling up with favorite books of ours. Our book games have been strong lately and that is always a positive. Here is a very athletic way to heighten that need for read--add a dash of Sugar to your bookshelves.
--Beyond the W
Rodgers wrote the book for her younger self, but the book is perfect for young readers, starting in middle school, and also young athletes. Rodgers' goal is to use her toughest moments to inspire those who read it.
--The Black Sportswoman
Rodgers pulls no punches in this raw, emotional rags-to-riches memoir.
--Publishers Weekly
Rodgers] now has a new goal: sharing her story with others. She certainly accomplishes that in this raw, compelling memoir of a girl growing up in difficult circumstances but with the wits, confidence, and drive that made her an All-Star. An inspiring autobiography.
--Booklist
WNBA champion Rodgers reflects on her childhood and road to athletic glory...Encouraging tidbits will stay with readers, such as, 'Stars are stars because they work hard even when the lights are not on'...This memoir...has a bold bounce.
--Kirkus Reviews
The memoir is filled with anecdotes and memories from her childhood on, written in short, easy to read chapters...I would recommend They Better Call Me Sugar to young teenage girls who are seeking a role model or girls who are interested in sports careers. It will resonate and inspire them.
--The Cyberlibrarian
Growing up in dire poverty in Suffolk, Virginia, Sugar (born Ta'Shauna) Rodgers never imagined that she would become an all-star player in the WNBA (Women's National Basketball Association). Both of her siblings were in and out of prison throughout much of her childhood and shootings in her neighborhood were commonplace. For Sugar this was just a fact of life.
While academics wasn't a high priority for Sugar and many of her friends, athletics always played a prominent role. She mastered her three-point shot on a net her brother put up just outside their home, eventually becoming so good that she could hustle local drug dealers out of money in one-on-one contests.
With the love and support of her family and friends, Sugar's performance on her high school basketball team led to her recruitment by the Georgetown Hoyas, and her eventual draft into the WNBA in 2013 by the Minnesota Lynx (who won the WNBA Finals in Sugar's first year). The first of her family to attend college, Sugar speaks of her struggles both academically and as an athlete with raw honesty.
Sugar's road to a successful career as a professional basketball player is fraught with sadness and death--including her mother's death when she's fourteen, which leaves Sugar essentially homeless. Throughout it all, Sugar clings to basketball as a way to keep herself focused and sane.
And now Sugar shares her story as a message of hope and inspiration for young girls and boys everywhere, but especially those growing up in economically challenging conditions. Never sugarcoating her life experiences, she delivers a powerful message of discipline, perseverance, and always believing in oneself.
About the Author
---
Sugar Rodgers is a professional basketball player and current Assistant Coach for the Las Vegas Aces. She honed her skills as a young girl growing up in Suffolk, VA, by shooting hoops with neighborhood drug dealers before eventually being recruited by the Georgetown Hoyas, making her the first person in her family to attend college. She graduated Georgetown as the leading scorer of all time, and was drafted by the Minnesota Lynx in 2013. She also played several seasons with the New York Liberty before being traded to Las Vegas in 2019. She was named to the WNBA All-Star team for her 2017 season with the New York Liberty.