You Can Keep That to Yourself: A Comprehensive List of What Not to Say to Black People, for Well-Intentioned People of Pallor (Hardcover)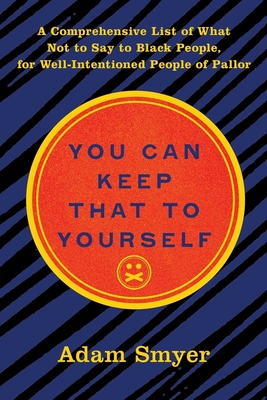 $15.95

Not In Store / Available To Order (allow for shipping time to bookstore or direct-to-home)
Description
---
At long last, a much-needed guidebook for well-intentioned people of pallor on what not to say to their African American friends.
This book is the perfect jumping-off point for much-needed conversations about how to be an anti-racist. It's extremely short and very accessible. I wish I could give this book to everyone.
--Avid Bookshop, Staff Pick
The store's favorite humor book of possibly the decade.
--The Book Table (Oak Park, IL), Featured New Release
"Using humor, Smyer relays harsh truths about U.S. race relations . . . With a tongue-in-cheek tone, Smyer offers an accessible critique of Whiteness in America . . . Smyer models for us how to use humor and candor to fight back against the microassaults, microinsults, and microinvalidations suffered by marginalized and racialized communities of color."
--Colors of Influence
It reminds me of the dictionary, which is helpful because it is a dictionary in its own category. For its purpose of education and enjoyment, I say it met the mark.
--San Francisco Book Review
By turns funny, sarcastic, and possibly true for many Black (and non-Black) Americans...While there is humor throughout, there is also a strong sense of anger, annoyance, and weariness when it comes to the Black experience in Trump's America. And though Smyer is addressing white people specifically, his humor can be appreciated by anyone who needs a good chuckle (and an education).
--Library Journal
A balm for tongues bitten and comments swallowed...A bitingly humorous compendium of the absurd subtle racism of the American workplace.
--Kirkus Reviews
In this slim and witty volume, attorney Smyer collects an alphabetized short list of things not to say to African-Americans...Each entry is designed to strip away the hypocrisy and half-truths of these cultural exchanges by laughing at them. Smyer's hilarious sampler offers astute observations on race and culture.
--Publishers Weekly
Greetings, well-intentioned person of pallor.
Your good intentions used to be enough. But in these diverse and divisive times, some people would hold you accountable for your actions. You were not raised for such unfairness. You need help. And help you now have.
Let Daquan--that black coworker you are referring to when you claim to have black friends--help you navigate perilous small talk with African Americans with this handy field guide. This portable bit of emotional labor puts at your fingertips a tabbed and alphabetized list of things not to say to black people. Finally
How to use: Keep this handbook close. Whenever you are confronted with an African American and you feel compelled to blurt out an observation about her hair or to liken your Tesla lease to slavery, ask for a moment to consult this reference. She'll wait. If the keen insight you want to share is listed herein, You Can Keep That to Yourself. It truly is that easy.
About the Author
---
Adam Smyer is an attorney, martial artist, and mediocre bass player. His nonfiction has appeared in the Johannesburg Review of Books, and his debut novel, Knucklehead, was the sole title short-listed for the 2018 Ernest J. Gaines Award for Literary Excellence. Smyer lives in the San Francisco Bay Area with his wife and cats.