Bandette Volume 1: Presto! (Hardcover)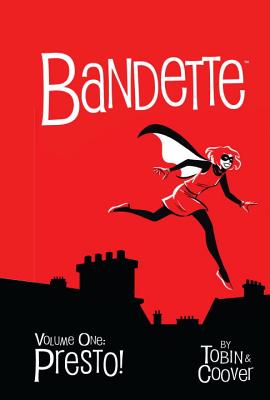 Other Books in Series
This is book number 1 in the Bandette series.
Bandette possesses all the charm and skill that makes her the self-proclaimed world's greatest thief. Imagine if Audrey Hepburn was ever cast as Catwoman, or if Amelie knew karate. Sure, she steals things, but in a Robin Hood kind of way. Except she keeps some things for herself and her loyal gang of urchins when she deems it appropriate. Paul Tobin's playful characters are rendered in Colleen Coover's beautiful watercolor style, homaging the French and Belgian comics of the past.
Picked by Geo in Prospect Lefferts Gardens
Description
---
Paul Tobin and Colleen Coover's enchanting, Eisner-nominated digital series comes to print! The world's greatest thief is a costumed teen burglar in swinging Paris by the nome d'arte of Bandette! Gleefully plying her skills on either side of the law, Bandette is a thorn in the sides of both police inspector Belgique and the criminal underworld. But it's not all breaking hearts and purloining masterpieces when a rival thief discovers that an international criminal organization wants Bandette dead! This beautiful hardcover includes the first arc, tales of Bandette's street urchin helpers by guest artists, an original illustrated story, and more!
About the Author
---
Paul Tobin is a comic book writer whose best known works include: The Age of the Sentry, Marvel Adventures: Fantastic Four, Marvel Adventures: Super Heroes, Marvel Adventures: Spider-Man, The Witcher, and Colder. He lives in Portland, Oregon, and is married to comics artist, Colleen Coover.
Praise For…
---
Publishers Weekly


12/02/2013

Acrobat, quick-change artist, and thief: is there anything Bandette can't do? She certainly has the skill to capture your attention in this gleeful, cheery adventure by married creators Tobin and Coover (Banana Sunday, Gingerbread Girl). Like Raffles or the Saint, Bandette is a thief with a heart of gold, rescuing common folk in distress and liberating stolen works of art (saving a few for her personal museum, of course). Tobin's characters deftly tread the tightrope between saccharine and caricature, and Coover's colorful, fluid art gives homage to the European fine-line illustration of Hergé, without slavishly copying it. Coover's gorgeously rendered Paris architecture, lively and energetic figures, and especially the whirling dervish Bandette, are rendered in a soft-toned, impressionistic painting style that immediately differentiates the many characters and highlights the script's comic timing. A rich treasure trove of backup pieces include short "Urchin Stories," focusing on Bandette's supporting cast of accomplices and antagonists, and Coover's step-by-step guide through her art and computer-coloring techniques. This is a wonderful gateway comic for readers of all ages—one of the brightest, and most fun, comics of the year. (Dec.)