Bike Repair and Maintenance (Idiot's Guides) (Paperback)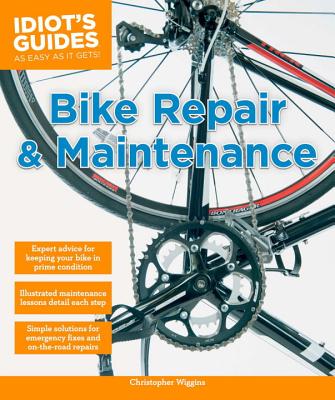 $21.95
Email orders@greenlightbookstore.com for information about this item.
Description
---
Featuring 400+, full-color photographs in step-by-step format, Idiot's Guides: Bike Repair and Maintenance teaches readers of all cycling levels how to maintain, repair, and upgrade their own bikes for years of top performance and enjoyment. With coverage for road bikes and mountain bikes, bike shop owner Christopher Wiggins easily explains how to perform all of the most basic tasks. Coverage includes all areas of the bike, including the frame, suspension, cranksets, derailleurs, brakes, gears, pedals, shifters, and much more.
About the Author
---
Christopher Wiggins began his career in the bike business in 1988, and has been the owner of A1 Cyclery in Indianapolis, Indiana, since 2003. Like most people, he stayed in the business out of a love for bicycles and the lifestyle that surrounds them. While never considering himself a racer, he has competed in duathlon, cyclocross, and 24-hour adventure races. He's more likely now to be found on a local greenway, or riding his bike to work. He currently serves on the board of directors of INDYCOG, a bicycle advocacy group for the city of Indianapolis.