Strange Beasts of China (Hardcover)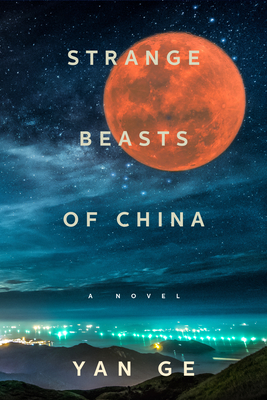 $25.99

Not In Store / Available To Order (allow for shipping time to bookstore or direct-to-home)
Description
---
A New York Times Editors' Choice and Notable Book of 2021

"Best Science Fiction, Fantasy and Horror of 2021"—The Washington Post

From one of the most exciting voices in contemporary Chinese literature, an uncanny and playful novel that blurs the line between human and beast…


In the fictional Chinese city of Yong'an, an amateur cryptozoologist is commissioned to uncover the stories of its fabled beasts. These creatures live alongside humans in near-inconspicuousness—save their greenish skin, serrated earlobes, and strange birthmarks.
Aided by her elusive former professor and his enigmatic assistant, our narrator sets off to document each beast, and is slowly drawn deeper into a mystery that threatens her very sense of self. 
 
Part detective story, part metaphysical enquiry, Strange Beasts of China engages existential questions of identity, humanity, love and morality with whimsy and stylistic verve.
About the Author
---
Yan Ge was born in Sichuan, China in 1984. She is a fiction writer in both Chinese and English. She is the author of thirteen books, including six novels. She has received numerous awards, including the prestigious Maodun Literature Prize (Best Young Writer), and was named by People's Literature magazine as one of twenty future literature masters in China. Her work has been translated into English, French and German, among other languages.

Jeremy Tiang is a Singaporean writer, translator, and playwright, based in New York City. He has translated more than ten books from Chinese and was recently honoured as the London Book Fair's inaugural Translator in Residence.
Praise For…
---
One of The New York Times "100 Notable Books of 2021," which is selected by the editors of The New York Times Book Review

"Best Science Fiction, Fantasy and Horror of 2021"—The Washington Post

"By far my favorite fantasy book of the year is 'Strange Beasts of China' by Yan Ge, translated by Jeremy Tiang. It's a beautiful mosaic novel, composed of different entries in a quasi-bestiary." - Silvia Moreno-Garcia, bestselling author of Mexican Gothic

"Delightful. Through the narrator's futile quest to catalog beasts, Yan captures the fluidness of city life, the way urban space defies definition even for people hellbent on making sense of it." —The New York Times

"Magical realism of the best kind, where the spectacular is paired with just enough irony and daffy humor to keep it grounded on earth—or whichever world this fun and beguiling book takes place." — The Wall St. Journal

"A page-turner whose dense, fantastical atmosphere lingers long after the read." —Vulture

"Strange Beasts of China feels like a riddle and a parable and a dream, the kind of book you want to get lost in." —The Philadelphia Inquirer

"Mixes a sort of Borgesian bestiary of mysterious creatures with a deep sense of urban andsocial alienation to produce an enthralling and fascinating narrative. A breath of fresh air in theoften hard-sf dominated field of recently translated Chinese science fiction, this novel is a must-read for fans of Vandermeer, Borges, or fantasy fiction that blurs the line between genre and literary fiction." —Booklist (starred review)

"The overall effect of Yan's storytelling is dreamy and hypnotic, sometimes opaque but always captivating. These cryptic but well-told tales offer much to chew on." —Publisher's Weekly

"Moving and magical, Strange Beasts of China is stunningly alive and unsettling in all the best ways. I am in awe of its bold imagination, endless depth, and philosophical weight. Every page of this book is magnetic."  —K-Ming Chang, author of Bestiary

"The delights of Strange Beasts of China, an inspired bestiary as investigative novel, are the authentic human emotions evoked. Fear, loneliness, melancholy, and hope fill every page. I can't wait to read Yan Ge's wonderful novel again."  —Paul Tremblay, author of A Head Full of Ghosts

"Strange Beasts of China is visceral and strange, its hypnotic storytelling punctuated by twists that feel like knifejabs: sudden, tearing, alive. Yan Ge has created haunting beasts that move through a warped yet familiar world, and Jeremy Tiang's translation is wonderful. I felt this one in my bones." —Isabel Yap, author of Never Have I Ever

"I loved the novel—charged with melancholy surrealism, its preoccupations with being and loneliness are both timeless and all too timely. The translation by Jeremy Tiang is especially brilliant and engaging." —Sharlene Teo, author of Ponti

"I don't know if it was the unexpected twists and turns in the protagonist's storyline, or Tiang's playful-yet-searing English, or the mirror this book holds up to our willingness to be divided and conquered, but I simply could not put this one down." —Heather Cleary, translator of American Delirium

"A thought-provoking read on its own merit, the book takes on added significance given that it is an early work by Yan, whose talent is clear, raw and electrifying." —Post Magazine

"Playful and darkly subtle . . . The world shown here is full of chaos and vulnerability . . . You could choose to despair at this, or take hope that Yan Ge cares enough to write tenderly about it." —The Irish Times

"If Yan's book was simply a selection of surreal vignettes centered around the beasts, a la Jorge Luis Borges or Italo Calvino, it would likely be compelling enough . . . The novel as a whole abounds with moments where vivid imagery coincides with an ever-present sense of danger." —tor.com

"Strange Beasts of China is a fun, sometimes bleak, endlessly fascinating work of fiction, and one of the best Chinese novels in translation that you can pick up and read right now." —Books and Bao

"More than the beasts and their mysteries, Strange Beasts of China stretches out the tender links between parent and child, lovers and friends, who cannot always remain. It expresses the joys and sorrows of being by yourself in a maddening metropolis, and of feeling estranged yet connected to your origins in previously unthinkable ways." —Cha

"What appears to be a postmodern series of fantastic fables morphs into something more unexpected, expertly crafted by Yan Ge: an obscure mediation on the wildness of everyday existence, an evocative, bizarre consideration of the fragile boundaries between the self and the world beyond." —The Skinny