The Ballad of Big Feeling (Paperback)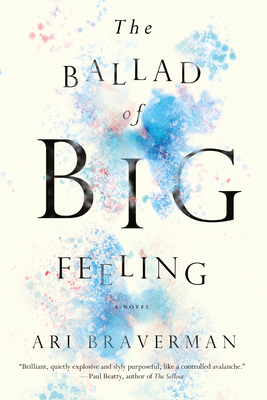 $17.99
Email orders@greenlightbookstore.com for information about this item.
Description
---
"Braverman spins images that pull that perfect trick of making the familiar feel fresh... It's a thrill to see that language can still be made to help us feel the rush of life anew." ---Lynn Steger Strong, New York Times Book Review

The woman lives on a cul-de-sac with her lover and her dog. She is smart and sensible. She buys groceries and goes to work. And she finds herself reliving her childhood memories while she waits--for what, she is not sure.

In the tradition of Rachel Cusk and Sheila Heti, The Ballad of Big Feeling reveals the mind of a woman perched before middle age and confronting the hidden contradictions and intricacies of everyday life.

In the hands of an exciting new writer, Ari Braverman, it's a tale both spare and spacious, textured and poetic, frustrating and funny -- a delicately crafted volume that will linger in the mind of the reader long after they've put it down. It is, in short, a startling and assured debut.
About the Author
---
Ari Braverman is the winner of the 2012 James Knudsen Prize in Fiction and a finalist for the 2017 White Review Short Story Prize. Her work has appeared in leading literary journals including Guernica and Bomb. This is her first novel.
Praise For…
---
"Brilliant, quietly explosive and slyly purposeful, like a controlled avalanche, The Ballad of Big Feeling rolls coolly downhill, gaining momentum and comic energy with every breathtaking page. It's an auspicious debut." —Paul Beatty, author of The Sellout

"I can't think of a young writer more exactingly hilarious and insightful than Ari Braverman. She writes short little prose bombs that unleash wit and insight and a kind of addictive strangeness, showing that she knows and sees our disturbing world and, amazingly, can bring it perfectly to life on the page." —Ben Marcus, author of The Flame Alphabet

"The Ballad of Big Feeling dug itself right into my bones on the very first page, with a voice and precision that feels both intimately familiar and achingly strange. It's the most aptly-named book I can think of: lyrical and rich, big-hearted and bold." —Juliet Escoria, author of Juliet the Maniac

"An exquisitely observed debut—funny, horny, singular and sad—and gleaming with sentences that deliver welcome shivers of recognition. With big feeling and fine detail, Braverman pays radiant attention, and in so doing refashions the way a person might see the world." —Hermione Hoby, author of Neon in Daylight

"The Ballad of Big Feeling is an artful book about what it means to be constrained--trapped, really--in an irascible, untidy form. Braverman's debut proves— lyrically, forcefully—  that for all of our delusions, we are just mammals." —Lee Matalone, author of Home Making

"Braverman spins images that pull that perfect trick of making the familiar feel fresh [..] It's a thrill to see that language can still be made to help us feel the rush of life anew." —Lynn Steger Strong, New York Times Book Review

"Braverman's debut novel is committed to exploding the interior voice that festers inside human loneliness . . .[she] poignantly makes an adventure out of the mundanity of life in a body. . .The roaring quietness of this book is one that is just right for this moment." —Believer Magazine

 "The Ballad of Big Feeling reveals, in intimate and surprising detail, the strangeness of the everyday. Braverman's prose is associative, a feat of compression, characterized by a keen attention to affect, relationships, the emotional charge of objects, and the natural world." —BOMB Magazine

"An original, compelling, and enigmatic first novel." —Kirkus

"Braverman's poetic, spare writing is perfect for the story, allowing readers to draw their own conclusions and feel their own feelings, especially in all the things left unsaid." —Booklist