Event: A Philosophical Journey Through A Concept (Paperback)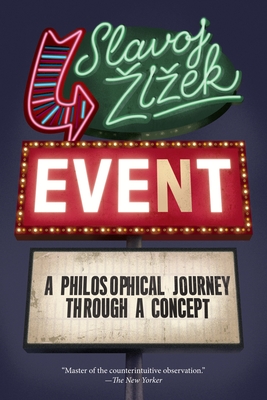 Description
---
Probably the most famous living philosopher, Slavoj Žižek explores the meaning of events in this short and digestible book

An event can be an occurrence that shatters ordinary life, a radical political rupture, a transformation of reality, a religious belief, the rise of a new art form, or an intense experience such as falling in love.

Taking us on a trip that stops at different definitions of event, Žižek addresses fundamental questions such as: are all things connected? How much are we agents of our own fates? Which conditions must be met for us to perceive something as really existing? In a world that's constantly changing, is anything new really happening? Drawing on references from Plato to arthouse cinema, the Big Bang to Buddhism, Event is a journey into philosophy at its most exciting and elementary.
About the Author
---
SLAVOJ ŽIŽEK is a Slovenian philosopher and cultural critic. He is a professor at the European Graduate School, International Director of the Birkbeck Institute for the Humanities, Birkbeck College, University of London, and a senior researcher at the Institute of Sociology, University of Ljubljana, Slovenia. His books include Living in the End Times; First as Tragedy, Then as Farce; In Defense of Lost Causes; and many more.
Praise For…
---
"'The biggest event of the year!' 'Don't miss this event!' There is a part of all of us that perks up at the mention of an 'event.' I am very curious about the philosophical analysis of events (what is an event, really?) and their role in our modern lives, and I can't wait to dive into this quick read."
—Barnes & Noble Book Blog

"The giant of Ljubljana provides the best intellectual high since Anti-Oedipus."
—The Village Voice

"The most formidably brilliant exponent of psychoanalysis, indeed of cultural theory in general, to have emerged in many decades."
—Terry Eagleton

"Unafraid of confrontation and with a near limitless grasp of pop symbolism."
—The Times

"Žižek is a thinker who regards nothing as outside his field: the result is deeply interesting and provocative."
—Guardian

"Žižek leaves no social or cultural phenomenon untheorized, and is master of the counterintuitive observation."
—The New Yorker