A Highly Unlikely Scenario, or a Neetsa Pizza Employee's Guide to Saving the World (Paperback)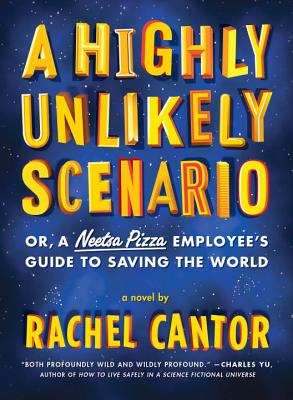 Description
---
"Cosmic and comic, full of philosophy, mysticism and celestial whimsy. Both profoundly wild and wildly profound."
--Charles Yu, author of How to Live Safely in a Science Fictional Universe In the not-too-distant future, competing giant fast food factions rule the world. Leonard works for Neetsa Pizza, the Pythagorean pizza chain, in a lonely but highly surveilled home office, answering calls on his complaints hotline. It's a boring job, but he likes it--there's a set answer for every scenario, and he never has to leave the house. Except then he starts getting calls from Marco, who claims to be a thirteenth-century explorer just returned from Cathay. And what do you say to a caller like that? Plus, Neetsa Pizza doesn't like it when you go off script. Meanwhile, Leonard's sister keeps disappearing on secret missions with her "book club," leaving him to take care of his nephew, which means Leonard has to go outside. And outside is where the trouble starts. A dazzling debut novel wherein medieval Kabbalists, rare book librarians, and Latter-Day Baconians skirmish for control over secret mystical knowledge, and one Neetsa Pizza employee discovers that you can't save the world with pizza coupons.
About the Author
---
RACHEL CANTOR was born in Hartford, Connecticut, and raised in Rome. She worked for jazz festivals in France and food festivals in Australia before getting degrees in international development and fiction writing. Her short stories have appeared in The Paris Review, One Story, Kenyon Review, Fence, and other publications. She has received fellowships from Yaddo, the MacDowell Colony, the Millay Colony, the Djerassi Resident Artists Program, and elsewhere, and has been a scholar at the Bread Loaf, Sewanee, and Wesleyan Writing Conferences. She lives in Brooklyn.
Praise For…
---
"A dystopian satire, a story about ­storytelling, believing and listening—A Highly Unlikely Scenario is ultimately a history of our own strange world."
—The New York Times Book Review

"Cantor's first novel never takes an obvious turn when a stranger one might do and the result is a plot that bounces, soap-bubble like, above a world that is equal parts absurdity and whimsy…the whole thing has the air of a fable translated from a very foreign language." —io9

"Rachel Cantor joins the ranks of authors who are able to turn philosophical concepts into whiz-bang plots, and make them funny as well. Throw in some family dysfunction, time travel, a librarian ingénue, and the possible destruction of the world, and you've got an adventure story replete with nerdy delights." —Tor

"It's as if Kurt Vonnegut and Italo Calvino collaborated to write a comic book sci-fi adventure and persuaded Chagall to do the drawings. One of the freshest and mostly lively novels I have encountered for quite a while." 
—Jim Crace, author of Harvest and The Pesthouse

"A Highly Unlikely Scenario is a joyful book, full of the energy of undiluted invention and the thoughtful imagination of a writer to watch. It's a wild ride and much more—funny, intelligent and entirely pleasing." 
—A.L. Kennedy, author of Day

"Cosmic and comic, full of philosophy, mysticism and celestial whimsy. A story of listening, of souls and bodies, that is at once both profoundly wild and wildly profound." 
—Charles Yu, author of How to Live Safely in  a Science Fictional Universe

"Part Italo Calvino, part Ray Bradbury, in this extraordinary novel, Rachel Cantor explores questions of self-knowledge, true love and family, all while saving the world—and winning readers—in the past, present, and future."
—Hannah Tinti, author of The Good Thief

"A sharp, witty, and immensely entertaining debut... Cantor's skill in rendering complex and highly believable characters makes for an unexpectedly moving tale."
—Emily St. John Mandel, author of The Lola Quartet

"I didn't know I needed a mystical Jewish Douglas Adams in my life, but Rachel Cantor is it, and her Guide makes me shep naches every time I turn a page. Buy this book, bubeleh! It will surprise you in ways large and small, and it will fill you with delight."
—Emily Barton, author of Brookland

"[A] rambunctiously smart, pun-spiked, and sweet dystopian romantic comedy... Glimmering with 'signs and wonders' and laced with satirical jabs at technological intrusiveness and deception, Cantor's funny and charming metaphysical adventure and love story is a wily inquiry into questions of perception, knowledge, mystery, legacy, and love."
—Booklist

"Cantor's novel will be a great hit for fans of Douglas Adams's Hitchhiker's Guide to the Universe. There's a lot going on here, and all of it is amusing."
—Library Journal

One of Barnes and Noble's "7 Books for fans of George Saunders": "Cantor's characters, including unlikely possible prophet and pizza-chain employee Leonard, his supernaturally powerful nephew, and the woman Leonard loves, are as earnest as Saunders' in their attempt to live good, meaningful lives in a broken society."