My Autobiography (Neversink) (Paperback)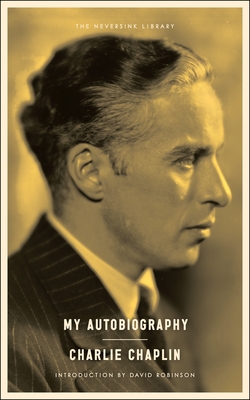 $20.00
Email or call for price.
Description
---
The life of the silent film and comedy icon, in his own words—"the best autobiography every ever written by an actor . . . an astonishing work" (Chicago Tribune)

Take an unforgettable journey with the man George Bernard Shaw called "the only genius to come out of the movie industry" as he moves from his impoverished South London childhood to the heights of Hollywood wealth and fame; from the McCarthy-era investigations to his founding of United Artists to his "reverse migration" back to Europe.
 
Charlie Chaplin's heartfelt and hilarious autobiography—one of the very first celebrity memoirs—tells the story of his life, showcasing all the charms, peculiarities and deeply-held beliefs that made him such an endearing and lasting character.

Re-issued as part of Melville House's Neversink Library, My Autobiography offers dedicated Chaplin fans and casual admirers alike an astonishing glimpse into the heart and the mind of Hollywood's original genius maverick.
About the Author
---
SIR CHARLES SPENCER "CHARLIE" CHAPLIN was born in 1889 in London to impoverished parents. He began performing at age ten as a member of a juvenile clog-dance troupe. In 1913, while he was touring with a vaudeville act in the US, Keystone films recruited Chaplin to make films. In only his second short—Kid Auto Races at Venice—he debuted his "Little Tramp" character, and his fame quickly exploded. He went on to write, direct, and star in some of the most critically acclaimed movies ever made, including the classics The Gold Rush, City Lights, The Great Dictator, Monsieur Verdoux, and Modern Times—for which he also wrote the song "Smile," still a standard. In 1919 he founded the United Artists film studio along with Mary Pickford, Douglas Fairbanks, and D.W. Griffith, and in 1929, the first year of the Academy Awards, he won an award for "versatility and genius" in The Circus. Chaplin's career took a dark turn during the McCarthy era, when he was accused of "un-American activities" and monitored by the FBI; he would later satirize the McCarthy committee in his A King in New York, but when he visited the UK in 1952 his re-entry permit to the US was revoked. Objecting to what he described as "lies and propaganda by powerful reactionary groups," he moved with his family to Switzerland, where he would live until his death on Christmas Day 1977.

DAVID ROBINSON is a film critic and author and a biographer of Charlie Chaplin. His Chaplin: His Life and Art is regarded as the definitive book on the subject.
Praise For…
---
"The best autobiography ever written by an actor. An astonishing work."
—Chicago Tribune

"A moving picture of the hero himself. A truly fascinating book."
—The New York Times Book Review
 
"The most original, virile book about the theater in a long, long time."
—Atlantic Monthly
 
"It holds the reader entranced. Every page can be read with pleasure."
—The Times, London

"The crucial artist of the twentieth century."
—The New Yorker
 
"Among the greatest geniuses of film."
—Roger Ebert
 
"Few men in this century in any field attained his stature with the public."
—The New York Times
 
"Chaplin was not just 'big,' he was gigantic. In 1915, he burst onto a war-torn world bringing it the gift of comedy, laughter and relief while it was tearing itself apart through World War I. Over the next 25 years, through the Great Depression and the rise of Adolf Hitler, he stayed on the job. . . It is doubtful any individual has ever given more entertainment, pleasure and relief to so many human beings when they needed it the most."
—Martin Sieff
 
"For me, comedy begins with Charlie Chaplin. I know there were screen comedies before he came along . . . But none of them created a persona as unique or indelible as the Little Tramp, and no one could match his worldwide impact."
—Leonard Maltin