Black and Buddhist: What Buddhism Can Teach Us about Race, Resilience, Transformation, and Freedom (Paperback)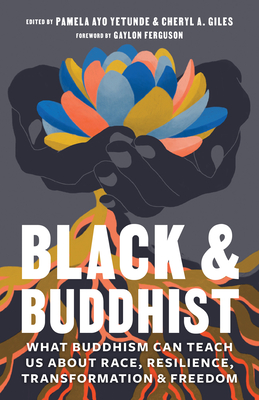 $19.95

Not In Store / Available To Order (allow for shipping time to bookstore or direct-to-home)
Description
---
Gold Nautilus Book Award Winner 

Leading African American Buddhist teachers offer lessons on racism, resilience, spiritual freedom, and the possibility of a truly representative American Buddhism. With contributions by Acharya Gaylon Ferguson, Cheryl A. Giles, Gyōzan Royce Andrew Johnson, Ruth King, Kamilah Majied, Lama Rod Owens, Lama Dawa Tarchin Phillips, Sebene Selassie, and Pamela Ayo Yetunde.
 
What does it mean to be Black and Buddhist? In this powerful collection of writings, African American teachers from all the major Buddhist traditions tell their stories of how race and Buddhist practice have intersected in their lives. The resulting explorations display not only the promise of Buddhist teachings to empower those facing racial discrimination but also the way that Black Buddhist voices are enriching the Dharma for all practitioners. As the first anthology comprised solely of writings by African-descended Buddhist practitioners, this book is an important contribution to the development of the Dharma in the West.
About the Author
---
PAMELA AYO YETUNDE, J.D., Th.D. is a Community Dharma Leader in the Insight Meditation tradition. She teaches pastoral care and counseling and has taught at University of the West, United Theological Seminary of the Twin Cities, and Upaya Institute and Zen Center. Ayo has written for Buddhadharma, Lion's Roar, religions, and Buddhist-Christian Studies. She is the author of Object Relations, Buddhism and Relationality in Womanist Practical Theology and Buddhist-Christian Dialogue, U.S. Law, and Womanist Theology for Transgender Spiritual Care.

CHERYL A. GILES, Psy.D., is a licensed clinical psychologist and the Francis Greenwood Peabody Senior Lecturer on Pastoral Care and Counseling at the Harvard Divinity School. Giles is the author of several articles and co-editor of The Arts of Contemplative Care (Wisdom, 2012).
Praise For…
---
"Black lives that are Buddhist matter, and the new anthology edited by Pamela Ayo Yetunde and Cheryl A. Giles sees to it that the world knows about it. Being black and Buddhist has been a movement of awakening for decades. In this book, teachers share their experiences and teachings, unapologetically, of leaning into blackness while walking the ancient path of Buddha, a mystic who questioned the inequity of despair in his country. As you read, it becomes clear that these heart-filled essays serve as a new mandala of truth, love, and resistance. May the dharma wheel continue to turn."—Zenju Earthlyn Manuel, author of The Deepest Peace: Contemplations from a Season of Stillness and The Way of Tenderness: Awakening Through Race, Sexuality and Gender
 
"From Gotama Buddha to George Floyd, this varied collection of inspiring essays offers us real insight into how Black Buddhists imagine, and seek to create, genuine freedom. This book is truly a feast—for our minds, and our hearts."—Jan Willis, author of Dharma Matters: Women, Race and Tantra and Dreaming Me: Black, Baptist and Buddhist
 
"Black and Buddhist is a wise, welcome, long overdue, beautiful, and genuinely revolutionary book, a turning of the Wheel of Dharma that points us all toward what we desire most in our daily lives: freedom and joy."—Charles Johnson, author of Middle Passage and Taming the Ox
 
"Black and Buddhist represents a seismic shift in sharing dharma relevant to the breadth of human experience. Be cherished, be guided, be elevated, and be transformed by the profound wisdom and compassion of all these authors."—Larry Yang, author of Awakening Together: The Spiritual Practice of Inclusivity and Community
 
"This pioneering book is powerful medicine for the suffering of living in racial caste systems. Each author offers a rich, deep, and distinctive dive into the heart and wisdom of Beloved Community."—Tara Brach, author of Radical Acceptance and Radical Compassion
 
"Black and Buddhist is a touching book of stories—a collective sharing of communal history, personal lives, and the threads that join us on the path to freedom from suffering. Wisdom comes through as each storyteller shares the impact of intergenerational trauma, what it means to live in a brown or black body, and how the dharma showed them a way to clear seeing and understanding."—Sharon Salzberg, author of Lovingkindness and Real Change
 
"The voices of our Black Buddhist sisters and brothers come as a unique gift that, as I hear them, lets me borrow from their courage, wisdom, and enduring hope. If we as a society are to move toward real health and well-being, let these voices of tested compassion and wisdom help lead the way!" —Bill Aiken, (retired) Director of Public Affairs, Soka Gakkai International—USA; Past-president and chair, The Interfaith Council of Metropolitan Washington
 
"Wow! Black and Buddhist grounds meditation in naked truth-telling, showing that awakening to intergenerational rage and trauma liberates from the inside out. These searing accounts confirm the radical capacity of Black dharma teachers to show the way to freedom both ancient and now."—Judith Simmer-Brown, author of Dakini's Warm Breath: The Feminine Principle in Tibetan Buddhism
 
"I am often one who skips over the introductory material and the foreword in a book to dive into the 'meat' of its pages. To do so with Black and Buddhist would be a tremendous disservice.  This is a text that deserves to be fully savored and embraced as it carries one along a journey into the depths of what it means to be human while continuously having one's right to exist challenged. The introduction is at once a necessary and crucial element to fully engaging with the lives that are shared in these pages. The context is the past uniting with the future to reveal a true 'now'—a rupture and a continuity—the 'Buddhist-informed Universal Renaissance in Black Self-Knowledge.'

There is richness here in texture, the individual awakenings that engage the senses and the heart—a response to the call of the ancestors walking with all their relations to guide and support the individual authors on their way home. Out of the depths of suffering are born love and joy, giving rise to the artistry of Blackness in all its forms. This journey into Blackness is a way of practicing the paramitas, underscored by the ever-present resilience and abundance of Black magic, of Black joy. Black folks have always known suffering—and have also always exhibited a wide array of ways to end suffering without sacrificing humanity, joy, or love.

Accept the invitation. Be bathed in the warmth of Blackness. Black and Buddhist is a collection of dharma teachings that are profound and deep. This book will open your heart."—Myokei Caine-Barrett, Shonin Bishop, Nichiren Shu Order of North America; Guiding Teacher of the Nichiren Buddhist Sangha of Texas

"In this excellent anthology, meditation instructor Yetunde and psychologist Giles collect works by Black Buddhist practitioners that explore racial trauma and resilience through the practices of Buddhism. This timely exploration brings a much-needed contribution of Black voices to Buddhist popular literature."—Publishers Weekly