Life After Murder: Five Men in Search of Redemption (Hardcover)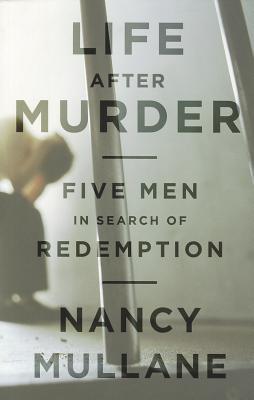 Click on "Ask A Bookseller" to contact us via email for more information about this title.
Description
---
Once a murderer, always a murderer? Or can a murderer be redeemed? Who do they really become after they have served decades in prison? What does it take for a killer to be accepted back into society? What is the chance that he will kill again?

Award-winning journalist Nancy Mullane found herself facing these questions when she accepted an assignment to report on the exploding costs of incarceration. But the men she met behind the walls astonished her with their remorse, introspection, determination, and unshakable hope for freedom and forgiveness.

Life After Murder is an intimately reported, utterly compelling story of five convicted murderers sentenced to life with the possibility of parole, who discover after decades in prison that their second chance, if it comes at all, is also the challenge of a lifetime. It follows their struggle for redemption, their legal battles to make good on the state's promise of parole, and the lives they found after so many years inside.
About the Author
---
Nancy Mullane is Executive Producer of the national podcast, Life of the Law, and develops, reports, and produces feature stories for Public Radio International's This American Life, National Public Radio, and the NPR affiliate KALW News-Crosscurrents in San Francisco. She is a member of the Society for Professional Journalists, the Association of Independents in Radio, and the International Women's Media Foundation. In 2009, she was awarded a Soros Justice Media Fellowship, and in 2011, Nancy was the recipient of a National Edward R. Murrow Award. In 2013 her book, Life After Murder was honored with the National Council on Crime and Delinquency's Media for a Just Society Book Award.
Praise For…
---
"A radio journalist immerses herself in the lives of five murderers incarcerated in San Quentin State Prison in California. NPR reporter and producer Mullane received remarkable cooperation from the prison staff as well as her subjects as they sought parole for good behavior and changed character…. An impressive investigative work with interesting findings that tend to contradict conventional wisdom."
Publishers Weekly
"Can a murderer be redeemed? This is Mullane's central theme in her revealing book of five murderers who all served lengthy sentences in California's notorious San Quentin Prison, now seeking to live out the remainder of their tainted lives without condemnation or reproach. Without any attempt to excuse their crimes, Mullane offers a highly charged exposé of this quintet of hopeful ex-cons battered by a wicked tangle of red tape and penal regulations, along with an unsympathetic outside world that refuses to either forget or forgive their transgressions. With their fates in the hands of the governor and the parole board, very few lifers are released, Mullane writes, and often wait up to 15 years between parole hearings. Boasting gripping, top-notch journalism, Mullane pierces the myth of the unredeemable killer with these portraits of troubled men in a society that fears and reviles them."
Columbia Journalism Review
"[Mullane's] account manages to put human faces on people who are too often demonized by the media—and then forgotten. As its title suggests,
Life After Murder
makes a strong argument that a sane sentencing policy should address the reality that, long after even the most terrible sins of youth, people can change."  
Relevant
"The Last Hunger Season is a beautiful story, and readers will find themselves pulling for these farmers to make it…. Thurow makes it clear this is the solution for Africa's repeated food crises. There are challenges—training a whole continent of farmers, adequate storage for grains, better seeds, and transportation to bigger markets—but they are all surmountable with the will and resources. These farmers have experienced their last hunger season. There is no reason why the rest of the world's one billion hungry people can't do the same."
Ebony
"Fascinating."
San Francisco Chronicle
"As Mullane shows through her immersion reporting into the lives of five murderers - before they killed, while imprisoned and after their parole - nothing is simple." 
Baltimore City PaperMichelle Alexander, legal scholar and author of
The New Jim Crow: Mass Incarceration in the Age of Colorblindness
"
Life After Murder
challenges us to do the unthinkable––view those accused of horrible crimes as worthy of our concern. Nancy Mullane, a white woman who was once just as ignorant about the real world of crime and punishment as the typical television viewer, takes us on a remarkable journey behind bars. Through the stories of five unforgettable men, we are reminded of the power and possibility of redemption, as well as the nearly unforgiveable crime our nation has committed: treating some human beings as disposable."
"Life After Murder
is as much a study of jarring re-entries as it is a chronicle of redemption and hope. But it's also the story of Mullane's own transformation from frightened observer to cheerleading sympathizer. The Nancy Mullane who dines easily with parolee Reed, invites convicts home for dinner with her family, and finds herself emotionally invested in their triumphs is a far cry from the woman who approached San Quentin with such quavering timidity in the opening chapter—a woman acutely aware both of her own vulnerabilities and the imperviousness of surroundings which were, for her, only temporary…. Reading along—at home, out and about, somewhere you choose to be—you may find yourself undergoing a similar change."
Minneapolis Star-Tribune

"It's the relationships Mullane builds, and the stories she tells -- particularly those of the five paroled murderers who compose the central focus of the book -- that move the book beyond policy analysis and into something profoundly human…. Their stories are complicated and compelling. When these men meet obstacles, as they surely do, you will be shocked by your desperation to turn the pages and learn that things work out for them."
Amy Bach, author of Ordinary Injustice: How America Holds Court and executive director, Measures for Justice
"What happens when men who have committed heinous crimes are released from prison? Nancy Mullane first met her five characters while they were serving life sentences for murder. She persuaded corrections officials to give her unheard of access to the inmates. Then, in an extraordinary turn of events, Mullane documented their unexpected release back into society. Her remarkable on-the-ground reporting should elicit soul-searching from the Left, Right, and Center. If these five former inmates can lead responsible, productive lives after decades in maximum-security prisons, can they show us the way toward a new policy that combines fiscal responsibility, public safety, and genuine remorse? Read this unusual story, and let the debate begin.…"
Kirkus
Review