Arctic Summer (Paperback)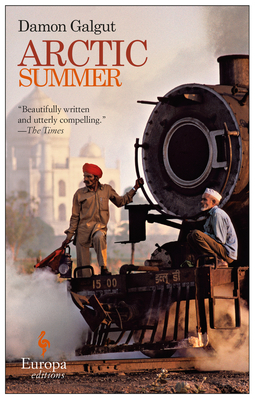 $17.00
Not In Store / Available To Order (allow for shipping time to bookstore or direct-to-home)
Description
---
The year is 1912, and the SS Birmingham is approaching India. On board is Edward Morgan Forster, a reserved man taunted by writer's block, attempting to come to terms with his art and his repressed sexuality. Damon Galgut's brilliant fictional biography lures readers into E.M. Foster's heroic journey of self-discovery, as the novelist confronts his fraught childhood, falls in unrequited love with his closest friend, and finds himself surprisingly freed to explore his "minorite" desires as secretary to a most unusual Maharajah. Slowly, the strands of a story begin to gather in his mind: a sense of impending menace, lust in close confines, under a hot, empty sky. But it will be another twelve years and a second stay in India before the publication of his finest work, A Passage to India.

Shifting across the landscapes of India, Egypt, and England, Forster's life is informed by his relationships—from Mohammed el Adl, an Egyptian tram conductor whose companionship becomes invaluable, to the Greek literary titan, poet C.P. Cavafy. This reimagining of Forster's life is at once enlightening, humorous and deeply convincing—a clear ad sympathetic psychological probing of one of Britain's finest novelists. As The Financial Times notes: "The concern is Forster's inner life, and Galgut inhabits him with such sympathetic completeness, and in prose of such modest excellence that he starts to breathe on the page." Readers will share in his struggle with repression and self-acceptance, and witness the gradual unfolding of a literary masterpiece. Arctic Summer is a powerfully candid portait of an author, created by one of the finet writers of his generation.
About the Author
---
Damon Galgut is the author of The Good Doctor, a 2003 novel that won the Commonwealth Prize (Africa Region) and was shortlisted for the Man Booker Prize. In a Strange Room (Europa, 2010) was also shortlisted for the Man Booker Prize. In 2013, Galgut was inducted into the American Academy of Arts and Letters. He lives in Cape Town, South Africa.
Praise For…
---
Praise for Arctic Summer

"Beautifully written and utterly compelling."
—The Times

"The author has managed to craft a version of E.M. Forster that penetrates his inner life better than any conventional biography ever has."
—The Economist

"The genius of this novel, which would well be one of the finest literary works published this year, lies in Galgut's exploration of the agony of unrequited love."
—The Irish Times

"A remarkable, lyrical tribute."
—The Guardian

"Galgut is extremely good on Forster's anxieties, his loneliness, his unworldliness, and his 'crumpled, second-hand appearance, which made him seem like a tradesman of some kind.' The portrait is beautifully nuanced, a mixture of bold, colorful strokes and delicat little flicks of the brush."
—The Sunday Times

"The pain of unequal love and the desolating gulf between desire and fulfillment, so beautifully conveyed here by Glagut in the case of a long-dead writer, is as recognizable today as it was over a century ago."
—The Telegraph