The Bill of the Century: The Epic Battle for the Civil Rights Act (Paperback)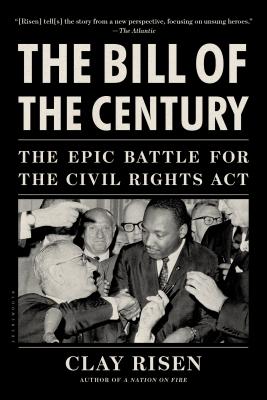 Description
---
The Civil Rights Act of 1964 was the single most important piece of legislation passed by Congress in American history. This one law so dramatically altered American society that, looking back, it seems preordained--as Everett Dirksen, the GOP leader in the Senate and a key supporter of the bill, said, "No force is more powerful than an idea whose time has come." But there was nothing predestined about the victory: a phalanx of powerful senators, pledging to "fight to the death" for segregation, launched the longest filibuster in American history to defeat it.
The bill's passage has often been credited to the political leadership of President Lyndon B. Johnson, or the moral force of Martin Luther King Jr. Yet as Clay Risen shows, the battle for the Civil Rights Act was a story much bigger than those two men. It was a broad, epic struggle, a sweeping tale of unceasing grassroots activism, ringing speeches, backroom deal-making, and, finally, hand-to-hand legislative combat. In The Bill of the Century, Clay Risen delivers the full story, in all its complexity and drama.
About the Author
---
Clay Risen is a staff editor of the New York Times op-ed and Sunday Review sections and was founding managing editor of the noted quarterly Democracy: A Journal of Ideas. His recent writing has appeared in such journals as the Atlantic and the Smithsonian, and in the Washington Post. His first book, A Nation on Fire: America in the Wake of the King Assassination, received much critical acclaim. He lives in New York.
Praise For…
---
"[A] strong book . . . Risen is right to take a fresh look at the evidence and tell the story from a new perspective, focusing on unsung heroes." —The Atlantic
"A journalist's in-depth, behind-the-scenes account of the unsung congressional and White House heroes who helped the Civil Rights Act become the law of the land." —Kirkus Reviews
"Risen is adept at weaving in juicy snippets of conversation." —Publishers Weekly
"A crucial chronicle of the difficult, rocky road leading to the Civil Rights Act and the almost-forgotten heroes responsible for its passage." —Jelani Cobb
"A much-needed narrative history of a moral and political turning point, told with admirable command." —Diane McWhorter, author of Carry Me Home
"What a compelling story for our times!" —Nell Irvin Painter, Edwards Professor of American History, Emerita, Princeton University
"This is an outstanding study of the passage of the Civil Rights Act of 1964. Moreover, it is an exceptional examination of how Congress worked 50 years ago. What makes New York Times op-ed editor Risen's account compelling is his depiction of a subtle process that depended on a cast of characters. First, it was in the House of Representatives where Democrats like Emanuel Celler and Republicans such as William McCullough conspired to override southern objections. Although Risen gives President Lyndon B. Johnson his due, he does not describe him as the indispensable force in passing the first major piece of civil rights legislation since the 14th amendment. In the Senate, the author highlights Everett Dirksen, Hubert Humphrey, and Mike Mansfield for their efforts. He even breaks scholarly ground by pointing out that Howard Smith's amendment expanding women's rights was not offered solely as a poison pill, but due to a lifetime of devotion to gender equality. Risen's account of John Kennedy's efforts are sparkling. A work of high academic quality written with a journalist's flair for telling a tale. Superb. Summing Up: Essential. All levels/libraries." —D. R. Turner, Davis and Elkins College, CHOICE