Central Park: An Anthology (Paperback)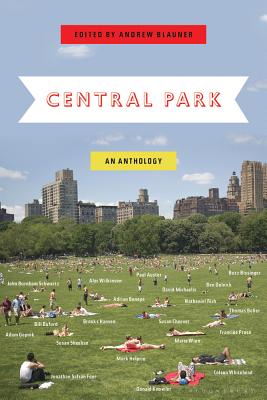 $16.00
Email or call for price.
Description
---
A wild night outdoors with Bill Buford. A football tradition with Nathaniel Rich. A jog around the reservoir with Mark Helprin as he "protects" Jacqueline Onassis from imagined harm. The 843 carefully planned acres of Central Park have not only crept into the hearts of its 38 million annual visitors, but also into the life and work of a diverse array of writers who come to revel in its natural remedy for urban chaos.
In Central Park, a dozen exclusive pieces commissioned especially for this book are accompanied by a handful of beloved classics. Francine Prose reflects on open-air performances by Nina Simone and James Brown; Jonathan Safran Foer writes a creation myth of the park; Buzz Bissinger meditates on how the park defined his early life; and Marie Winn definitively answers Holden Caulfield's question of where the ducks go when the ponds freeze over.

This vibrant collection presents Central Park in all its diverse glory, with an ode on every page to a fifty-one-block swath of special New York magic. A must-read for the thousands who consider the park their own, and a keepsake for the many more who visit, it will be a standard for years to come.
About the Author
---
Andrew Blauner is the founder of Blauner Books Literary Agency. He is the editor of two previous anthologies, Coach, with over fifty thousand copies sold, and Brothers, a finalist for the Books for a Better Life Award. He is also the co-editor of Anatomy of Baseball. Blauner graduated from Collegiate School, Brown University and Columbia Business School, and he is a member of PEN and the National Book Critics Circle. He grew up, and has lived most of his life, within two blocks of Central Park.

Adrian Benepe has worked for more than thirty-two years protecting and enhancing New York City's natural and historic beauty. He has continued this effort as commissioner of the New York City Department of Parks & Recreation, appointed by Mayor Michael Bloomberg in 2002.
Praise For…
---
"A delectable collection! Central Park turns out to be more than trees and grass and paths; rather, a touchstone of Memory and Imagination." —Cynthia Ozick

"[A] sprightly new collection… Central Park is now a dazzling reincarnation of the Edenic landscape Olmsted and Vaux envisioned more than a century and a half ago. No matter how much the park has changed… it radiates for many of the writers here a sense of timelessness and constancy: It remains a kind of memory portal to the past, a Proustian time machine." —Michiko Kakutani, The New York Times

"I loved this book. Central Park is a very special place for all of us who have lived in NYC for any length of time, or who grew up here--anyone who considers NYC their spiritual if not physical home." —Roz Chast

"To read these reminiscences is to be struck by the role of the park not just as a compensatory blast of nature, quiet, calm and oxygen in a city with too little of all them, but also as a jointly savored event, a common currency, something possessed by everyone but owned by no one." —Frank Bruni, NYTimes.com

"Reading these wonderful short essays will ignite the hot season within your head, no matter what the weather's like outside." —The Daily Beast

"All of the contributions, from humorous to deeply moving, are worth reading, with descriptions and insights that will be treasured by anyone intrigued by Central Park, no matter their own familiarity. This volume gives readers a sense of why the park engenders such deep emotions and wonderment in those who enjoy it." —Library Journal

"As varied and inviting as its namesake. Take it to the nearest spot of green, spread a blanket, and enjoy." —Barnes & Noble Review